Spaghetti alle Vongole (Spaghetti with Clams)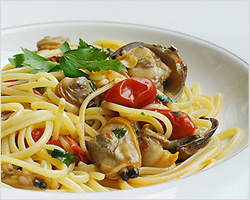 http://rasamalaysia.com/food-porn-spaghetti-alle-vongole/
Spaghetti alle Vongole (Spaghetti with Clams)
The best Spaghetti alle Vongole I have ever tasted in my life!
Spaghetti alle Vongole is a very popular pasta dish in Italy and can be found in most restaurants serving Italian or Mediterranean fares.
Savored at the L'Incontro Bar and Restaurant in Hotel Savoy–one of the best and most refined ristorante in Firenze (Florence), Italy.
Sign Up for Email Updates
Enter your email for new updates: recipes, giveaways, and more!