Teochew/Chiuchow Food (潮洲菜)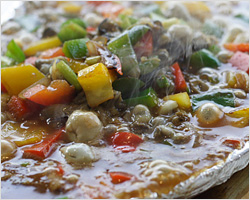 http://rasamalaysia.com/food-porn-teochewchiuchow-food/
Teochew/Chiuchow Food (潮洲菜)
As much as I love other cuisines and am contantly expanding my culinary repertoire by sampling out new foods, ultimately I love Chinese cuisine the best. The reason is simple: Chinese cuisine is probably the most comprehensive cuisine in the world with numerous regional flavors that I can never get bored of! (Chinese food consists of eight regional flavors.) Other than the different tastes and cooking styles, there are also multiple ways of preparing Chinese food: stir-fry, steam, poach, braise, pan-fry, soup, BBQ, stew, and the list goes on…
This collection of food porn is Teochew (Chiuchow) cuisine or 潮洲菜. I love teochew (chiuchow) cooking, especially the way they prepare their seafood and dishes such as braised duck, tofu, etc. Teochew food is really good, do try out if you have a chance.

Sign Up for Email Updates
Enter your email for new updates: recipes, giveaways, and more!