French Endive with Celery Mayonnaise, Artificial Crab Meat, and Raisins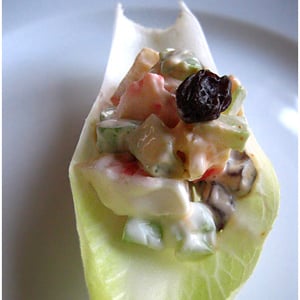 http://rasamalaysia.com/french-endive-with-celery-mayonnaise/
French Endive with Celery Mayonnaise, Artificial Crab Meat, and Raisins
After my heavy Malaysian cooking sessions recently, I run into a problem–my whole house smells like a typical Malaysian kitchen–the now stale smell of pungent ingredients such as belacan (Malaysian shrimp paste) and spices lingers in the air and I must say that it's quite unpleasant this time of year. (Winter tends to trap the cooking after-smell longer.)
So, I've decided to prepare smell-friendly foods (aka western-style food)–at least for a week–that do not require me to fire up my wok and cook up a storm in the kitchen, for example, this eye candy mini French endive with celery mayonnaise, artificial crab meat, and raisins.
Only a mouthful and entirely healthy, they are hassle free to prepare and you can make over a dozen of them in a jiffy. Plus, they are just so tasty and satisfying. Now if only I can get rid of the smell in my house.
Sign Up for Email Updates
Enter your email for new updates: recipes, giveaways, and more!