French Endive with Celery Mayonnaise, Artificial Crab Meat, and Raisins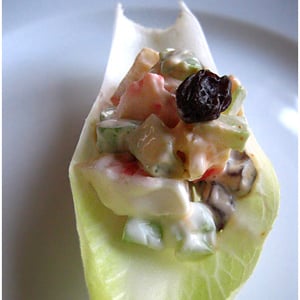 http://rasamalaysia.com/french-endive-with-celery-mayonnaise/
French Endive with Celery Mayonnaise, Artificial Crab Meat, and Raisins
Click "Like" to Get New Recipes
and Updates on Facebook Daily!
Recipe: French Endive with Celery Mayonnaise, Artificial Crab Meat, and Raisins
Ingredients:
1 French endive or Belgian endive
2 stalks of celery (chopped into small pieces)
1/2 cup of artificial crab meat (diced into small pieces)
3 tablespoons of mayonnaise
1/8 teaspoon of Sri Racha chili sauce (or any chili sauce)
1/8 teaspoon of sugar
1/8 teaspoon of lemon / lime juice
1/4 cup of raisins
Click Images Below for Similar Recipes:
LOVE THE RECIPE & PHOTOS? PLEASE SHARE:
Sign Up for Email Updates
Enter your email for new updates: recipes, giveaways, and more!