Garlic Noodles
Garlic noodles – garlicky and buttery noodles with Parmesan cheese. SO easy and delicious you won't stop eating!!
Originally published on Feb 18, 2012. Updated with new pictures.
About four years ago, I shared my take on the Vietnamese-style garlic noodles made famous by the An family of Crustacean restaurant. Garlic noodles remain my favorite noodles all these years, and the recipe is the ones that I have always tried to perfect each time I make the noodles. That's the fun of cooking—our cooking skills and techniques progress and improve over time, and a good recipe could become an excellent recipe with time if we continue to fine-tune it.
My favorite homemade version is the ones made with yellow noodles, or marketed as "Taiwanese noodles" or "油面" in the United States. The noodles are, well, yellow as the name suggests, and they are very oily as each strand of the noodle is generously coated with oil. Yellow noodles are also commonly found in Malaysia and Singapore as they are used in many hawker food dishes.
After many attempts, I now have a garlic noodles recipe that involves a two-part cooking process. First, making the garlic sauce, and secondly, mixing the blanched noodles with the garlic sauce. I absolutely love this method as I can always make a batch of the garlic sauce and toss the noodles right before serving. This ensures that garlic noodles always taste fresh and delectable, and not soggy or cold. Also, if you are like me, who prefer a heavier and more garlicky taste, you can add some extra garlic sauce to taste.
You can eat the garlic noodles plain or serve it with my roasted crab recipe. One of these days, I will have to share my grilled prawn recipe to go with these sinfully luscious and delicious garlic noodles!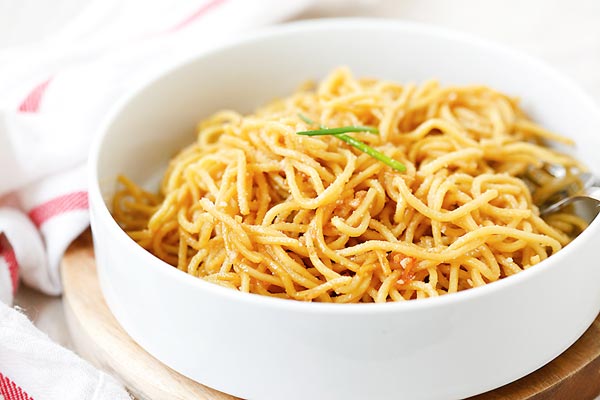 Garlic Noodles Recipe
Serves 3-4 | Prep Time: 15 Mins | Cook Time: 5 Mins
Ingredients:
20 oz yellow noodles or spaghetti
1 heaping tablespoon bottled grated Parmesan cheese
Water, for boiling the noodles
Garlic Sauce:
1 stick unsalted butter (same as 4 oz/110 g/1/2 cup/8 tablespoons)
2 heaping tablespoons minced garlic, or more to taste
1 tablespoon Maggi seasoning sauce
1 tablespoon oyster sauce
1 tablespoon fish sauce
1 tablespoon sugar
Method:
Rinse the yellow noodles with running water to discard the oil from the noodles. Drain and set aside.
Heat up a pot of water until boiling. Add the noodles into the boiling water and cook the noodles until al dente (you want it to still have a good chewy bite), or for a few minutes. You can taste the texture of the noodles while cooking. Do not overcook as the noodles will turn soggy. Transfer the noodles out and drain dry.
Prepare the garlic sauce using a saute pan on medium to low heat. Add the butter into the pan and when it melts, add the garlic and saute until aromatic but not browned. Add all the seasonings into the pan, stir to combine well. Transfer the garlic sauce into a small bowl.
To serve, just toss all the noodles with the garlic sauce. Add the cheese, toss to combine well. Serve immediately.
Cook's Note:
For individual serving of the garlic noodles, take some noodles to a bowl and add some garlic sauce to taste. Drizzle some grated Parmesan cheese, stir to combine well before serving. If you can't find any yellow noodles, you can use spaghetti or linguine.
Copyright © 2015 Rasa Malaysia. All rights reserved.