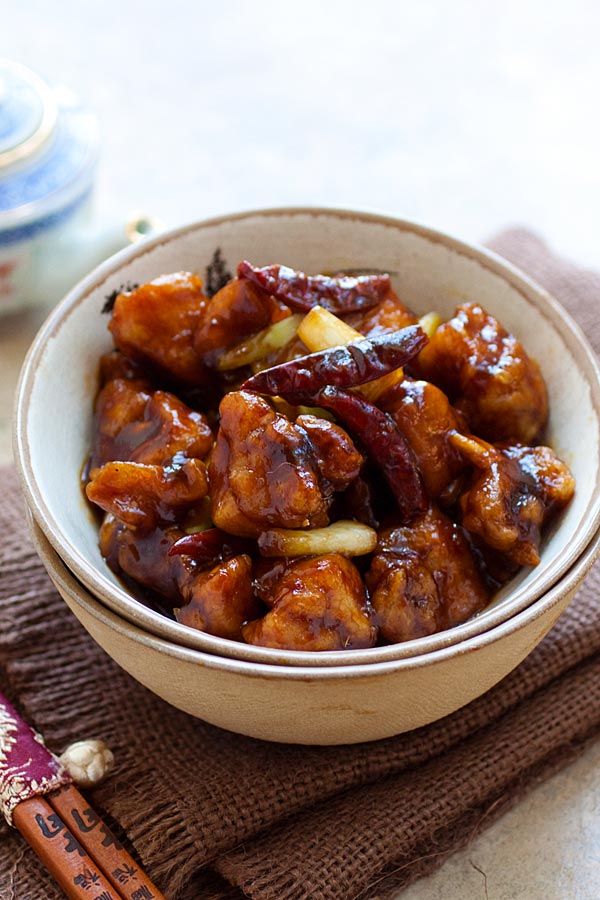 General Tso's Chicken
General Tso's chicken – BEST and easiest General Tso's Chicken ever. SO delicious and much better and healthier than Chinese takeout!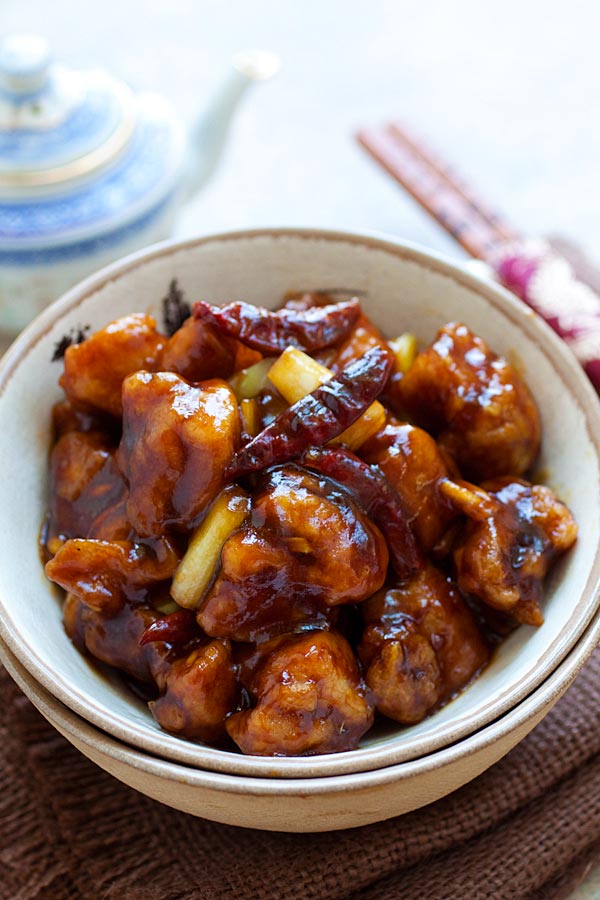 General Tso's Chicken is one of the most requested Chinese recipes from my readers. Like other popular Chinese dishes here in the United States, you can't miss General Tso's Chicken if you love Chinese food. It's always served at Chinese buffet; it's also a very popular Chinese takeout item. The good news is that it's really not that hard to make at home.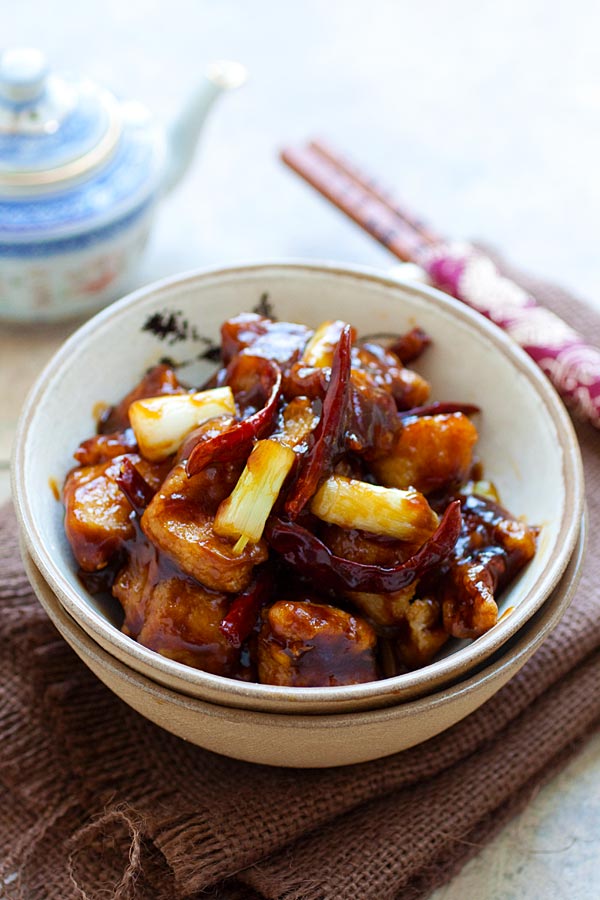 General Tso's Chicken originated from Hunan, China, but from what I read, the connection of the dish to the brave Chinese general General Tso is largely a US or western reference. In any case, the authentic recipe of General Tso's chicken always calls for some dried red chilies—an important ingredient in Hunan cooking. Chinese rice vinegar also plays a vital role in lending the bold vinegary note to the dish. Try my General Tso's Chicken recipe and you will never need another takeout again!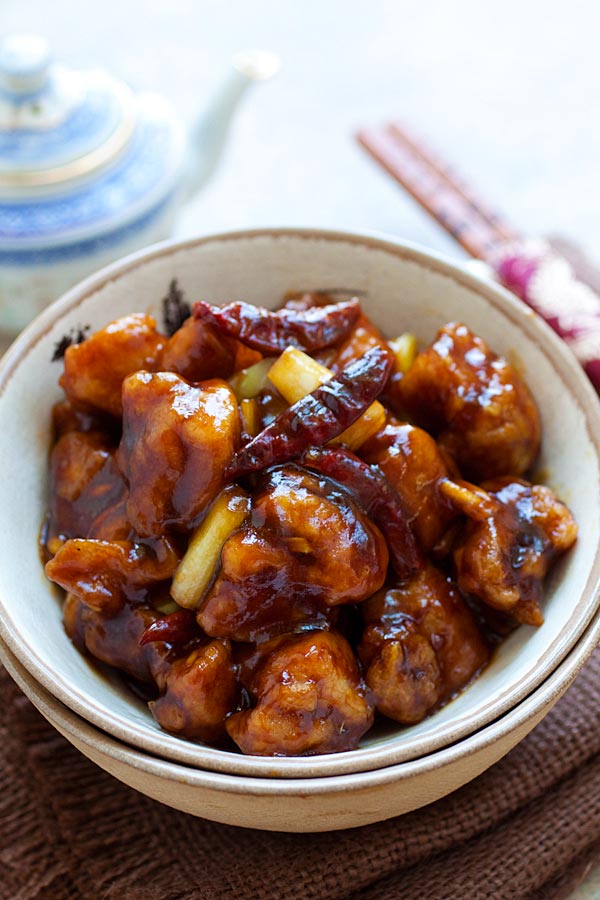 General Tso's Chicken Recipe
Serves: 2 | Prep Time: 15 Mins | Cook Time: 5 Mins
Ingredients:
10 oz boneless skinless chicken meat (thigh or breast), cut into bite-sized pieces
1/2 tablespoon Shaoxing wine
Pinch of salt
1/3 cup cornstarch
Oil for deep frying
1 1/2 tablespoons oil
3 slices peeled ginger, finely minced
1 clove garlic, finely minced
4-5 dried red chiles, rinsed and seeded
2 stalks scallion, white-part only, cut into 1-inch lengths
Sauce:
2 1/2 – 3 tablespoons Chinese rice vinegar
2 1/2 tablespoons soy sauce
1/2 tablespoon dark soy sauce
1 teaspoon Hoisin sauce
1/4 cup water
2 1/2 tablespoons sugar
1/2 tablespoon Shaoxing Wine
1 scant tablespoon cornstarch
Method:
Marinate the chicken meat with the Shaoxing wine and salt for 15 minutes. Mix all the ingredients for the Sauce in a small bowl. Set aside.
Coat the chicken generously with the 1/3 cup cornstarch. Heat up the oil for deep-frying. Deep fry the chicken until they turn light brown. Dish out with a strainer, draining the excess oil by laying the chicken on a dish lined with paper towels.
Heat up a wok with 1 1/2 tablespoons oil. Add the minced ginger, garlic, and dried chilies into the wok, stir-fry until you smell the spicy aroma of the chilies. Pour the sauce into the wok. When the sauce boils and thickens, add the chicken, stir to combine well with the sauce. Add the scallion and stir a few times, dish out and serve immediately.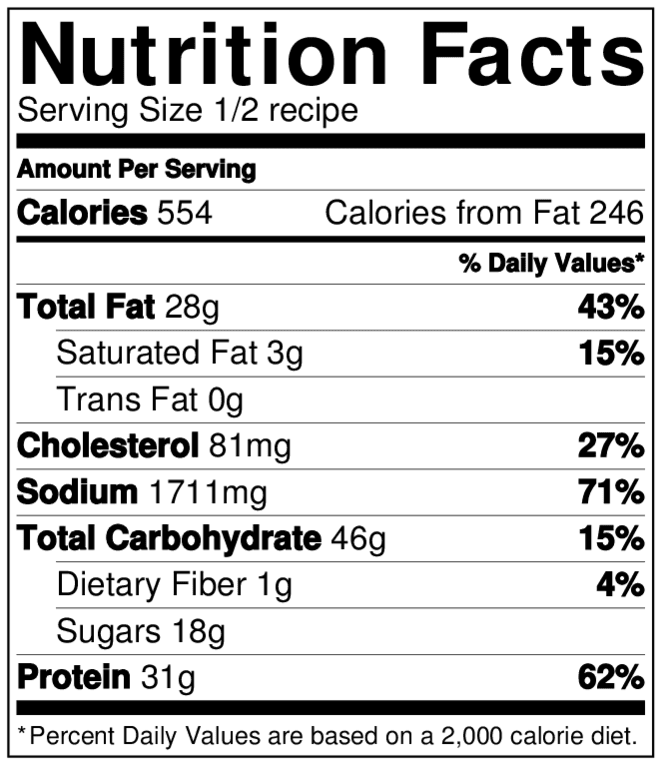 Most-Pinned Recipes
Ginger Garlic Baked Chicken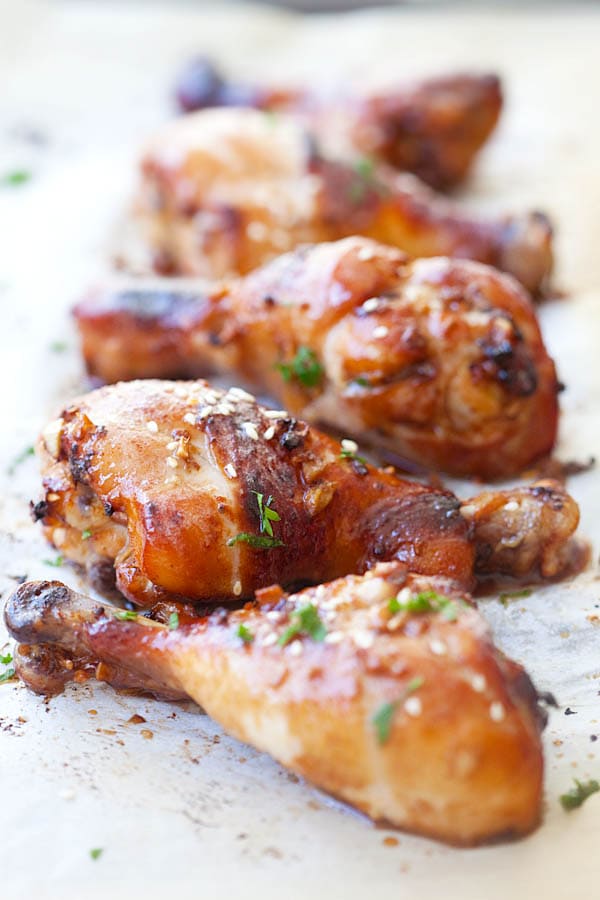 Crab Rangoon (Cream Cheese Wontons)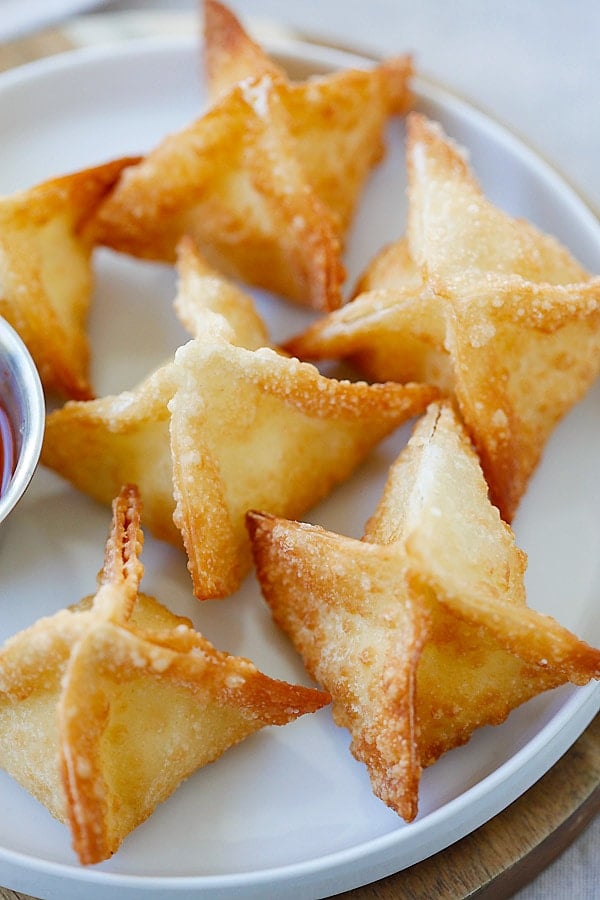 Chicken Wontons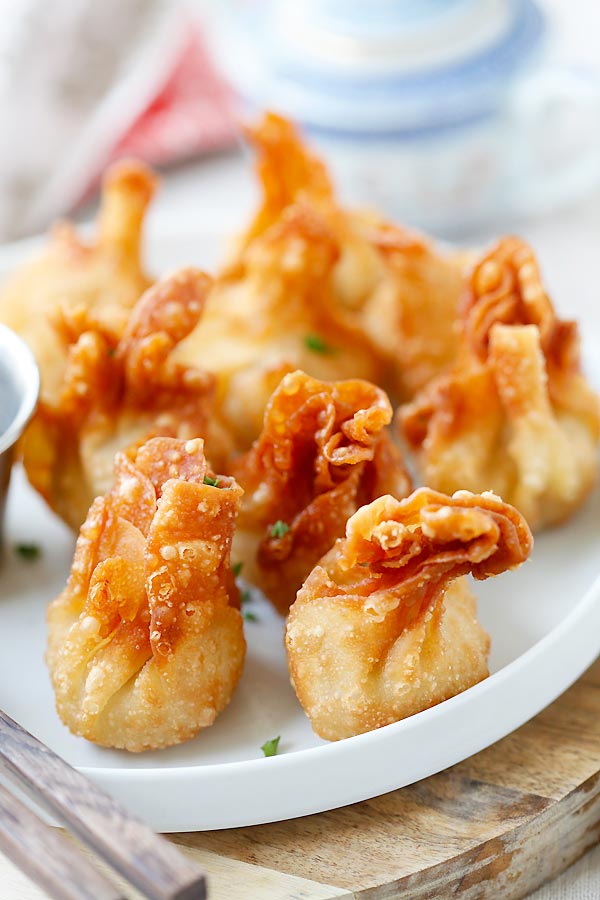 Onion Scallion Beef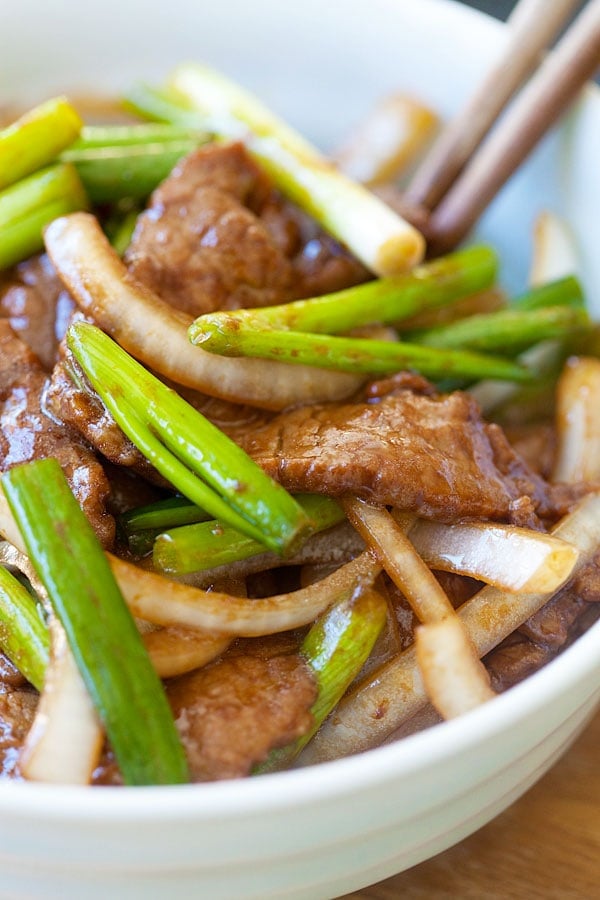 Thai Chicken Sate with Peanut Sauce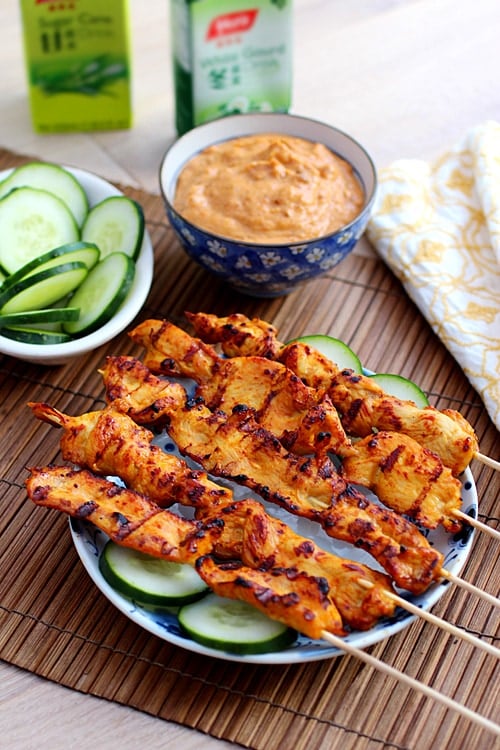 Thai Peanut Sauce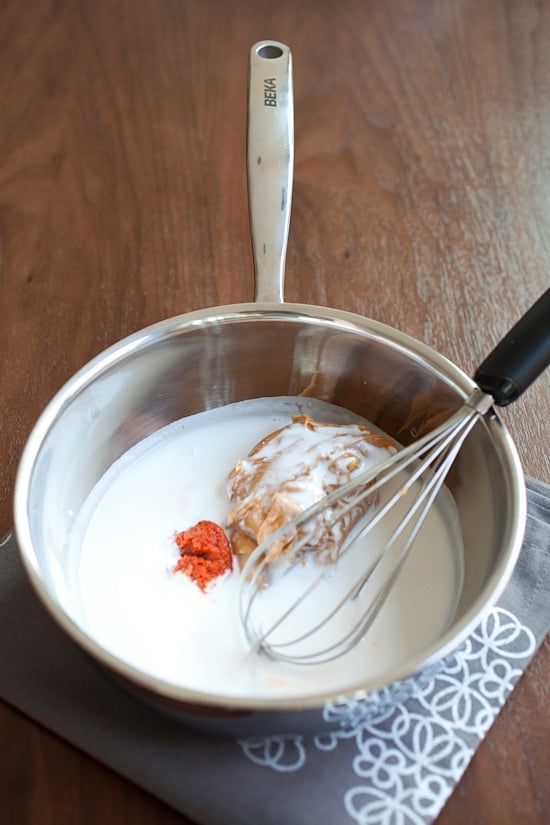 Limited Time Offer: $5.99 only. Available for download WORLDWIDE!
**Use it on Your Tablet, Mobile Phone, Desktop or Laptop**
Copyright © 2016 Rasa Malaysia. All rights reserved.