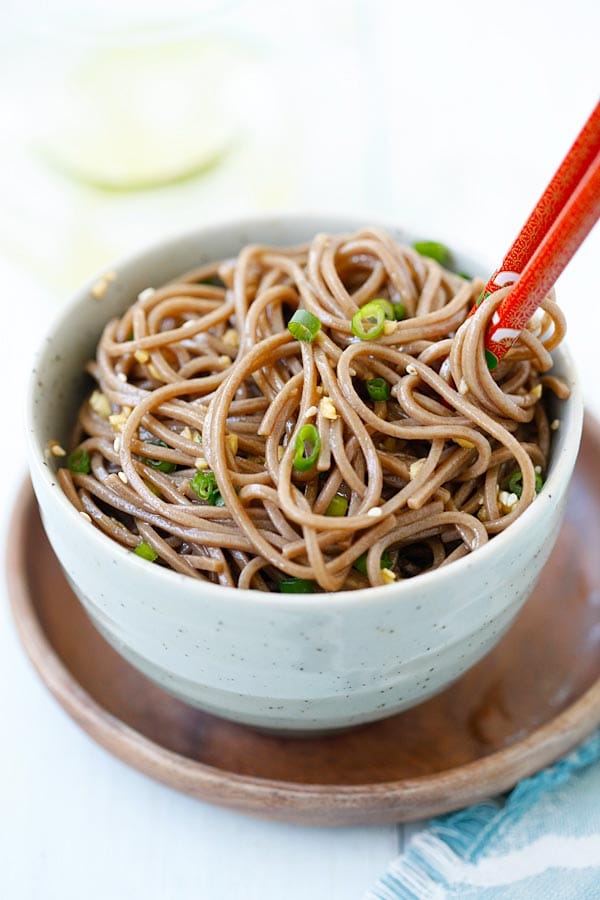 Ginger Soy Soba
Ginger Soy Soba – the easiest and healthiest noodles made with ginger, soy sauce, honey and Japanese soba noodles. 15 minutes to make!
Originally published on Dec 22, 2012. Updated with new photos.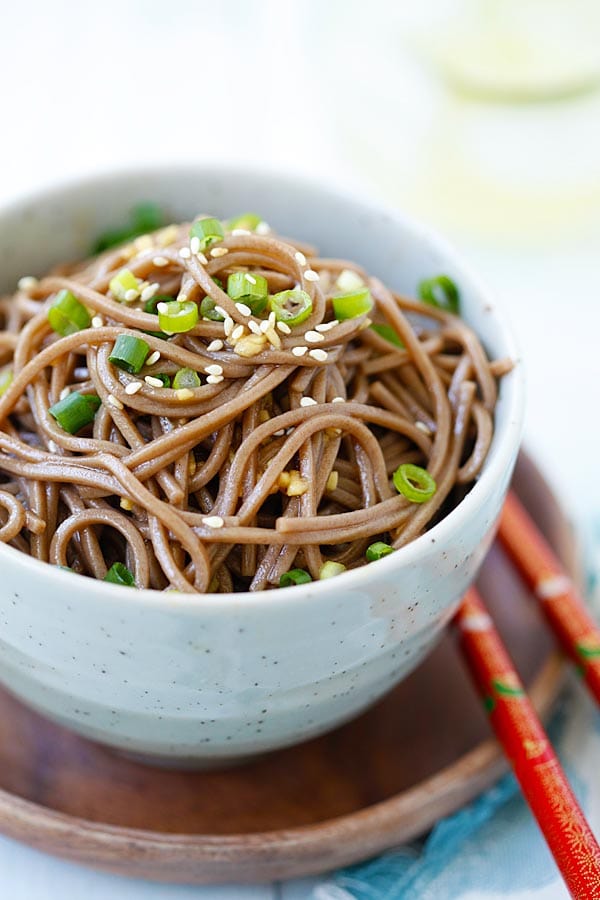 My friend Simply Reem is famous for her ginger soy soba noodle. Her soba noodles with sweet ginger scallion sauce is one of the most pinned noodle pictures on Pinterest, and that says a lot about the recipe.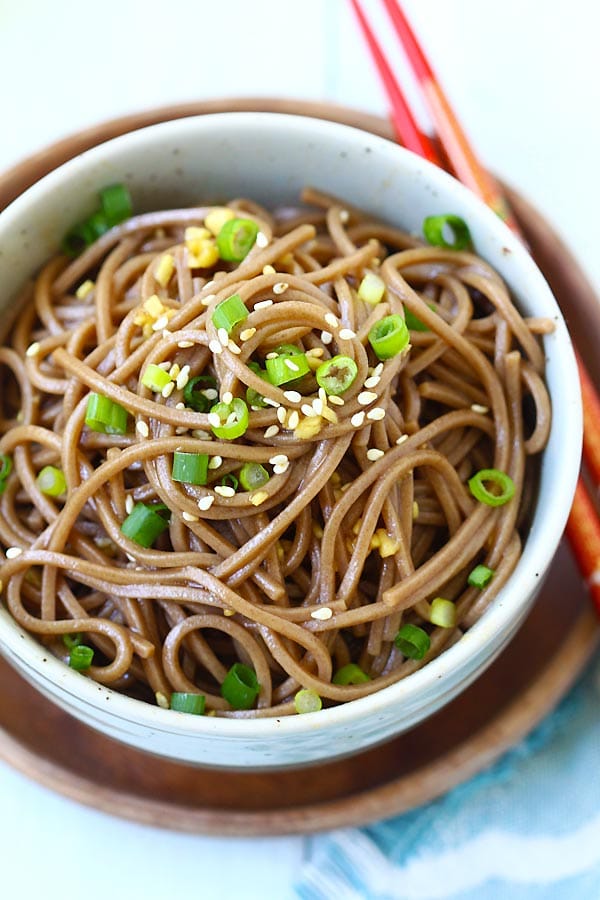 When I told her to fill in for me and guest post on Rasa Malaysia while I am traveling overseas, I suggested to share her famous ginger soy soba noodles with Rasa Malaysia readers and she happily accepted it.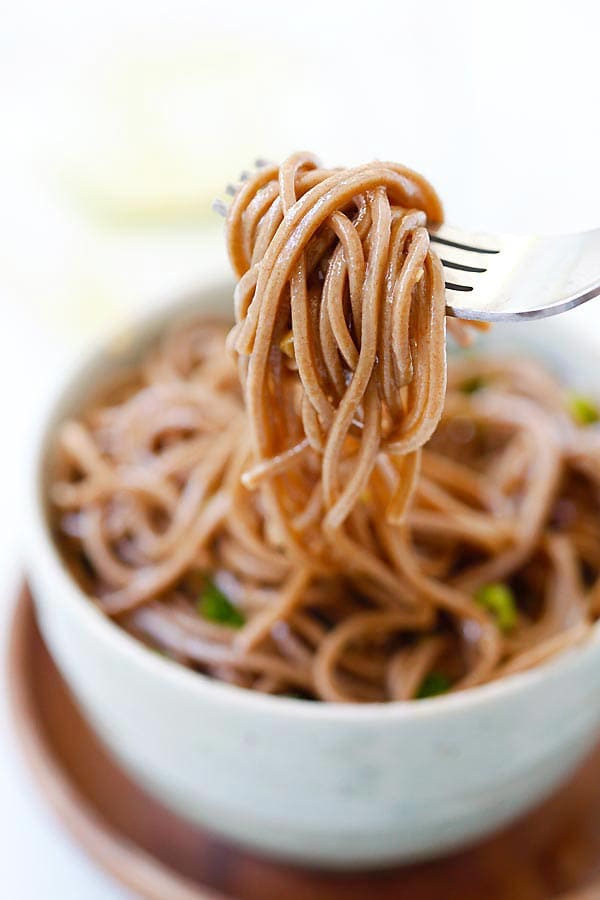 This amazing tasting noodles are so easy to make, healthy, and takes only 15 minutes to make. The only thing you need to cook is the soba noodles, which takes about 10 minutes in hot boiling water. The rest is about tossing the noodles with the sauce. I love the sweet ginger sauce with soy sauce, ginger, sesame oil and honey as the key ingredients. The noodles are savory, with a tint of sweetness and the gingery nuance in every bite. So delicious!
This is a perfect dish to serve the entire family.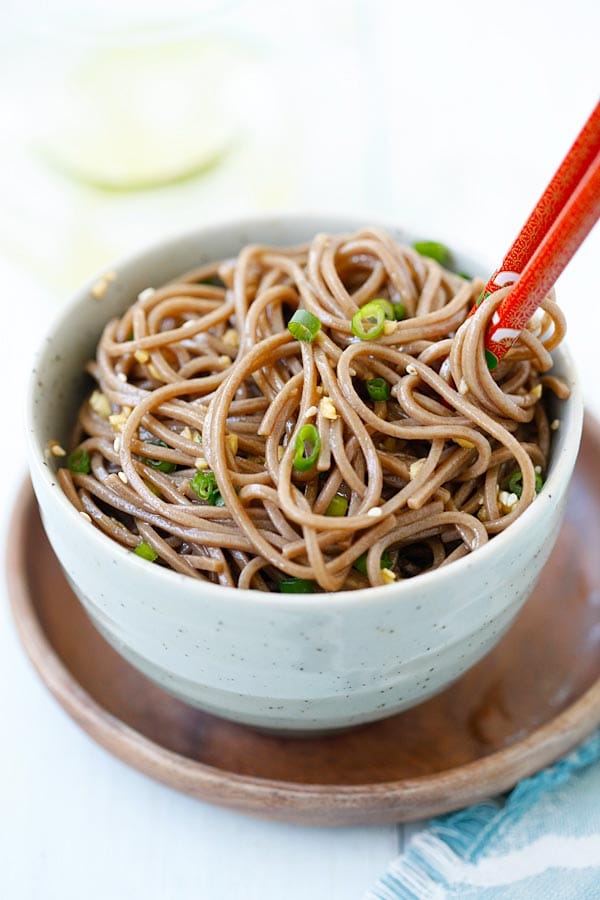 Ginger Soy Soba Recipe
Serves 2 | Prep Time: 5 Minutes | Cook Time: 10 Minutes
Contributor: Simply Reem
Ingredients:
2 oz. soba noodles
Salt and pepper as per taste
1 teaspoon sesame seeds, lightly toasted
Chopped scallion, for garnishing
Sweet Ginger Sauce:
2 teaspoons soy sauce
½ teaspoon ginger, minced
2 teaspoons sesame oil
½ teaspoon chili oil
½ teaspoon rice wine vinegar
2 teaspoons honey
Salt and pepper as needed
Method:
Mix all the ingredients for the Sweet Ginger Sauce in the bowl. Set aside.
Boil the soba noodles per the instruction on the package. Drain well with cold water.
Add the sauce, sesame seeds and toss the noodles well. Garnish with the chopped scallion and serve immediately.
Most-Pinned Recipes
Ginger Garlic Baked Chicken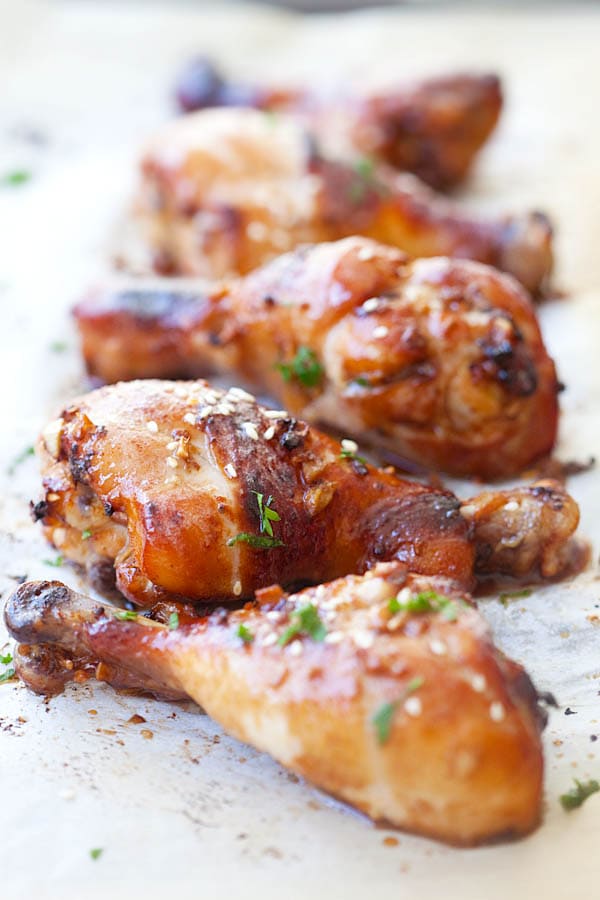 Crab Rangoon (Cream Cheese Wontons)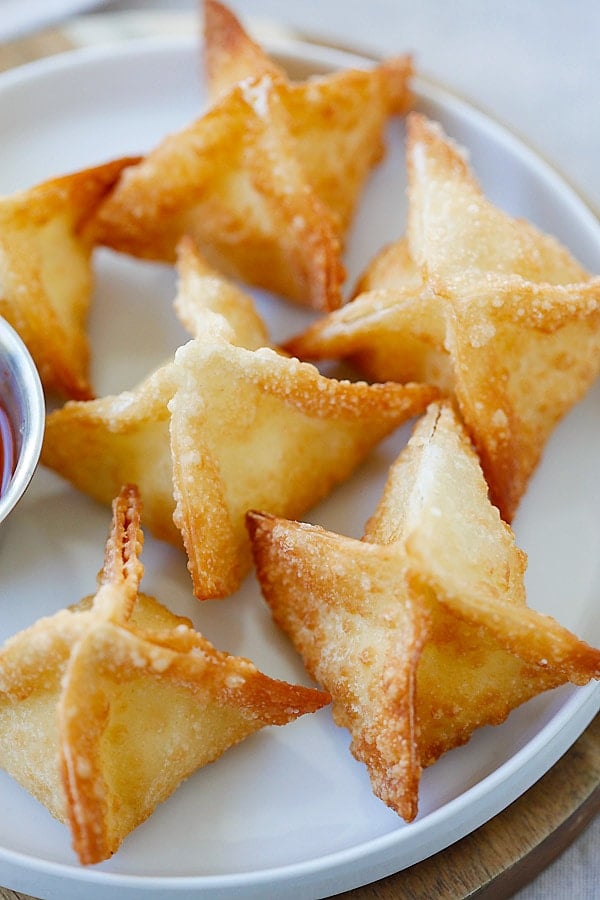 Chicken Wontons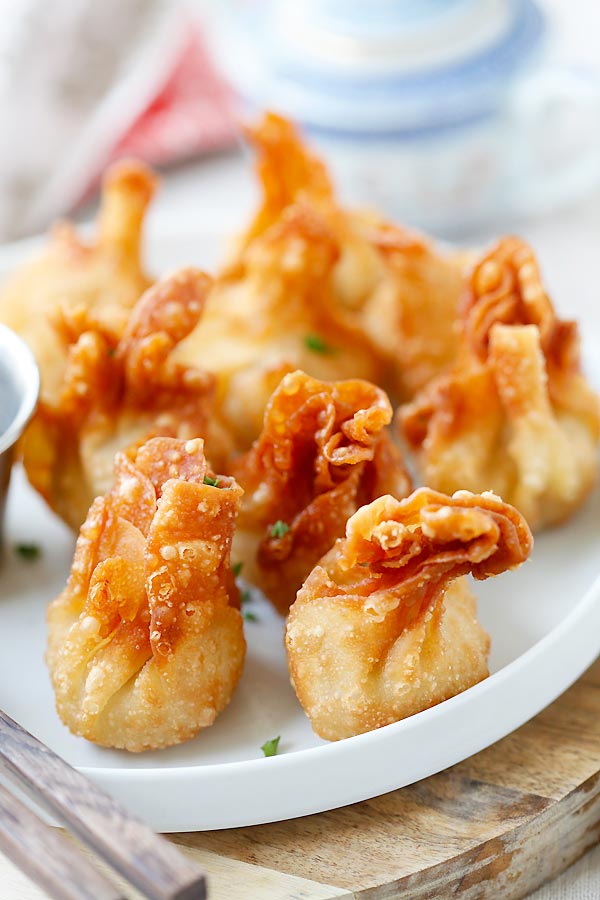 Onion Scallion Beef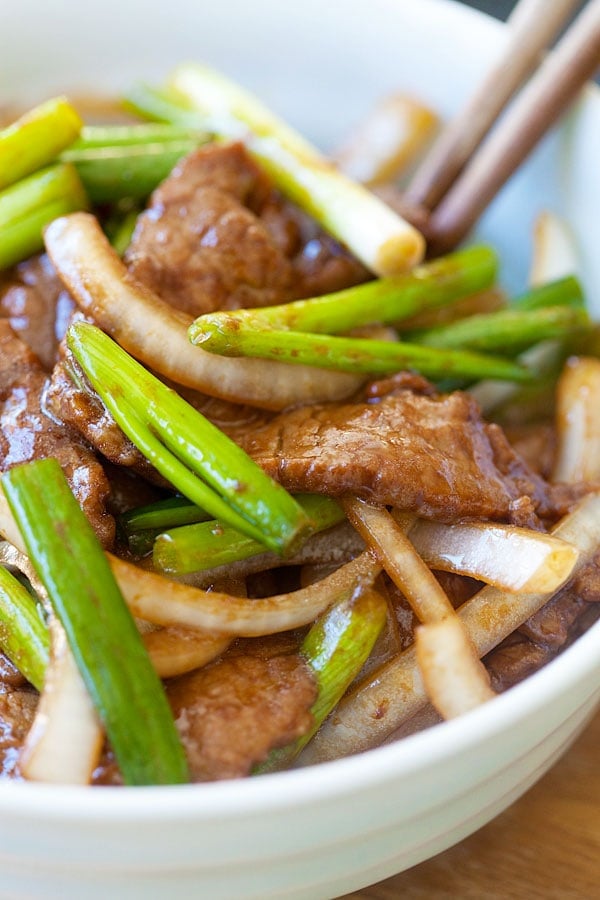 Thai Chicken Sate with Peanut Sauce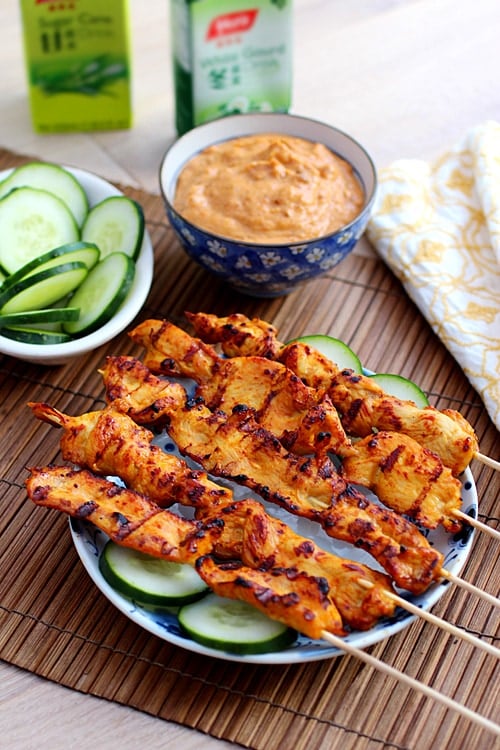 Thai Peanut Sauce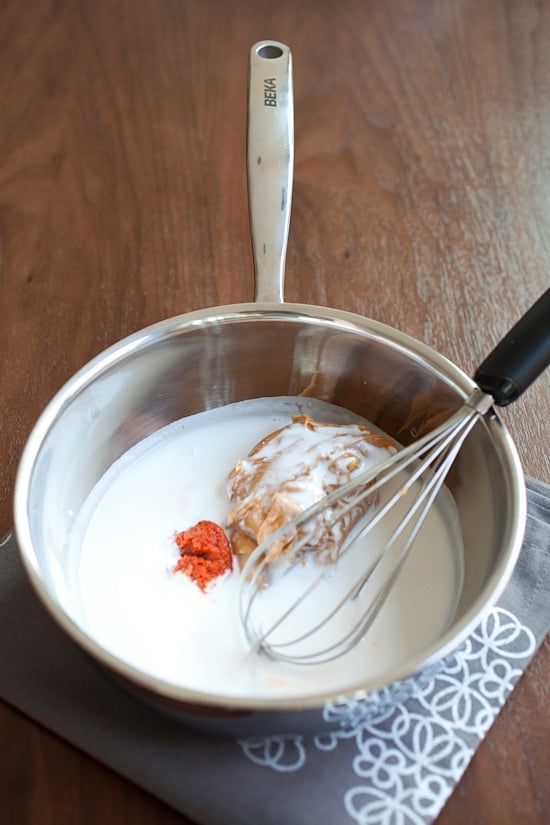 Limited Time Offer: $5.99 only. Available for download WORLDWIDE!
**Use it on Your Tablet, Mobile Phone, Desktop or Laptop**
Copyright © 2016 Rasa Malaysia. All rights reserved.