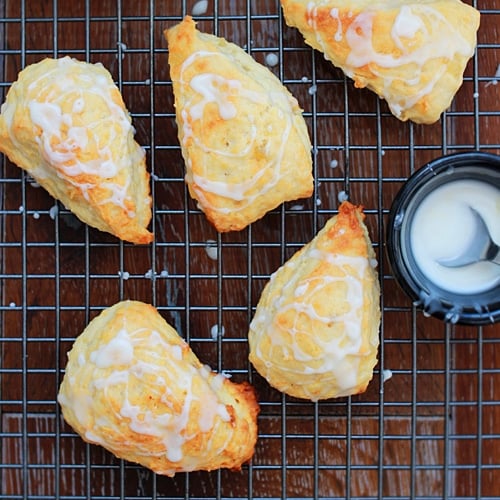 Glazed Lemon-Ginger Scones
Glazed Lemon-Ginger Scones. Sweet, citrusy, with a hint of heat from the ginger. Super easy recipe that the whole family will enjoy
Prep time:
Cook time:
Total Time:
Ingredients:
2 1/4 cup all purpose flour
1/4 cup granulated sugar
1 tablespoon baking powder
1/2 teaspoon salt
2 teaspoons finely grated lemon zest
1 1/2 cups heavy cream
2 tablespoons fresh lemon juice
1/2 cup finely chopped candied ginger
Glaze:
2 cups confectioner (icing) sugar
2 tablespoons plus 2 teaspoons lemon juice
Method:
Preheat the oven to 375°F. Line a baking sheet with parchment paper.
Sieve the flour, sugar, baking powder and salt into a bowl. Add in the lemon zest and whisk all ingredients together.
Use a wooden spatula to combine the heavy cream and lemon juice with the dry ingredients in the bowl. Then fold in the candied ginger.
Lightly floured the working surface, knead the dough until it comes together. Make the dough into a ball. Let it rest uncovered for 2-3 minutes. Dust some flour on top and pat it into a 9-inch round disc, about 1/2 inch thick.
Using a floured knife, cut the dough into 8 wedges and arrange them 1 inch apart on the baking sheet.
Bake the scones for 20-25 minutes, lightly browned on the bottom. Remove from oven and let them rest on the baking sheets for 5 minutes before transferring to the wire rack to cool completely.
To prepare the glaze, whisk the confectioner sugar and lemon juice until it is smooth. Then drizzle the glaze over the scones and let it stand for 15 minutes before serving.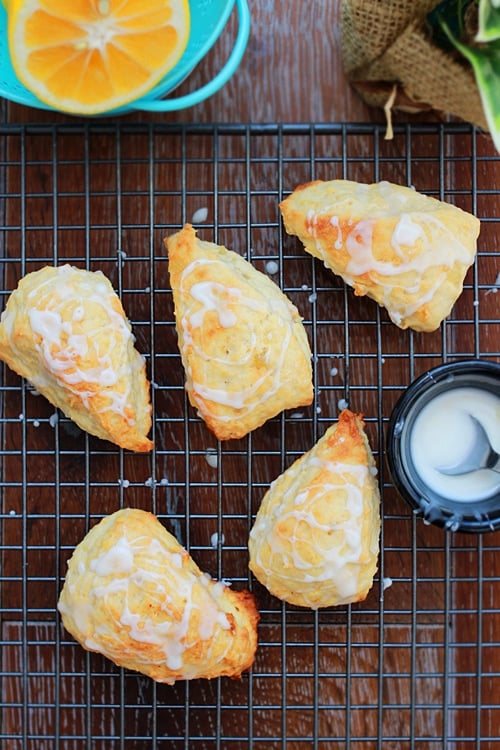 First, I wanted to start by saying that these glazed lemon-ginger scones were really amazing and I had four of them right out of the oven, and the next morning, I ate more!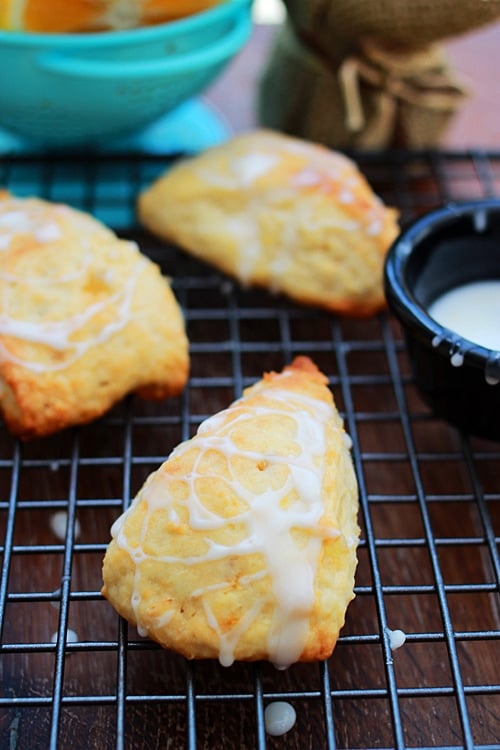 Ginger has always been my favorite ingredient. I always have some ginger in my kitchen. In Asian cooking, especially Chinese, ginger is indispensable and used in many stir-fry's, stews and soups. According to the Chinese, ginger promises many medicinal benefits, for example: anti-inflammatory, blood circulation, digestion, and even cancer fighting benefits.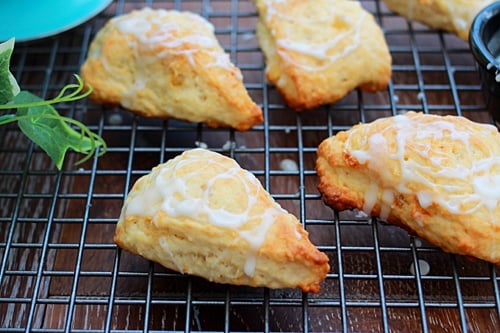 Anyway, the idea of having ginger in scones is very remote to me, until I saw this glazed lemon-ginger scones recipe on the Food & Wine magazine that uses candied ginger. I was intrigued by the idea and so I made these, with great success.
If you don't like too much sugar on your scones, you can skip the glazed and they still taste great.
Rate This
Recipe Name
Glazed Lemon-Ginger Scones
Preparation Time
Cook Time
Total Time
Average Rating

Based on 2 Review(s)