Grill Daddy Heat Shield 6 Piece BBQ Set Giveaway (CLOSED)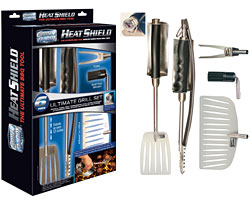 http://rasamalaysia.com/grill-daddy-heat-shield-6-piece-bbq-tool-set-giveaway/
Grill Daddy Heat Shield 6 Piece BBQ Set Giveaway (CLOSED)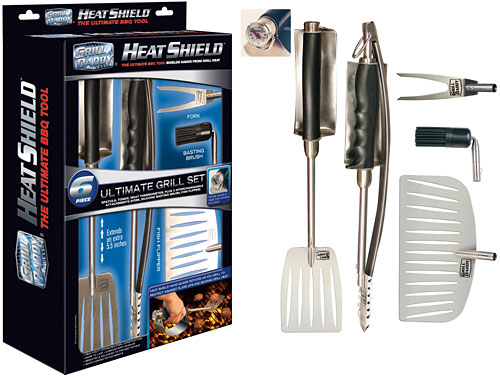 Update: The winner is Mike H.
It's summer and I'm partnering with Grill Daddy to giveaway a Grill Daddy Heat Shield 6 Piece BBQ tool Set. There will be one (1) winner whom will receive one (1) Grill Daddy Heat Shield 6 Piece BBQ tool Set. The retail price of the Grill Daddy Heat Shield 6 Piece BBQ tool Set is US$49.95.
The Grill Daddy family of products is quickly growing into a collection of grilling tools that prove themselves to be indispensable time and time again. With ingenious products designed to effortlessly clean the grill in a matter of minutes and tools that add safety, comfort and amazing control when grilling, Grill Daddy offers a comprehensive line of must-have grilling tools for every grill master.
Grill Daddy's signature product, as well as its namesake, is the revolutionary grill-cleaning tool that quickly cleans large grills with the power of steam. Specially designed to clean and sanitize grills safely and thoroughly, the Grill Daddy easily steams away baked-on food, grease and black residue. Featuring replaceable heavy-gauge, stainless-steel brush heads that are dishwasher safe and guaranteed not to gunk up, the Grill Daddy keeps all grills looking brand new and keeps food tasting great without the use of toxic chemicals or the need for back breaking work.
The newest addition to the Grill Daddy family is the Heat Shield Collection, a set of BBQ tools that offer a host of ingenious deluxe features that provide unmatched safety, handling and grilling comfort. Built to last, each professional-grade, stainless-steel tool is designed with ergonomic comfort-grip handles that are weighted and balanced for effortless grilling. Each is equipped with Grill Daddy's patented rotating heat shield hand guard which maintains continuous protection from flare-ups, searing grill heat, and burning hot food splatters.
The multi-functionality of each individual tool is surely what sets the Heat Shield line of BBQ tools above its competitors. In addition to telescoping shafts that extend an extra 5 ½ inches and retract for storage, each tool can be mixed and matched with a specialty attachment for all grilling tasks. The most ingenious combination allows the cook to replace one jaw of the tongs with a spatula attachment, creating unmatched control when flipping meats and burgers. The set includes three tools (multi-purpose fork, over-sized spatula, sure-grip grilling tongs) and five specialty attachments (fish flipper, slider flipper, silicone basting brush, fork, and spatula).
Eligibility: United States only. No purchase necessary and subject to this official giveaway rules. Closing Date: July 21, 2013, 11:59 pm PST. Winner will be randomly selected and contacted via email on July 22, 2013. The prize is proudly sponsored by Grill Daddy.
Other Amazing Prizes & Giveaways:
Click Images Below for Similar Recipes:
LOVE THE RECIPE & PHOTOS? PLEASE SHARE:
Sign Up for Email Updates
Enter your email for new updates: recipes, giveaways, and more!