Guess What?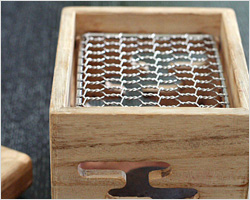 http://rasamalaysia.com/guess-what-3/
I've just come back from a fun-filled trip to Tokyo, it was a blast! I had been to Tokyo a few times before, but this trip was definitely the best trip by far with great company and totally cool people, you know, sometimes everything just comes into place and it feels magical.
Tokyo is such a great city–clean, organized, with the most well-mannered people on earth. And the food…the FOOD is a class of its own that can't be compared to any other cuisines in the world–fresh, delicious, refined, so refined, beautiful, healthy and yet fundamentally simple. I can only think of one word: sublime.
Anyway, I will share some food pictures in my next post, but today, I wanted you to guess what the above is? I was very intrigued by it when I first saw it. It's a very brilliant kitchenware that I wish I have in my kitchen…(another picture after the jump)
So, what is this for? Leave me a comment! I will unveil the answer in my next post.
Updated:
The answer is a wood grill box with a hot stone at the bottom, and used for roasting seaweed (nori) sheets. So neat!
You Might Also Like These Recipes Below:
No similar posts.
LOVE THE RECIPE & PHOTOS? PLEASE SHARE:
Sign Up for Email Updates
Enter your email for new updates: recipes, giveaways, and more!