Guess What?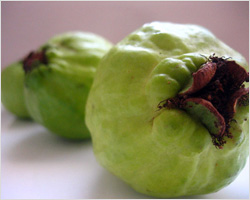 http://rasamalaysia.com/guess-what/
I would like to ask you a riddle; I received some fruit from a friend here in California but I couldn't tell immediately what they were (I haven't had these for the longest time!). I finally figured out after I cut them up and tasted them.
Do send me your answer(s) by posting in the "Comments" section. The first person who gets it right will win (in the voice of Dr. Evil in Austin Powers: International Man of Mystery) one million dollars!!! my respect.
Hint: They are widely available in Asia.
Congratulations to Ho Jiak, the first person to solve the riddle. Yes, they are Guavas, or Jambu Batu in Malay language.
Originally from Mexico and South America, Guavas are readily found in tropical and sub-tropical countries. In Malaysia, we usually dip raw Jambu Batu in sour plum powder, which make them very appetizing.
Whenever I go home to Penang, I would order Guava juice at kopitiam instead of having them raw. If I recall correctly, Guavas in Malaysia are much bigger. As you can tell from the pictures here, these are the mini-me variety of California Guavas. In fact, the round one looks more like a green Tangerine to me. Don't you think?
You Might Also Like These Recipes Below:
LOVE THE RECIPE & PHOTOS? PLEASE SHARE:
Sign Up for Email Updates
Enter your email for new updates: recipes, giveaways, and more!