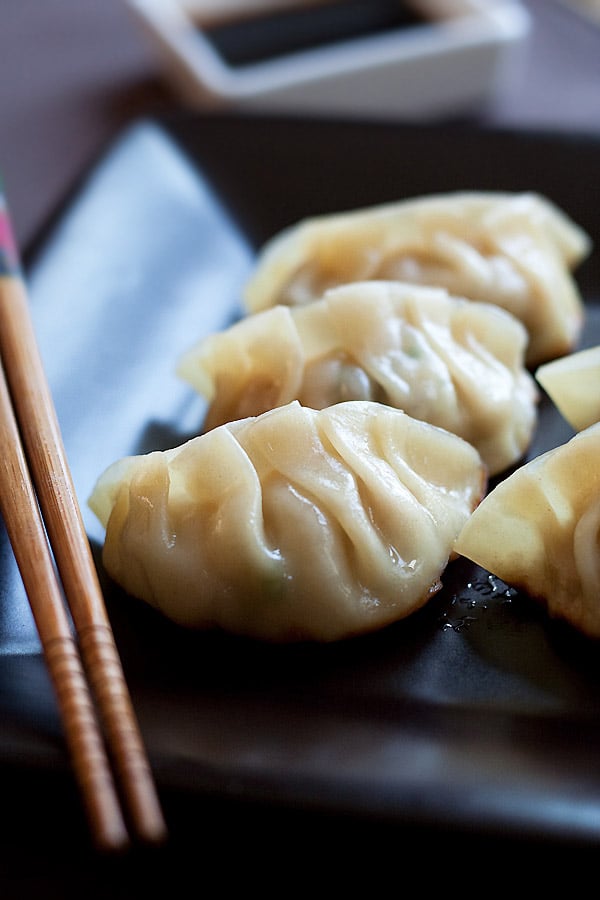 Gyoza Recipe
Gyoza Recipe – Gyoza are Japanese dumplings. Learn how to make the best gyoza with this quick & easy recipe that takes only 20 minutes.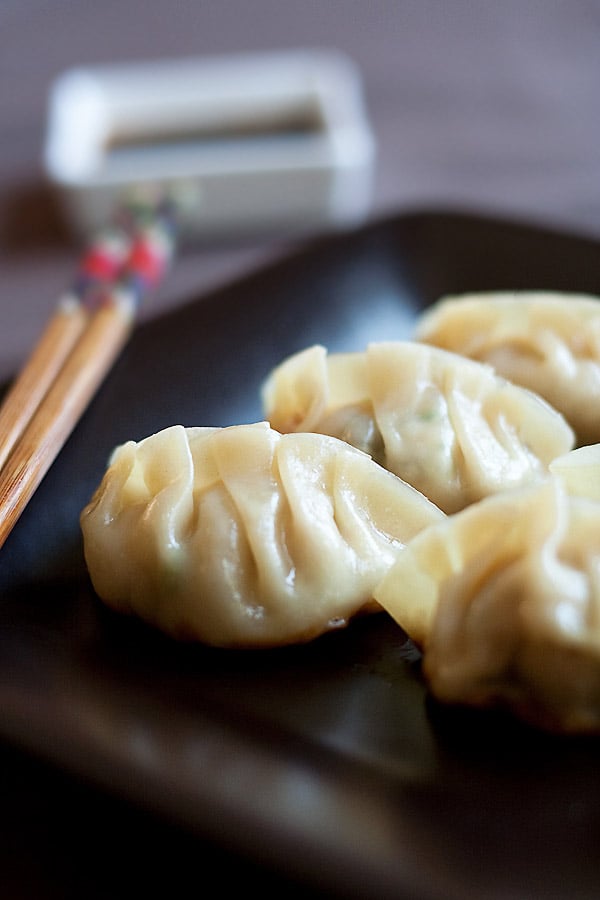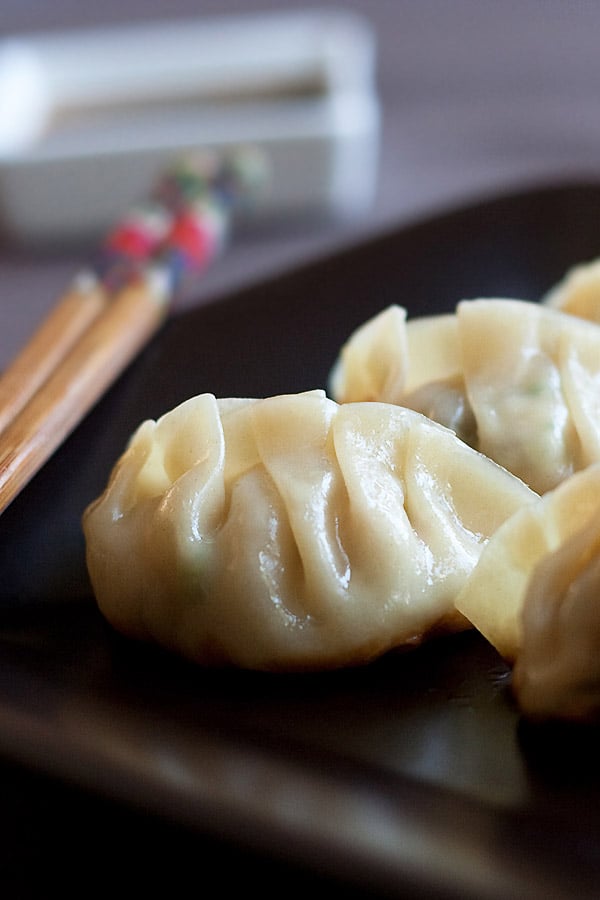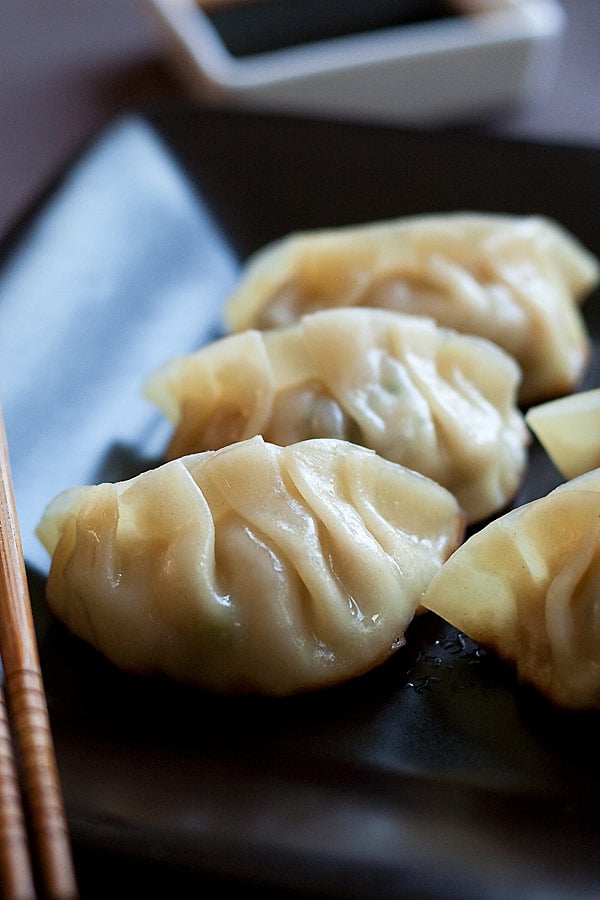 Gyoza is Japanese-style dumpling. Originated from Chinese jiaozi (dumplings), gyoza has become a mainstay of Japanese cuisine, a staple that is very popular in and outside of Japan. In the United States, you can find gyoza at Japanese restaurants and Asian-themed restaurants.
There are four ways of preparing gyoza: steamed, boiled, deep-fried, and pan-fried. I am especially partial to pan-fried gyoza, or yaki-gyoza. It's hard not to like yaki-gyoza—tiny parcel of juicy filling encased in a dumpling wrapper, pan-fried to crispy golden brown at the bottom, and then lightly steamed to create the nice contrast in mouth feel and texture. The highlight of gyoza lies in the exceptional and flavor-enhancing ponzu dipping sauce, which compliments and completes the taste…
Gyoza is commonly made with a ground pork filling (you can also use beef, chicken, or even turkey). Other ingredients include cabbage or Napa cabbage, chives or scallion, and seasonings. I created my gyoza recipe with ground pork and cabbage, and flavored the filling with Mizkan (Bonito Flavored) Soup Base, which is soy sauce with dashi. For serving, I made a ponzu dipping sauce with Mizkan AJIPON® Ponzu. The addition of Mizkan (Bonito Flavored) Soup Base delivers magical results—the gyoza were extremely juicy with a heavenly umami note, and the ponzu dipping sauce was refreshing with a mild citrusy nuance that paired beautifully with the gyoza dumplings.
Making gyoza can be challenging to many people if you don't know how to assemble the dumpling. For your easy reference, I have create an easy step-by-step picture guide in the gyoza recipe below. Please take note that practice makes perfect, so get yourself all the ingredients in this gyoza recipe and start making gyoza at home. I can guarantee you that you will be rewarded with a serving of delicious and juicy gyoza that you just can't stop eating!
Gyoza Recipe (Japanese Pan-fried Dumplings)
Ingredients:
Store-bought gyoza wrapper
Oil, for pan-frying
Water, for steaming
Filling:
8 oz ground pork
2 oz cabbage, shredded and cut into small pieces
1 thumb-sized ginger, peeled and grated
1 clove garlic, peeled and grated
1/2 tablespoon cornstarch
1 1/2 tablespoons Mizkan (Bonito Flavored) Soup Base
1/2 tablespoon sake
3 dashes white pepper
1/2 teaspoon sesame oil
1 tablespoon chopped scallion, green part only
Pinch of salt
Ponzu Dipping Sauce:
4 tablespoons Mizkan AJIPON® Ponzu
1/2 teaspoon sesame oil
Method:
In a bowl, combine all the ingredients in the Filling and blend well. The Filling should be sticky and cohesive.
In a dipping bowl, combine the Mizkan AJIPON® Ponzu with the sesame oil. Stir to blend well.
To assemble the gyoza, place a piece of the gyoza wrapper on your palm or a flat surface. Spoon about 1 teaspoon of the Filling onto the center of the wrapper. Dip your index finger into some water and moisten the outer edges of the dumpling wrapper.
Fold the gyoza over, press and seal the left end.
Use your thumb and index finger to make a pleat. Pinch to secure tightly.
Repeat the same to make the pleats. (Start with 3-4 pleats if you are a beginner). A nicely wrapped gyoza should have a crescent shape.
Heat up the oil in a skillet or stir-fry pan over medium heat. Arrange the gyoza  and cover with the lid. Pan-fry the gyoza until the bottoms turn golden brown and become crispy.
Add about 1/4-inch water into the skillet or stir-fry pan and cover the lid immediately. The water should evaporate after a few minutes. Continue to cook the gyoza for a couple of minutes to crisp up the bottoms.
Remove the gyoza from the skillet or stir-fry pan and serve immediately with the Ponzu dipping sauce.
Cooking Tips for Gyoza:
To grate the ginger and garlic, you can use a Japanese grater (oroshigane) or Microplane.
Get a good gyoza wrapper. Gyoza wrapper is generally thicker compared to other dumpling wrapper. Most of them are round in shape, but some are oval-shaped. For easier assembling, I suggest the round-shaped gyoza wrapper. If you can't find gyoza wrapper, you can always use pot sticker wrapper, or Chinese jiaozi wrapper.
Traditionally, Japanese home cooks use their hands to mix the gyoza filling for the best texture.
You can adapt this recipe and make vegetarian gyoza.
Copyright © 2015 Rasa Malaysia. All rights reserved.