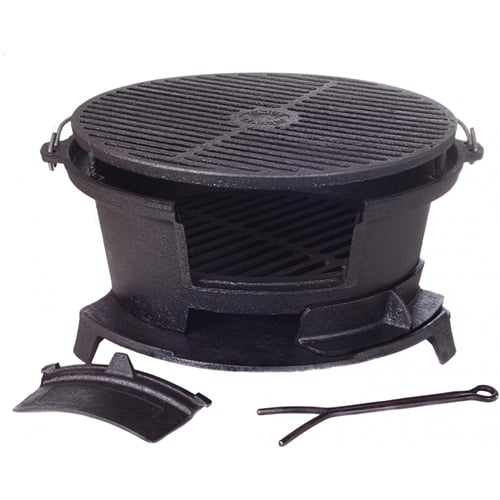 Update: The winner is Sookie. Please reply to my email to claim your prize before this Thursday. If not, you will be forfeited.
Good news! My sponsor Mizkan is giving away a cast-iron Hibachi Grill and Mizkan product bundle to one (1) lucky reader of Rasa Malaysia. Hibachi Grill is a tabletop and portable charcoal grill. This Hibachi Grill resembles traditional, Japanese, charcoal-heated cooking utensils called shichirin. The Hibachi Grill is pre-seasoned cast iron, round in shape, durable, and measures 15 inches across the cooking grid and 8 inches high. This Hibachi Grill will allow you to prepare authentic Japanese dishes such as flank steak with ponzu and miso butter, grilled salmon, beef rolls, yakiniku (Japanese BBQ), yakitori, anytime you like, indoor or outdoor. It is also great for camping!
The Mizkan gift bundle consists of two (2) bottles of Mizkan Japanese condiments, which you can use in a wide range of Japanese cooking:
Mizkan AJIPON® Ponzu
Mizkan (Bonito Flavored) Soup Base
MIZKAN HONTERI® Mirin Seasoning
Mizkan Rice Vinegar
Mizkan Sushi Seasoning
The total retail value of the prize bundle is approximately $150.
To enter to win, just leave a comment below. To maximize your odds of winning, you can leave a comment every day (one comment per day strictly enforced), plus the bonus entries below:
Two Bonus Entries:
Like Mizkan on Facebook. Leave 1 bonus comment for this.
Like Rasa Malaysia on Facebook. Leave 1 bonus comment for this.
Retweet this post on Twitter. Leave 1 bonus comment for this.
This giveaway opens to US residents only and closes on August 14, 11:59 pm PST. Winners will be randomly selected and announced on August 15, 2011. Good luck!
Other Amazing Prizes & Giveaways: