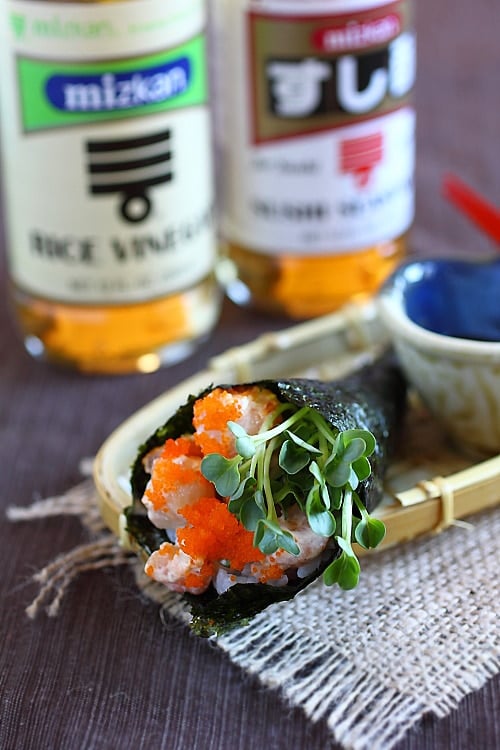 Hand Roll (Temaki Recipe)
Makes 6 – 8 hand rolls
Sponsored by: Mizkan
Ingredients:
Sushi rice, recipe here
Roasted seaweed (nori sheets), cut into 5-in x 8-in pieces
1 box radish sprouts, ends trimmed (2.5 oz box)
Masago, for topping
Creamy Spicy Seafood Filling
Ingredients:
4 oz shelled baby shrimps
4 oz bay scallops
6 tablespoons mayonnaise
1/2 teaspoon lime juice
1/2 teaspoon Sriracha sauce
1 teaspoon sugar
1 tablespoon masago
Method:
The Filling
Preheat the oven to 400 degree F.
Using a teaspoon, mix the mayonnaise, lime juice, Sriracha sauce, sugar, and masago. Set aside.
Pat dry the baby shrimps and bay scallops with paper towels. Add half of the creamy spicy sauce to the seafood, stir to coat well. Transfer the seafood into an oven-safe dish or container. Top the seafood with the remaining creamy spicy sauce. Bake for 25-30 minutes or until the top turns slightly brown. Remove from the oven and let cool.
The Hand Roll
Prepare the sushi rice per the recipe here. Let cool to room temperature.
Bake the filling per the recipe above. Once the filling is cooled to room temperature, assemble the hand roll per the step-by-step picture guide below.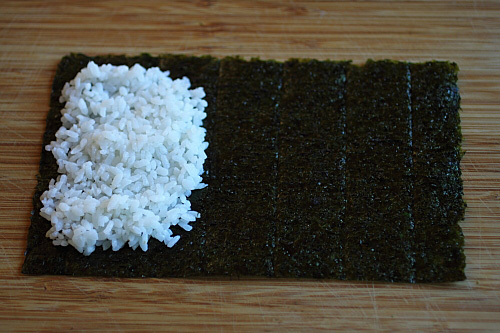 Place a sheet of nori (roasted seaweed) on a flat surface. Wet your hand with some water and scoop out about 3 tablespoons of sushi rice and spread the rice evenly on the nori sheet. Leave about 1/2-inch on the sides.If you like more sushi rice in your hand roll, use 4 tablespoons of sushi rice.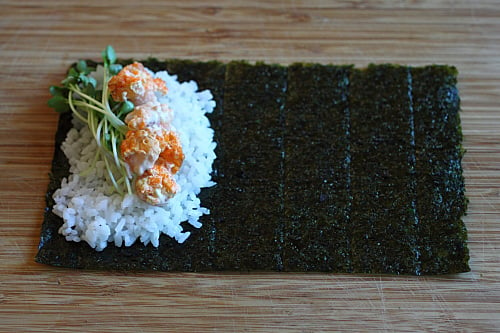 Add some radish sprouts on top of the rice, follow by the Filling. Arrange them at an angle for easy rolling.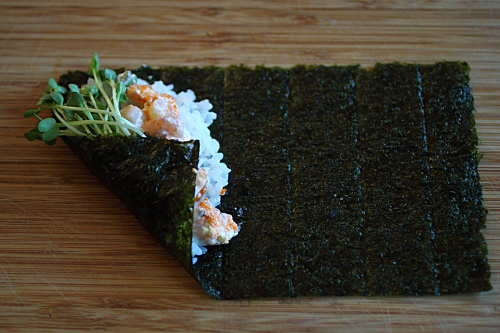 Roll up the hand roll, starting at the lower left hand corner of the nori sheet. Keep rolling to form a cone shape. Make sure you roll tightly to secure the sushi rice and fillings. Add some masago on top of the hand roll. Dip the hand roll with some soy sauce and wasabi, if you like.
Most-Pinned Recipes
Ginger Garlic Baked Chicken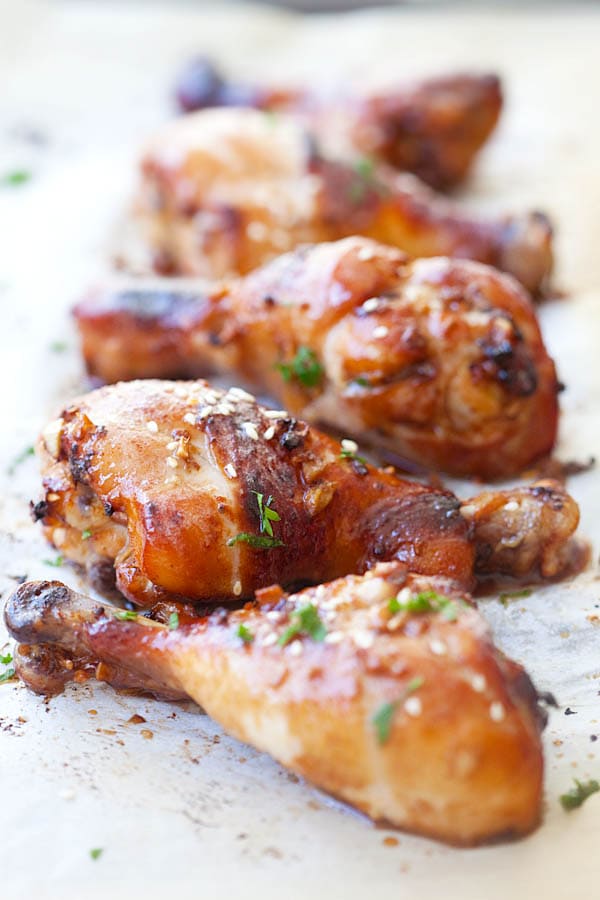 Crab Rangoon (Cream Cheese Wontons)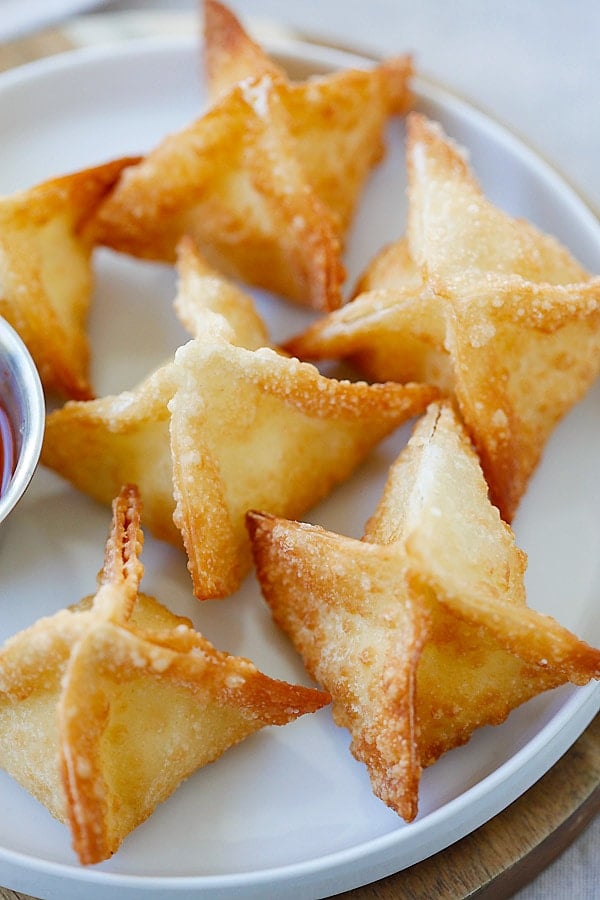 Chicken Wontons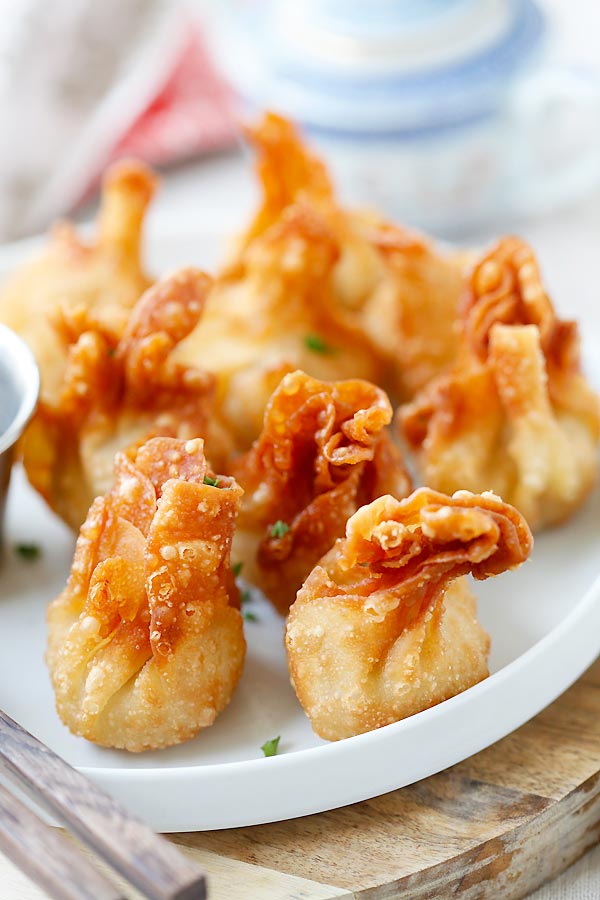 Onion Scallion Beef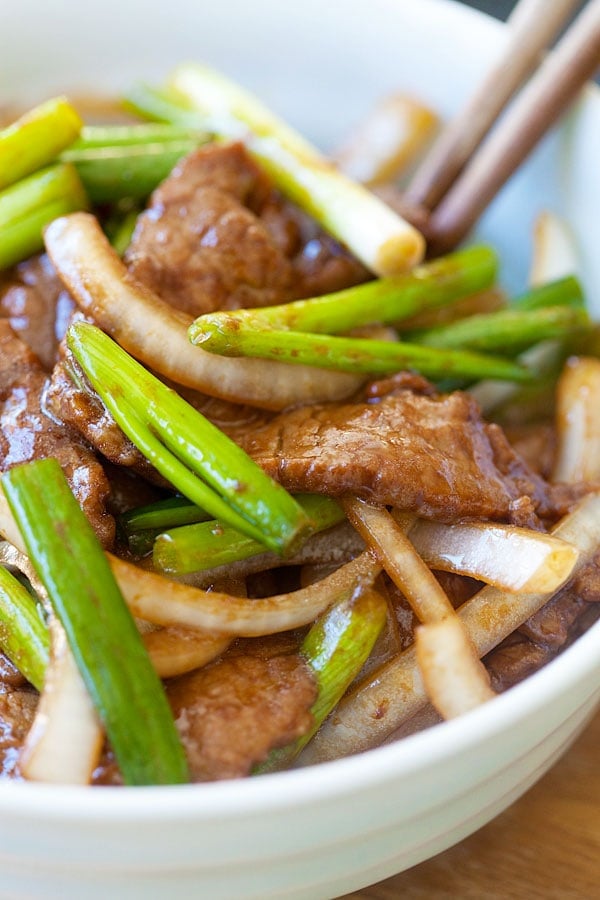 Thai Chicken Sate with Peanut Sauce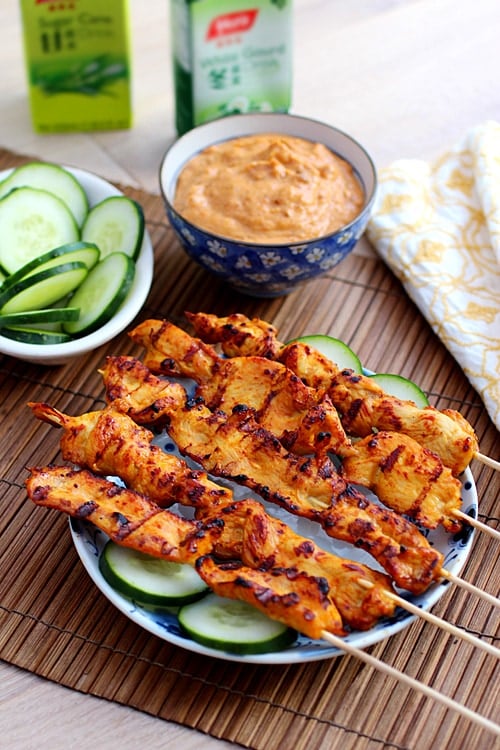 Thai Peanut Sauce