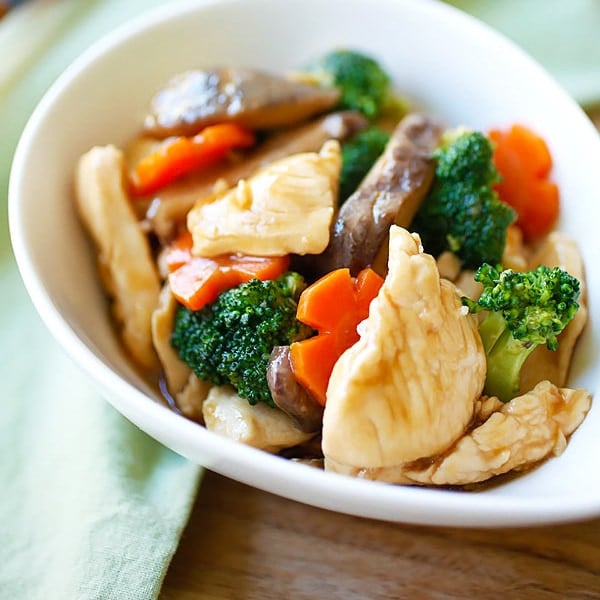 Hoisin Chicken
Hoisin chicken – easy chicken stir-fry with vegetables in a savory Hoisin sauce. This recipe takes 20 minutes with easy-to-get store ingredients | rasamalaysia.com
Prep time:
Cook time:
Total Time:
Ingredients:
2 tablespoons oil
2 cloves garlic, minced
3 oz broccoli florets
4 oz chicken breast meat, sliced into thin pieces
4 Shiitake mushrooms, sliced
1/4 small carrot, peeled and sliced
Pinch of salt and sugar, to taste
Marinade:
1/2 teaspoon Shaoxing wine or rice wine
1/2 teaspoon starch
Sauce:
1 heaping tablespoon hoisin sauce
1 teaspoon soy sauce
1/2 teaspoon sesame oil
3 dashes white pepper
1/2 heaping teaspoon corn starch
4 tablespoons water
Method:
Marinate the chicken with the Marinade for about 10 minutes. Mix all the ingredients in the Sauce in a small bowl, stir to combine well.
Heat up a wok with the oil. When the wok is heated, add the garlic and stir-fry until aromatic. Transfer the broccoli into the wok and do a few quick stir. Add the chicken and continue to stir-fry. Add the mushroom, carrot, and the Sauce (stir it before using) and stir to mix well with the other ingredients in the wok.
When the sauce thicken and the chicken is cooked, add a pinch of salt and sugar to taste (optional), dish out and serve immediately with steamed rice.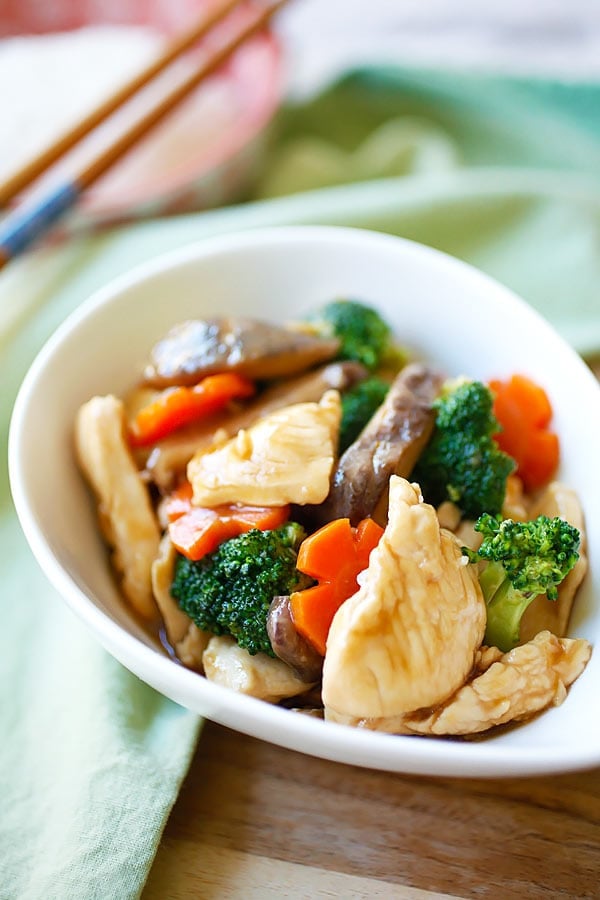 Hoisin Chicken
Hoisin chicken – easy chicken stir-fry with vegetables in a savory Hoisin sauce. This recipe takes 20 minutes with easy-to-get store ingredients.
Posted in April 13, 2013. Updated with new photos.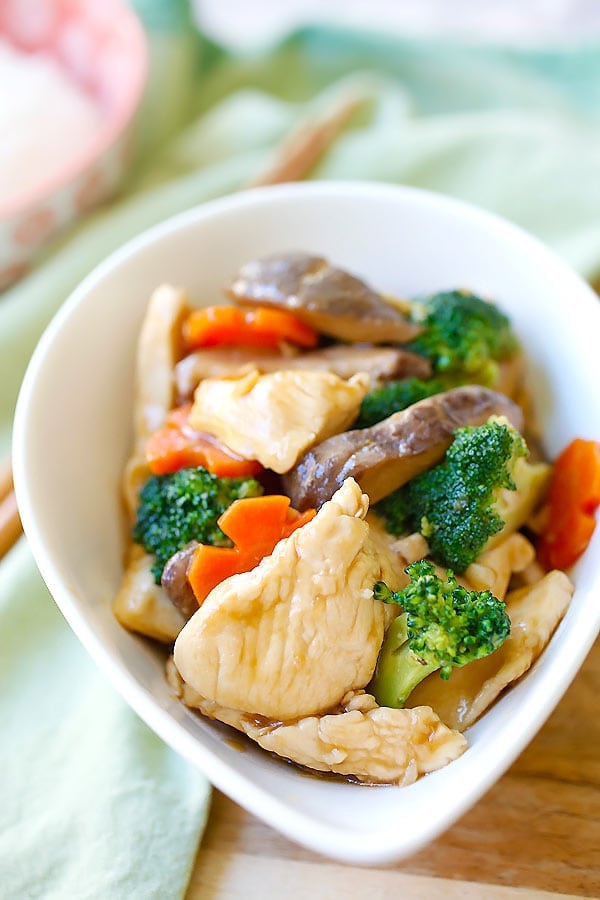 When it comes to Chinese cooking, soy sauce and oyster sauce are two of the most used sauces. However, there are other sauces that taste great, but are less common, for example: Hoisin sauce. Hoisin sauce is usually used as a dipping sauce, for example: Peking duck. Hoisin sauce, or in Chinese, 海鲜酱, literally means seafood sauce, but ironically, there is no seafood in the sauce. Hoisin sauce is made of sweet potatoes, soy beans and other flavorings.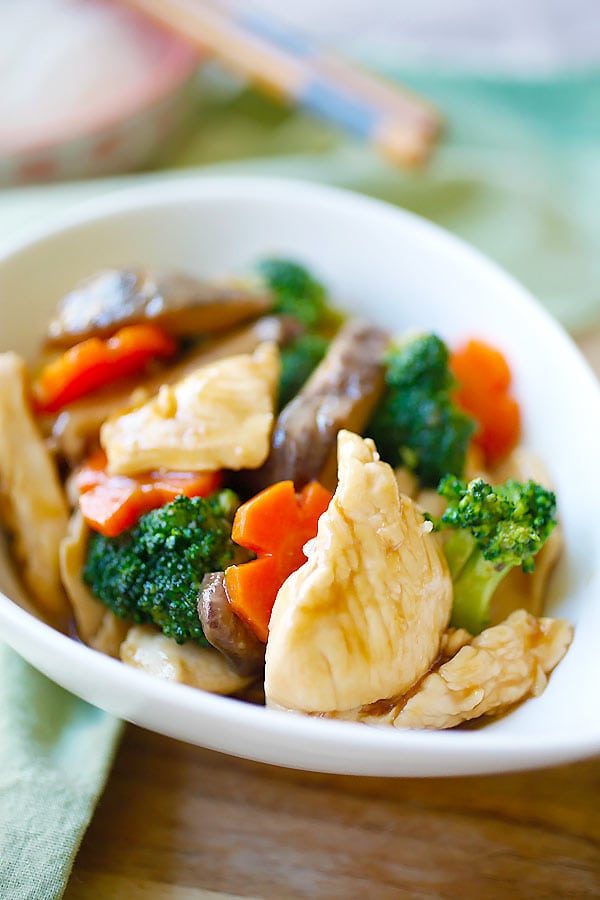 The savory, sweet, and umami tasting sauce is actually great for stir-fries, as in this simple Hoisin Chicken that I made a few days ago. Chinese stir-fries are mostly cooked with soy sauce and oyster sauce, so using Hoisin sauce brings a new dimension in taste. I like the slight sweetness that comes with the sauce, and it makes this Hoisin Chicken very appetizing, and especially great with steamed white rice.
For the vegetables, I used the leftover broccoli in my fridge, but leafy greens such as baby bok choy will be a great substitute. I also dressed it up with some Shiitake mushrooms. You can use any mushrooms you like, for example: button mushroom.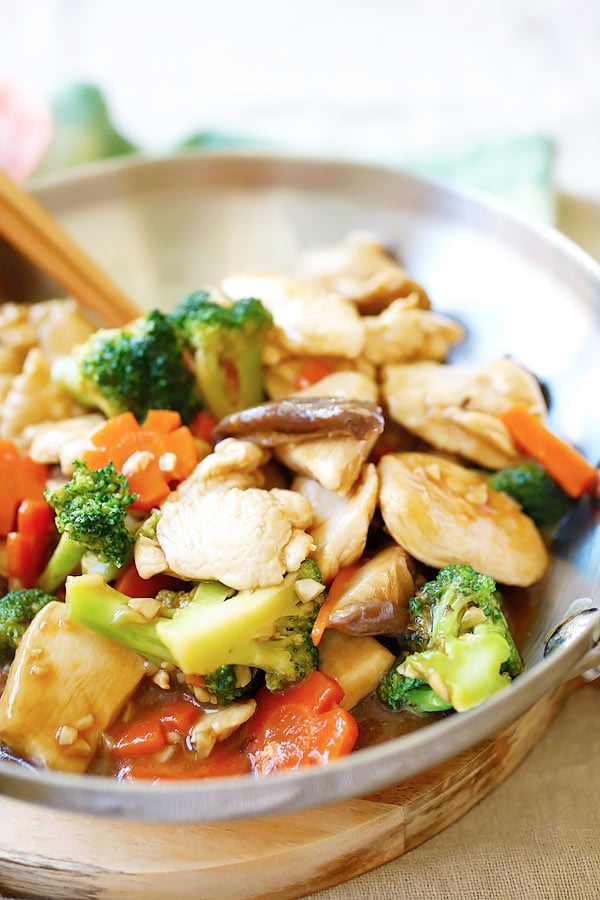 Anyway, this Hoisin chicken recipe reminded me of my trip to a Chinese village outside of Beijing a few years ago. I had a very humble home-cooked meal in the village. The villagers cook and eat whatever they raise or have in their farm. That day, we had a simple chicken with leafy green and mushrooms, seasoned with the leftover Hoisin Sauce from the Peking duck that they packed from Beijing. The organic chicken raised in the village was lean and juicy. The fresh greens and the wild mushrooms were absolutely delectable, and the Hoisin sauce pretty much made the dish complete. The best foods are the ones prepared with the simplest and freshest of ingredients. Enjoy!