Eating Beijing: Hooked on Heat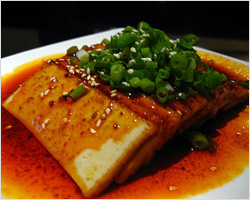 http://rasamalaysia.com/hooked-on-heat/
Eating Beijing: Hooked on Heat
Cold tofu drenched in red hot chili pepper oil; I could feel the heat just as soon as I had the first bite.
A plateful of even more red hot chili pepper with some hidden fried chicken bits.
Alluringly tongue-numbing and lips-tingling, my body was working up a sweat. This dish was blatantly addictive and downright incendiary.
Finishing off my cold night with a heap of shrimp tossed with preserved vegetables and peanuts.
My gastronomic way of staying warm, ala Sichuan style.
P.S.: Meena of Hooked on Heat…my title was inspired by your beautiful blog.
You Might Also Like These Recipes Below:
LOVE THE RECIPE & PHOTOS? PLEASE SHARE:
Sign Up for Email Updates
Enter your email for new updates: recipes, giveaways, and more!