How to Create and Install a Favicon?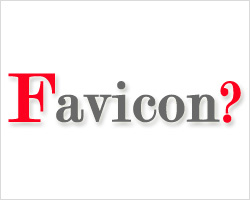 http://rasamalaysia.com/how-to-create-and-install-flavicon/
How to Create and Install a Favicon?
If you are a regular reader of Rasa Malaysia, you should notice by now that there is a little RM icon (favicon) on Rasa Malaysia's bookmark. A few readers asked me about it and I thought I would write a quick post to teach you how to create one.
I think every website should have a favicon. Not only is it cute, it also gives your site that unique online identity and custom personalization of your domain. Favicon is very easy to make and takes no more than 20-30 minutes of your time.
Below please find my step-by-step instructions:
Create a 16×16 icon of your choice (.jpg format) and save it to your desktop.
Go to Flavicon Coverter and convert it to .ico format.
Follow the instructions on the site and you're set.
Good luck creating and installing your favicon!
You Might Also Like These Recipes Below:
No similar posts.
LOVE THE RECIPE & PHOTOS? PLEASE SHARE:
Sign Up for Email Updates
Enter your email for new updates: recipes, giveaways, and more!