I am SHAMELESS, but…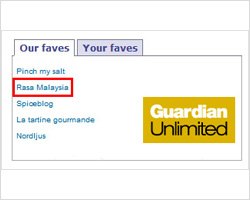 http://rasamalaysia.com/i-am-shameless-but/
Chez Pim wrote this on her Blog Day 2007 post:
"…some bloggers clearly should be publishing magazines and not blogs" and Rasa Malaysia is one of them!
Then, Apartment Therapy included my Baked Lobster with Cheese picture on their slinks–n. (slingks) Surreptitious web links to other good sites.
And then, Guardian UK made me one of their favorite blogs (there are only 5 on their list!). Screenshot below…
Last but not least, mega chef and cookbook author Mr. David Lebovitz (Gasp! He checks out my blog?!) featured my Red Bean Souffle Balls as one of the recipes to use for egg whites…
This is a SHAMELESS self promotion, but I really can't help it. *wink*
Thanks a bunch!
You Might Also Like These Recipes Below:
LOVE THE RECIPE & PHOTOS? PLEASE SHARE:
Sign Up for Email Updates
Enter your email for new updates: recipes, giveaways, and more!