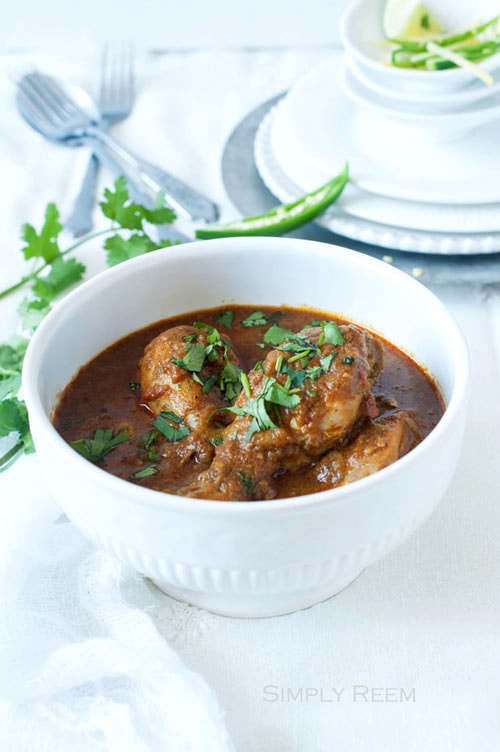 I meet a lot of interesting friends from my blog, especially my friends who live in Irvine, Orange County. Recently, I connected with Reem of Simply Reem.  After many email exchanges, I finally met her in person. Reem is so sweet; she came to support my cooking demo at Macy's and bought me a nice bouquet of flower. Simply Reem is a blog about cooking, home/garden and more. I simply adore Reem's homey recipes on Indian cuisine. Today, she teaches us how to make Indian chicken curry with dried roasted spices, a family recipe that she learned from her mother. Enjoy and don't forget to check out Simply Reem.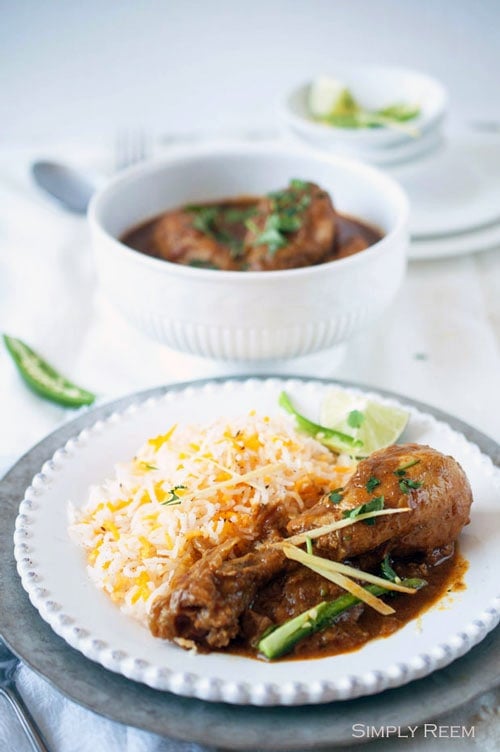 I want to start by thanking Bee for giving me opportunity to share my recipe on Rasa Malaysia. Rasa Malaysia is an excellent blog which brought Asian food and cooking to a new platform. I have been a sincere follower and fan of Bee and her beautiful space even before I started my blog. Every craving of Asian food from Noodles to Laksa bought me here, a place where I could find it all and learn. It is truly an honor for me to be here today. Thanks Bee!!
For me there are few things as reassuring as a bowl of hot steamy curry dish with some rice or bread. I remember no dinner in my parents home was complete without a curry dish; it always faithfully made its way to the dinner table in some form or the other. Every season has its own version of curry dishes to be enjoyed with your family and friends. Even though curries are a part of me but for a very long time I feared making one of my own. It wasn't so much the procedure or precision that kept me from simmering my own curry but rather a fear of not being able to live up to my own expectation. Finally, after a long wait I did make curry and I have never looked back since.
Before we move on let me tell you that the word curry itself is one of the most misunderstood culinary term. Curry literary means a "dish with a sauce," curry is not a dish by itself. You add the name of the key ingredient before curry and voila you have the name of the dish…Chicken Curry, Mixed Vegetable Curry, Lamb Curry and so on. Adding a spoon or two of store bought curry powder to a dish is far from anything authentic. A true home-style Indian curry is a beautiful symphony of simple flavors and spices. They are not only delicious but really healthy; nothing like the ones you are usually served at restaurants loaded with fat and spices. Simmering gently, bringing all the flavors from herbs, spices and vegetable/meat/chicken/fish together in a form of a delightful dish, curries can be a part of any meal; making it more delicious and enjoyable.
Moving on, the recipe of "Indian Chicken Curry with Dry-Roasted Spices" I am sharing today is a delightful and absolutely delicious chicken curry you will find in many Indian kitchens. It is really easy to make; the addition of roasted spices at the end of the cooking makes it even more delicious and add a wonderful rich color as well as divine aroma to the dish. So here you go, enjoy!!
Once more Thanks Bee for having me here.