iPad Mini 16GB Retina Giveaway (WORLDWIDE) [CLOSED]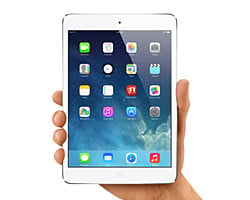 http://rasamalaysia.com/ipad-mini-with-retina-display-giveaway-worldwide/
iPad Mini 16GB Retina Giveaway (WORLDWIDE) [CLOSED]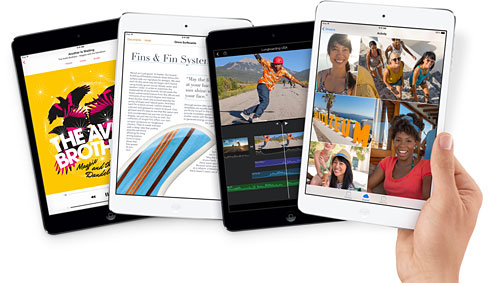 Udpate: The winner is Poi Fun Thai in Ohio, US.
To thank ALL my fans for your continued support and to celebrate the upcoming holiday season, I'm giving away a 16GB Apple iPad mini with Retina Display. There will be one (1) winner whom will receive one (1) 16GB Apple iPad mini with Retina Display. The suggested retail price of the 16GB Apple iPad mini with Retina Display is US$399.
Any way you look at it, iPad mini is just incredible. And the stunning Retina display is only the beginning. With a new A7 chip, advanced wireless, and powerful apps — all beautifully integrated with iOS 7 — iPad mini with Retina display lets you do more than you ever imagined. Feature for feature, it's identical to iPad Air in every way. Except for its super-portable, hold-it-in-one-hand, still-just-right mini size.
7.9-inch Retina Display
Now iPad mini looks even more brilliant in your hand. The Retina display has over 3.1 million pixels — a million more than an HDTV. That's a 2048-by-1536 resolution, four times the resolution of the previous-generation iPad mini. In fact, the pixels are so close together, your eyes can't distinguish them. So photos and videos show incredible detail and text is razor sharp. Because the best pixels are the ones you never see.
Thin and light design
There are many incredible new features inside iPad mini. It has a stunning Retina display, the incredibly powerful A7 chip, advanced wireless technologies, and more. Yet it's still thin and light (and mini). It's just 0.29 inch thin and weighs less than three-quarters of a pound. So while you can do even more, you won't feel like you're holding any more.
Incredible performance
The new Apple-designed A7 chip brings 64-bit desktop-class architecture to iPad. That means up to 4x the CPU speed and up to 8x the graphics performance for everything you do. And still up to 10 hours of battery life to study, play, build, and create whatever you want, all you want.
Advanced wireless
Your new favorite app, book, or movie. Your next FaceTime call or iMessage. Ultrafast wireless lets you access the things you love, right from iPad mini. So more than ever, you can stay in sync and in touch.
Great apps included
iPad mini is the perfect everyday companion. Because it comes with apps that help you do the everyday things you love to do, like check your email, talk to Mom over FaceTime, or consult Siri to settle a bet. And now iPhoto, iMovie, GarageBand, Pages, Numbers, and Keynote are free with iPad mini.3 So you can write the next great novel, nail your presentation, and compose a score for your home movie — all from your iPad mini. And all these apps are optimized for 64-bit architecture. So they run smoothly and powerfully and make iPad mini — and you — more capable than ever. From the moment you turn it on.
App Store
Plan a road trip. Study whale migration. Draw blueprints for a building. Or repel a zombie invasion. For anything and everything you do, there's an iPad app. And new ones are always being added in the App Store. iPad apps are so much easier to use and love, because they aren't just stretched-out phone apps. They feel like they're made for iPad — because they are made for iPad. They take advantage of every pixel on the Retina display and leverage technologies like the gyroscope, accelerometer, and compass. And with the incredible potential of 64-bit architecture, this is just the beginning for what you'll be able to do (and explore, and study, and draw, and zap) with iPad mini.
Eligibility: Worldwide (subject to United States export regulations). No purchase necessary and subject to this official giveaway rules. Closing Date: January 12, 2014, 11:59 pm PST. Winner will be randomly selected and contacted via email on January 13, 2014. The prize is proudly sponsored by Rasa Malaysia.
Sign Up for Email Updates
Enter your email for new updates: recipes, giveaways, and more!