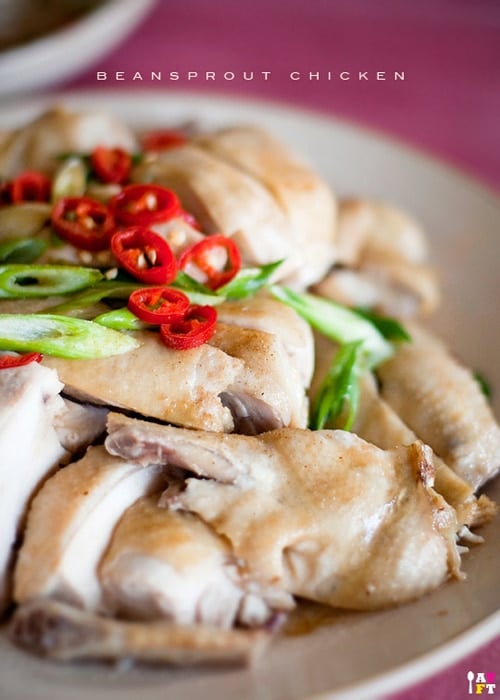 To say that Malaysians are talented is not an overstatement as some of the best–and most impressive–food blogs are authored by Malaysians. I am constantly amazed by the sheer talent of my fellow Malaysians, for example: Billy Law at A Table for Two. A Table for Two chronicles Billy's eating adventures in Sydney as well as documents delectable recipes from his kitchen. Graced with outstanding food photography plus a keen sense of humor and wicked writing style, I am ready to crown A Table for Two the best new food blog of 2009! Please welcome Billy to Rasa Malaysia as he shares Ipoh Bean Sprout Chicken (芽菜鸡) recipe with us–a famed dish from the state of Ipoh in Malaysia.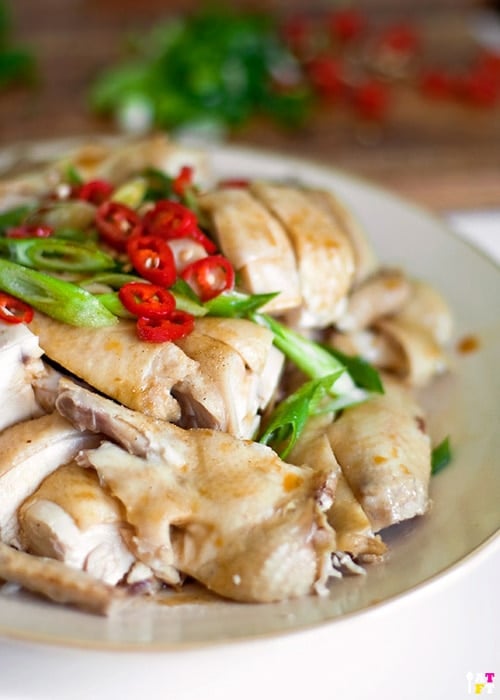 I can confirm this – no matter where you are, the only one topic that can reunite all Malaysian expats around the world together has to be food. I am sure you will all agree with me, Malaysian food especially. When Rasa Malaysia asked me to be a guest writer on her blog to feature a signature dish from my hometown, the answer is loud and clear – the most famous dish from Ipoh has to be Bean Sprout Chicken (芽菜鸡) with Sar Hor Fun (rice noodle).
This is a very simple dish to prepare, all you need is patience. The chicken is cooked using the same technique as Hainan Chicken. It is poached in a water bath then quickly dunk into cold water to stop the cooking process to retain its juicy smoothness texture. As for the bean sprout, it will only need to be blanched no more than 10 seconds, then drizzle with sesame oil and soy sauce, and a smidge of white pepper for bit of kick.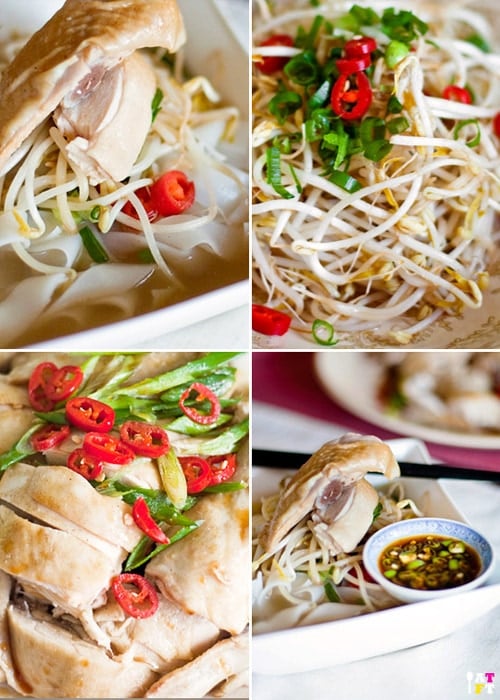 Sounds simple? It sure is. You might be wondering how can poached chicken with blanched bean sprout and served with just rice noodle in soup can be a big hit in Ipoh? All thanks to its prime location.
Ipoh is famous for its food, due to the relatively mineral-rich water (high alkali content) owing to its location on top of a large karstic formation, makes the food especially tasty. Tourists and locals are willing to travel interstate for hours just to have a taste of the delicious food this town has to offer.
Another characteristic of this dish is the rice noodle. Its slightly translucent look and superb slippery smooth texture swimming in a sweet broth that has been boiled overnight using chicken carcasses is what make this dish popular with the locals. Sadly all I can get in supermarket here in Australia is some precooked fresh rice noodle in packets which all stick together, thick and crumbly. I am in Australia for over 13 years now, the bean sprout may not be as stout and fat, the rice noodle may never taste the same as those in Ipoh, but at least making this dish will always bring me one step closer to home.
To make this dish, I would suggest you to go for the best produce as possibly can, especially the chicken. Free range or organic chickens are the best options which gives you a better flavour and texture.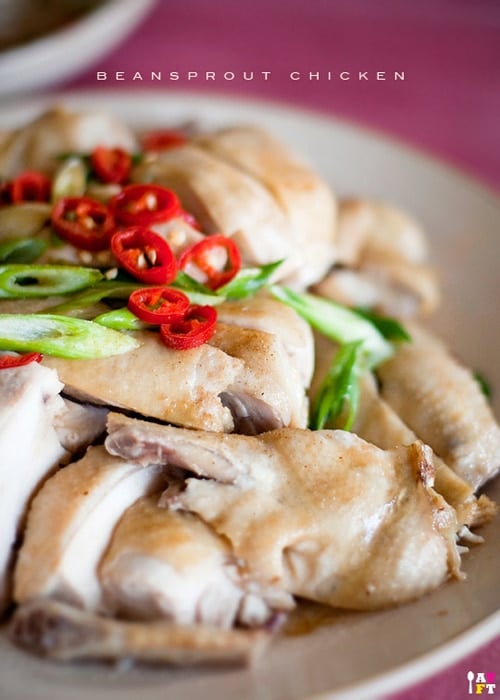 Ipoh Bean Sprout Chicken (芽菜鸡)
Ingredients:
Poached Chicken:
1 whole free range chicken
3 cloves garlic (halved)
2 green onion stalks (scallions) chopped into 10cm lengths
1 tbps black peppercorn
1 tbps goji berries (wolfberries)
1 bowl of ice water
Blanched Bean Sprouts:
250gram bean sprouts (root discarded preferably)
Sar Hor Fun (Rice Noodle soup):
1 packet of fresh rice noodle (microwavable type)
1 handful (100gram) of dried anchovies (江魚仔)
1 cube vegetable stock
1 tbsp black peppercorn
20 gram rock sugar
Pinch of salt to taste
(optional) 250gram of mixed pork bones (to add rich flavour)
(optional) 100gram of soy bean (to add sweetness)
Sesame oil and soy sauce to taste
Method:
Poached Chicken
1. Bring a large pot of water to the boil. Make sure the pot is deep enough to submerge the entire chicken with the lid on.
2. Place garlic, scallions, peppercorns and goji berries into the cavity of the chicken.
3. When the water has boiled, remove the pot from the heat and place the chicken into the water, neck first. Put the lid on and leave the chicken to stand for 1 hour.
4. Then lift the chicken out of the water and set aside, as we need to boil the water again for its second bath.
5. Bring the pot of water to the boil again. Remove the pot from the heat and put the chicken back in for another 30 minutes bath. The chicken should be cooked by now but sometimes the bone can be still bloody when cut up. If you prefer it to be fully cooked, add an extra 30 minutes for the second bath but the texture of the chicken might be slightly different.
6. Act quickly, transfer the chicken to a large bowl of ice water to stop the cooking process. Important! Do not discard the pot of water bath! It is now a perfect pot of chicken stock ready to be used for the noodle soup later.
7. Once the chicken has cool down, discard all the mixture in the cavity. Rub sesame oil and soy sauce all over the chicken and it is ready to be cut up. Garnish with chopped red chillies and scallions, and a good sprinkle of white pepper powder.
Sar Hor Fun
1. Place the pot of water that has been used to poached the chicken back to the heat.
2. Add dried anchovies, peppercorns, rock sugar, and vege stock into the pot and bring to boil.
3. Turn on high heat, and reduce the broth by half then the soup is ready. (You don't have to discard the ingredient we just put in. Just turn the heat down to medium or low, the longer it boils, the richer flavor it gets)
4. Bring a different pot of water to boil. We will use this to cook our rice noodle.
5. Place the fresh rice noodle in microwave for 10 – 15 seconds, now it should be soft and easily to separate apart.
6. Fill a wire skimming ladle with rice noodle, then dip it inside the boiling water for no more than 30 seconds.
7. Take the ladle out of the boiling water, your noodle is now cooked. Drain then put rice noodle in a bowl, ladle the hot broth over the rice noodle. Garnish with chopped red chillies, scallions and coriander.
Blanched bean sprouts
(This should always be the last process as we need to keep the bean sprouts nice and crunchy.)
1. Place the bean sprouts in a wire skimming ladle and dip it inside the hot broth (NOT the boiling water for rice noodle) no more than 15 seconds.
2. Drain and serve on a plate.
3. Drizzle a good dash sesame oil and soy sauce all over.
4. Garnish with chopped red chillies and scallions, and a good sprinkle of white pepper powder.
For condiments, chopped hot green chilli padis and soy sauce on a saucer as a dip for the chicken.
Most-Pinned Recipes
Ginger Garlic Baked Chicken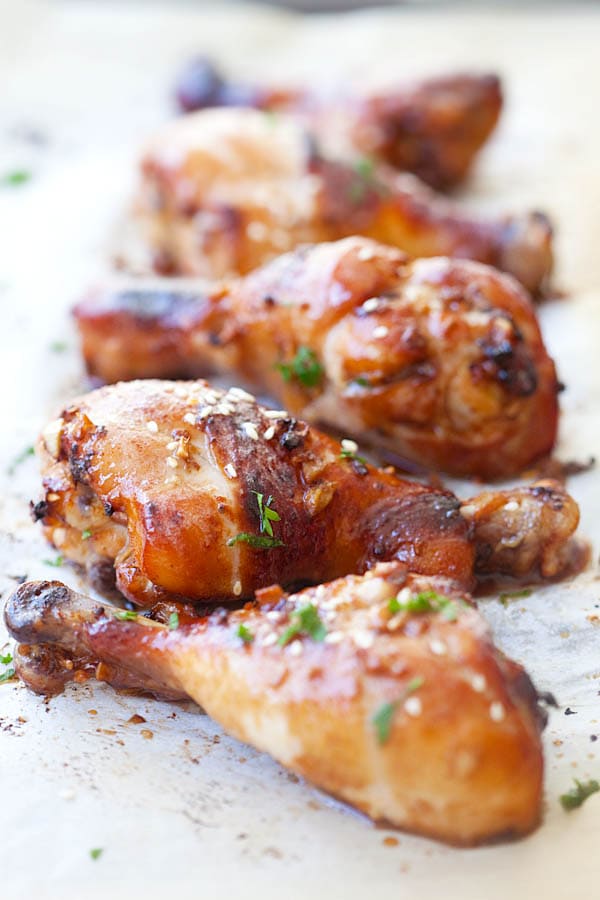 Crab Rangoon (Cream Cheese Wontons)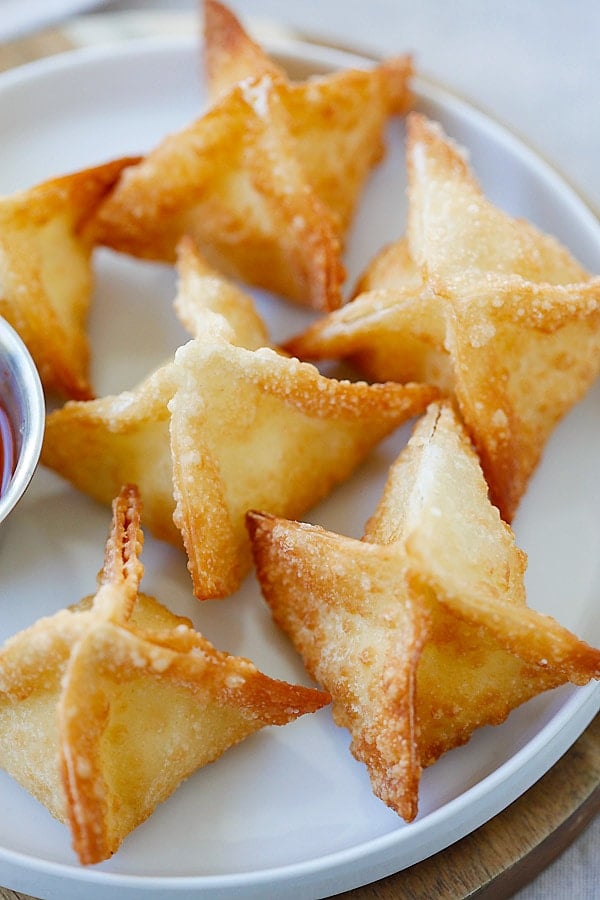 Chicken Wontons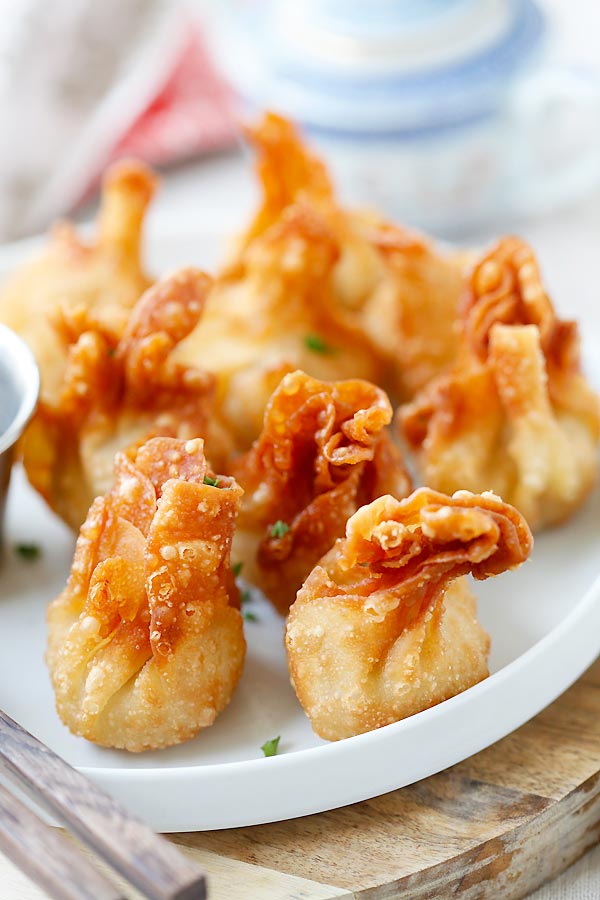 Onion Scallion Beef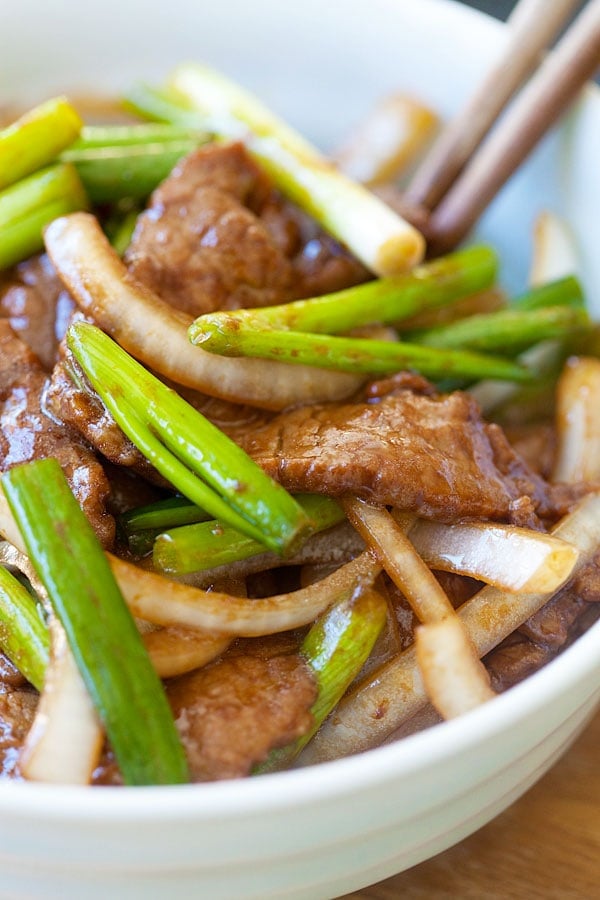 Thai Chicken Sate with Peanut Sauce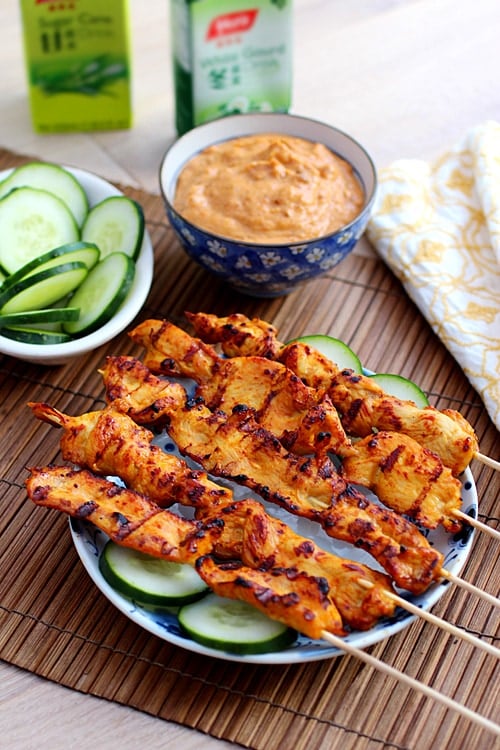 Thai Peanut Sauce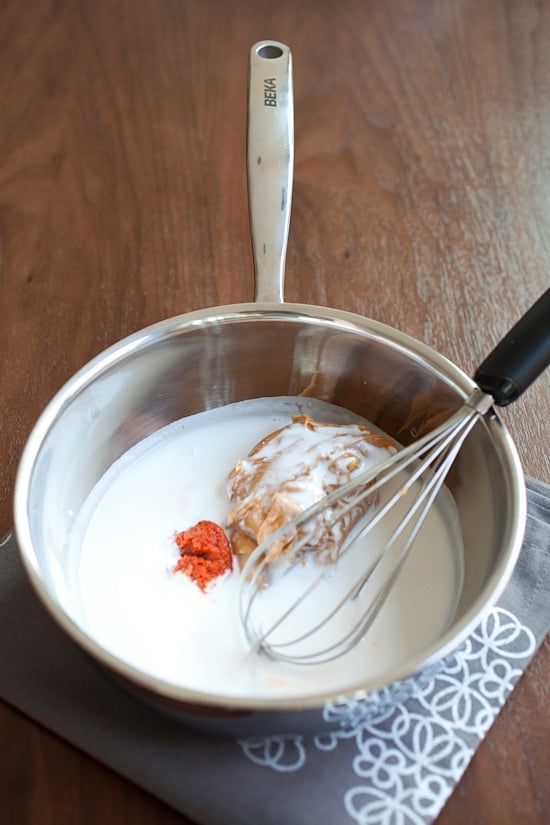 Copyright © 2016 Rasa Malaysia. All rights reserved.