Japanese Beef Rolls with Mizkan Ponzu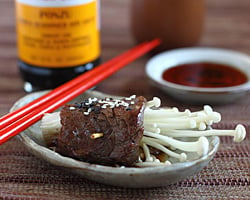 http://rasamalaysia.com/japanese-beef-rolls-with-ponzu/
Japanese Beef Rolls with Mizkan Ponzu
Click "Like" to Get New Recipes
and Updates on Facebook Daily!
Japanese Beef Rolls with Ponzu
Makes about 12 rolls
Ingredients:
12 oz beef flap meat or flank steak
6 oz enoki mushrooms, ends trimmed
1 teaspoon butter
Oil, for pan-searing
1/2 tablespoon white and black sesame seeds, optional
Marinade
1 tablespoon Mizkan (Bonito Flavored) Soup Base
1 tablespoon Mizkan HONTERI Mirin Seasoning
1 tablespoon sake
Serving Sauce
1/2 cup Mizkan AJIPON® Ponzu Citrus Seasoned Soy Sauce
Method:
Slice the beef (across the grain) thinly to 3-inch by 5-inch pieces.
Marinate the beef slices with Mizkan (Bonito Flavored) Soup Base, Mizkan HONTERI Mirin Seasoning and sake for an hour.
Heat up the butter in a non-stick pan over medium heat. Add the enoki mushrooms to the pan and cook for about 1 minute or until they are just done. (Do not overcook the enoki mushrooms, they should remain somewhat crunchy.
Heat up the pan over medium heat. Grease the pan with some oil. Pan-sear the beef slices until both surfaces are slightly charred. Remove the beef from the heat.
In a serving dish, roll the beef with some enoki mushrooms and secure it with a toothpick. Drizzle some Mizkan AJIPON® Ponzu Citrus Seasoned Soy Sauce over the beef roll and topped with some sesame seeds. Serve immediately.
Click Images Below for Similar Recipes:
LOVE THE RECIPE & PHOTOS? PLEASE SHARE:
Sign Up for Email Updates
Enter your email for new updates: recipes, giveaways, and more!