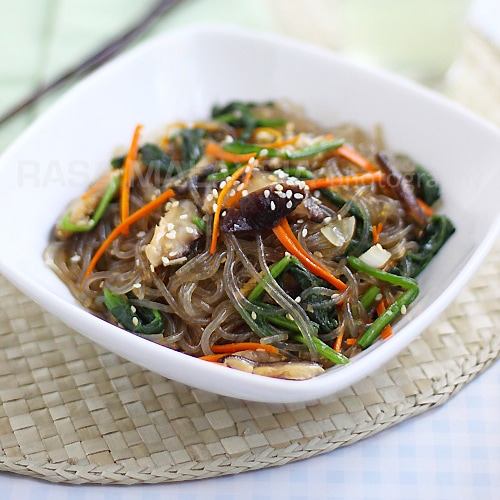 Japchae (Korean Mixed Noodles)
Japchae is Korean mixed noodles. This japchae recipe is easy to make and yields the best japchae by using store-bought ingredients and sauce.
Prep time:
Cook time:
Total Time:
Makes4
Ingredients:
2 tablespoons oil
1/2 tablespoon sesame oil
3 garlic, finely minced
1/2 onion, thinly sliced
2 oz Busan fish cake, cut into thin strips
2 oz fresh wood ear mushrooms (or 1 oz dried wood ear or 1 oz or Shiitake mushroom), cut into pieces
1/2 red bell peppers, cut into thin strips
1 cup tightly packed spinach with stems
1/2 carrot, peeled and cut into matchstick strips
1 stalk scallion, cut into thin threads
12 oz dried Korean sweet potato noodles
1/2 cup Mizkan Oigatsuo Tsuyu Bonito Flavored Soup Base (green label no MSG), or more to taste
1/4 cup Mizkan Honteri Mirin
2 tablespoons sugar
3 heavy dashes black pepper powder
Toasted white sesame seeds
Method:
Closewise from top: dry sweet potato noodles, fresh wood ear mushrooms, and Busan fish cake.
Heat up a big pot of water and bring it to boil. Cook the sweet potato noodles in the hot boiling water until the noodles are completely cooked through but remain al dente. Rinse the noodles with cold running water to remove the starch from the noodles. Transfer to a colander and let the excess water drain. Set aside.
Heat up a stir-fry pan and add the oil and sesame oil, on medium heat. Stir-fry the garlic and onion until aromatic, then add the fish cake, wood ear mushrooms, and red bell peppers. Stir-fry for 1 minute before adding the spinach, carrot and scallions. As soon as the spinach leaves start to wilt, turn off the heat but leave the pan on the stove.
Transfer the noodles into the pan. Add the Mizkan sauces, sugar, and black pepper. Using a pair or chopsticks, toss and combine the noodles with all the ingredients in the pan. Continue to toss and mix until everything is well combined. Add more Mizkan Oigatsuo Tsuyu Bonito Flavored Soup Base to taste if you like. Adjust the taste by adding more sauce and/or sugar until the Japchae reach your desired taste. Transfer into bowls, topped with some toasted white sesame seeds and serve immediately.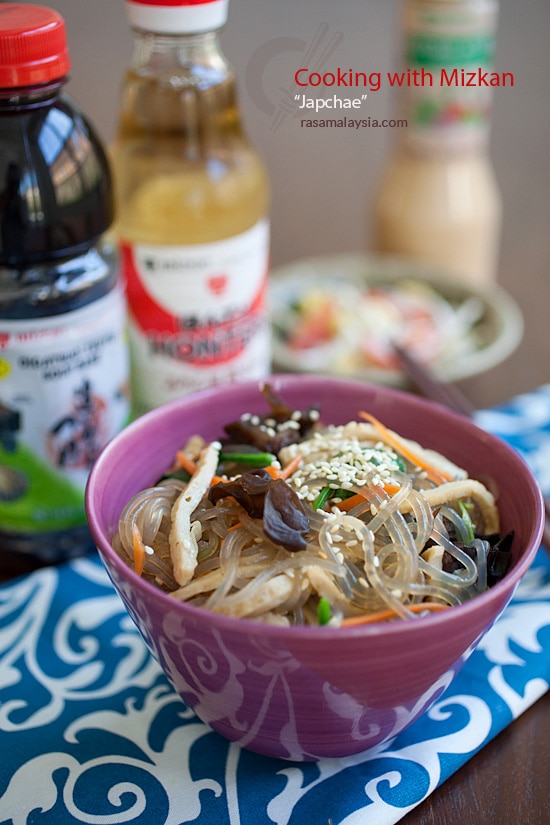 Mr. Rasa Malaysia has a good Korean friend whose mother-in-law, Madam Kim, is a famed Korean chef and restauranteur hailed from Seoul, Korea. Madam Kim has since settled down in Southern California and runs a Korean food catering business. Call us lucky, but we need not go to Korean town, or Korea, to have authentic—and absolutely delicious—Korean food. Whenever Madam Kim has catering orders, we are sure to get her leftover bento boxes of various Korean dishes from her, and one of them is the best Japchae that we have ever tasted.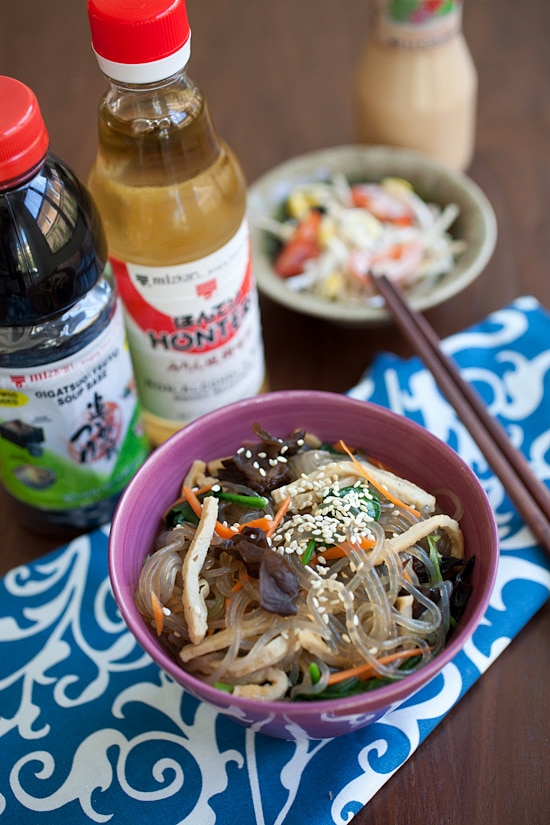 I will be honest, I like Japchae but most of the Japchae I get at Korean food stores or restaurants are always too salty, greasy, or too sweet. There has never been a good ones that I really enjoyed, except Madam Kim's. Her Japchae is loaded with lots of goodies: slices of beef bulgogi, fresh and crunchy wood ear mushrooms, slivers of Korean fish cakes, spinach, carrot, and the perfect balance of taste. I am always so happy when Mr. Rasa Malaysia comes home with bento boxes of Japchae.
If you are not familiar with Japchae, it's a Korean noodle dish with mixed vegetables. The noodles are chewy, starchy, and made from sweet potatoes. The noodles are sometimes called glass noodles but they are broader and slightly darker in color. Making Japchae is quite a process as traditionally, each ingredient is cooked separately and then all mixed together by hand with the noodles and the sauce. It does take a while to make it the proper way. In my Japchae recipe, I am going to teach you an easier way to make this amazing Korean mixed noodles so you can practically have bowls of Japchae in less than 30 minutes, without sacrificing authenticity and good taste. My japchae recipe closely mimics the taste of Madam Kim's version. Instead of soy sauce and sugar, I used Mizkan Oigatsuo Tsuyu Bonito Flavored Soup Base (green label with no MSG) and Mizkan Honteri Mirin to bring out the savory and sweet flavors of this dish. As Mizkan Oigatsuo Tsuyu Bonito Flavored Soup Base is made from soy sauce and bonito flavoring, it adds the umami taste to Japchae and makes it even tastier. Mizkan Honteri Mirin is a sweet cooking wine and lends a tint of sweetness to the overall flavor. Also, instead of cooking every ingredient individually and then mix with the noodles, I stir-fry the ingredients together and then combine them with the cooked noodles. Instead of using hands, I use a pair of chopsticks to mix everything together. There is no messy kitchen, greasy hands, but quick and easy way to make a popular Korean recipe.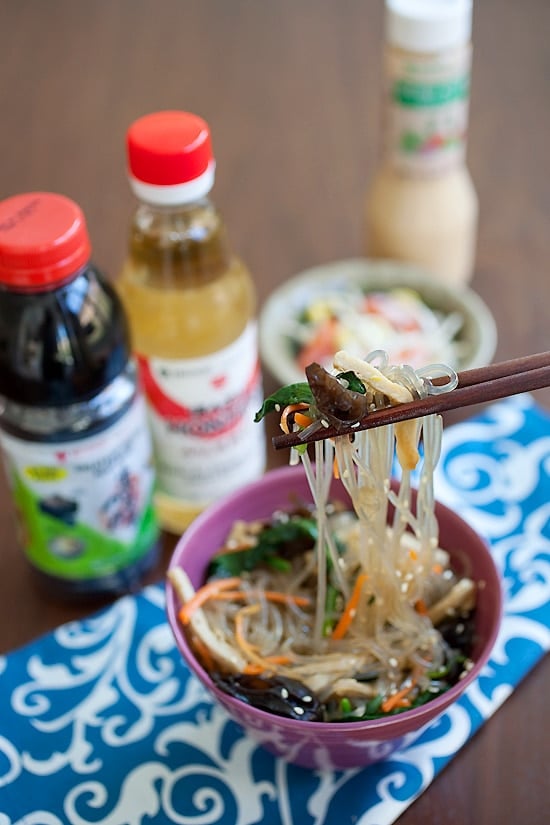 As I have shared with you in the past couple of months, Mizkan condiments are my all-purpose Asian condiments that I use every day for my Asian cooking. If you come to my house, you will not find bottles and bottles of sauces from various Asian countries. My Asian pantry is stocked with the key essentials: soy sauce, oyster sauce, Mizkan Soup Base, Mizkan Honteri Mirin, cooking wine, sesame oil, fish sauce, and that's all. With Mizkan condiments on hand, I can prepare Chinese Dan Dan Noodles , Taiwanese Braised Pork Belly, Korean Japchae, Cantonese, or  Southeast Asian dishes. Mizkan condiments are simply awesome in the kitchen!
Here is my Japchae recipe or Korean mixed noodles. Try it and let me know what you think. Happy cooking and eating!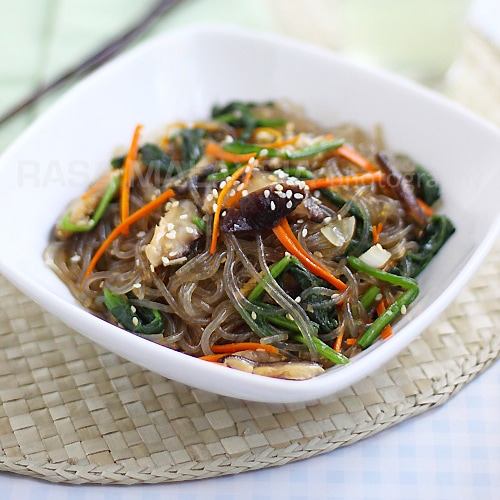 Rate This
Recipe Name
Japchae (Korean Mixed Noodles)
Preparation Time
Cook Time
Total Time
Average Rating

Based on 3 Review(s)