Joseph Joseph Kitchen Set (CLOSED)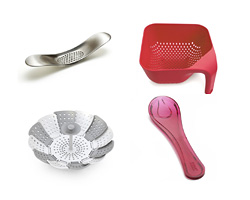 http://rasamalaysia.com/joseph-joseph-kitchen-set/
Joseph Joseph Kitchen Set (CLOSED)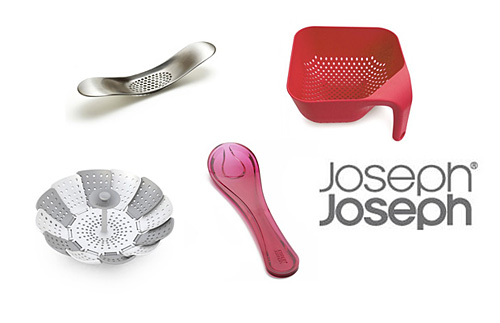 Update: The winner is Ernest S.
I am partnering with my friends at Joseph Joseph to giveaway a Joseph Joseph Kitchen Set containing one (1) Rocker, one (1) Salad Spoon, one (1) Square Colander, and one (1) Lotus. There will be one (1) winner whom will receive one (1) Joseph Joseph Kitchen Set. The total suggested retail value of the Joseph Joseph Kitchen Set is approximately US$50.00.
Rocker™: Stainless-steel garlic crusher (MSRP US$15.00)
By using downward pressure and a 'rocking' motion, this stylish tool breaks up garlic cloves quickly and easily, forcing the pieces up through the mesh of holes in its base.
The crushed pieces are then held in the curved design, allowing them to be spooned or scraped conveniently into a pan or bowl. Additional cloves can also be crushed at this stage before emptying. Rocker™ is easy to clean under running water but is also dishwasher safe. The stainless-steel version can also help reduce any garlic odor from hands and fingers when rinsing under running water by gently rubbing the surface of the skin.
Salad Spoon: Compact salad server set (MSRP US$10.00)
Maximize kitchen drawer space with this ingenious salad server set.
The unit's two separate serving utensils lock neatly together, creating a single element for convenient storage. Simply push the two pieces gently apart to toss and serve salad, or keep locked together to use as a single, large serving spoon.
Stylish and practical, the set is made from durable SAN plastic, which not only looks great, but is also dishwasher safe.
Square Colander (MSRP US$8.00, dimensions 6¼ x 6¼ x 3½ in)
This ergonomically designed colander has several unique features.
Firstly, the single vertical handle ensures it remains upright and stable whilst rinsing and draining, and leaves one hand free for operating the tap. Secondly, its square shape fits perfectly into the sink and makes serving rinsed food easier. Lastly, the large vertical holes allow liquids to drain away quickly.
Dishwasher safe.
Lotus™ (MSRP US$17.00)
This classic, steamer basket design is taken to new levels of practicality and convenience with this colorful, contemporary version. Made from high-quality polypropylene, the unit has self-adjusting sides to fit a variety of pans*, heat-resistant silicone feet and an innovative silicone finger guard, to help protect fingers from scalding when lifting. It has a large capacity when fully open, but folds neatly away for storage. The unit is non-scratch and suitable for use with non-stick cookware. Polypropylene parts heat-resistant up to 110ºC/230ºF; silicone parts up to 270ºC/520ºF.
Dishwasher safe.
*Suitable for medium and large saucepans (minimum diameter: 16 cm). If used with a lid, pan must be at least 12.5 cm deep.
Eligibility: United States only. Closing Date: November 4, 2012, 11:59 pm PST. Winner will be randomly selected and contacted via email on November 5, 2012. The prize is proudly sponsored by Joseph Joseph.
Other Amazing Prizes & Giveaways:
Click Images Below for Similar Recipes:
LOVE THE RECIPE & PHOTOS? PLEASE SHARE:
Sign Up for Email Updates
Enter your email for new updates: recipes, giveaways, and more!