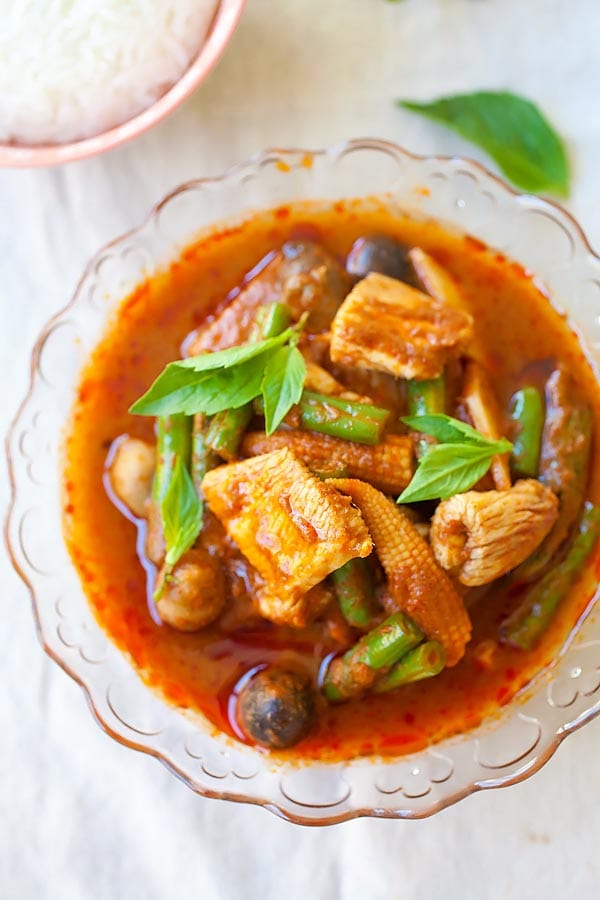 Jungle Curry
Jungle curry is a popular Thai curry. Jungle curry is spicy, with no coconut milk. You can make pork or chicken jungle curry with this easy recipe.
Fall/winter is the best time to have curries. Nothing warms me up quite like a pot of fiery hot, spice-laden curry. I grew up with all sorts of curries back home in Malaysia: chicken curry, fish curry, squid curry, etc. And then I discovered Thai curries, which are rather different, delicious nonetheless.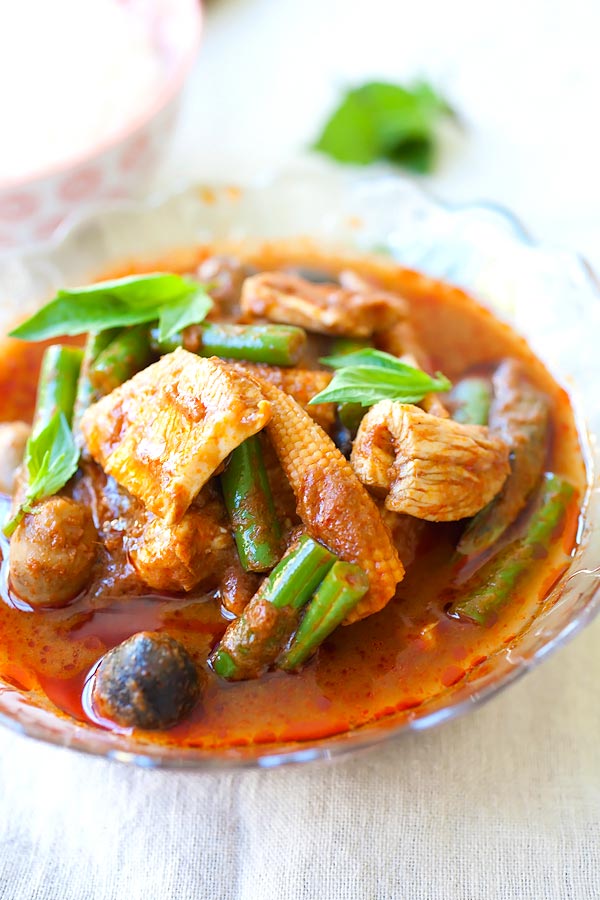 Anyway, I am sure you have seen Jungle Curry on the menu at Thai restaurants. To be honest, I have never had jungle curry, even though I dine out at Thai restaurants quite often. I always order the usual red curry, green curry, or yellow curry. Recently, I decided to try Jungle Curry and actually liked it. It tastes different because it's not as "creamy" and sweet because there is no coconut milk added in the curry, and hence the spices taste more pronounced, which is a great thing is my culinary dictionary.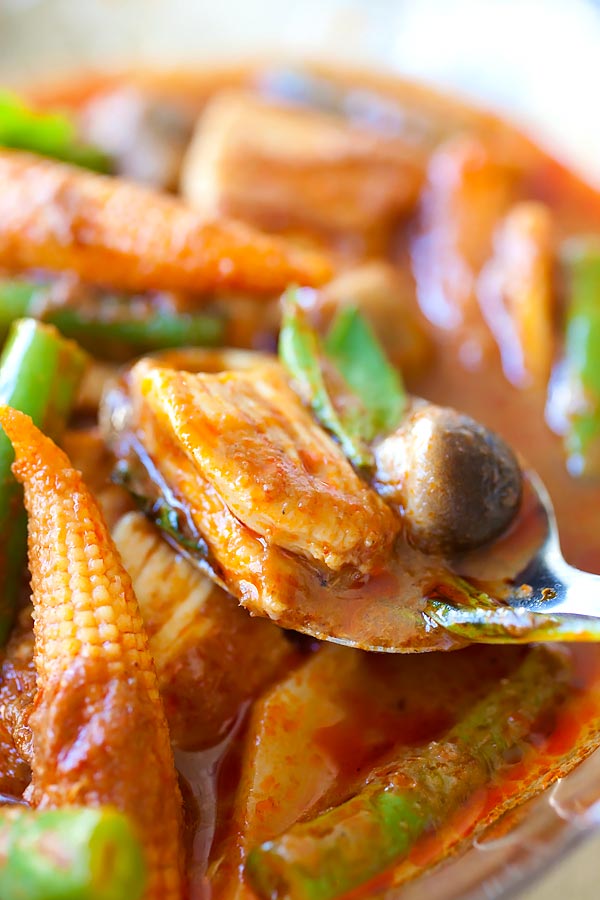 Jungle curry, or kaeng pa, according to Wikipedia, is a curry originated from the northern part of Thailand. As coconuts are not found in the region, it contains no coconut milk. It was originally prepared with wild boars found in the jungle.
I made this jungle curry with pork. If you can't eat pork, feel free to substitute with chicken. The curry goes extremely well with rice. I really enjoyed it.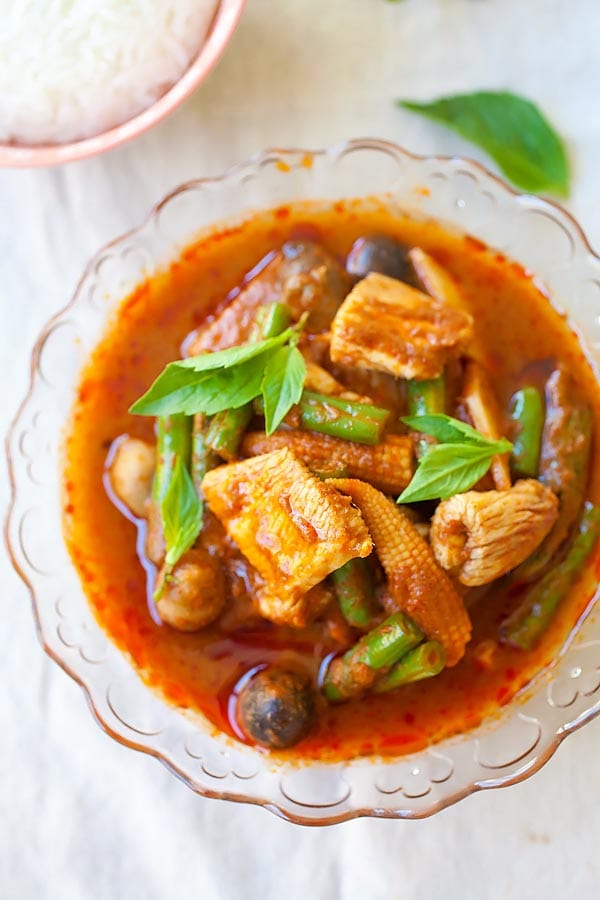 Jungle Curry Recipe
Adapted from Thai Cooking Made Easy
Serves 4 | Prep Time: 8 minutes | Cook Time: 20 minutes
Ingredients:
1 cup (250 ml) water
1 pack (1.76 ounce/50g) red curry paste (see picture below)
2-3 slices galanga, 1/4 inch thick
1 teaspoon rhizome (optional)
1 pound pork, sliced thinly
2 tablespoons fish sauce
1 teaspoon sugar
1/2 cup canned bamboo shoot
1/2 cup canned baby corn
1/2 cup canned straw mushroom
8-10 string beans, cut in to 2″ length
6 kaffir leaves
15 basil leaves
Method:
Heat up a wok and add in the water, red curry paste, galanga and rhizome (optional). Stir to combine until boiling.
Add the pork and let it cook for 1 minute. Add the fish sauce and sugar. Stir to mix. Gently transfer the bamboo shoot, baby corn, straw mushroom, string beans and kaffir leaves into the wok. Stir to mix.
Cover the wok and bring to boil. Turn the heat to medium and let it cook for 5-6 minutes. Add in the basil leaves. Give it a quick stir and cook for 2 minutes. Serve with rice.
Cook's Notes:
1. Rhizome is optional but may enhance the flavor of this dish.
2. This is the red curry paste I used for this recipe.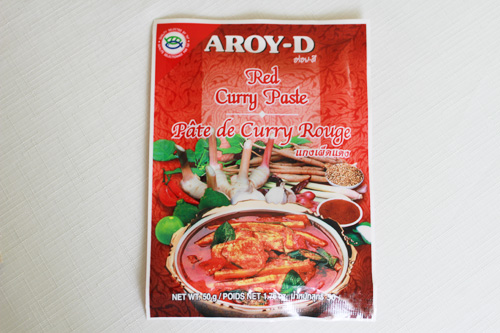 Most-Pinned Recipes
Ginger Garlic Baked Chicken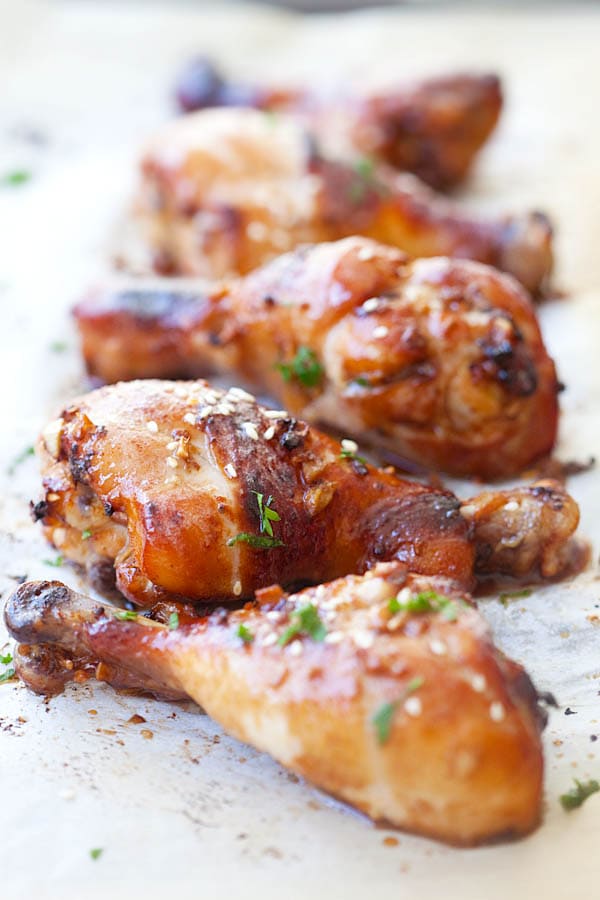 Crab Rangoon (Cream Cheese Wontons)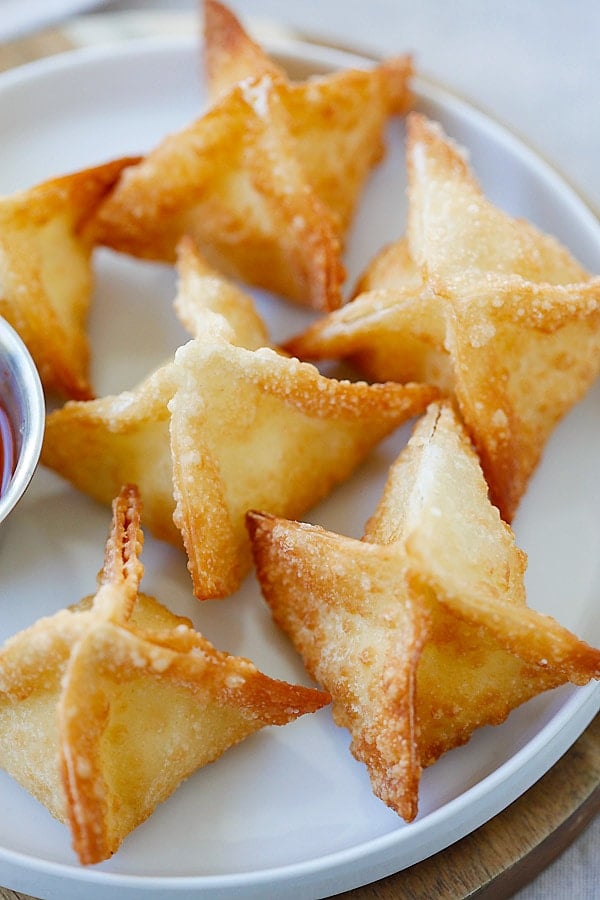 Chicken Wontons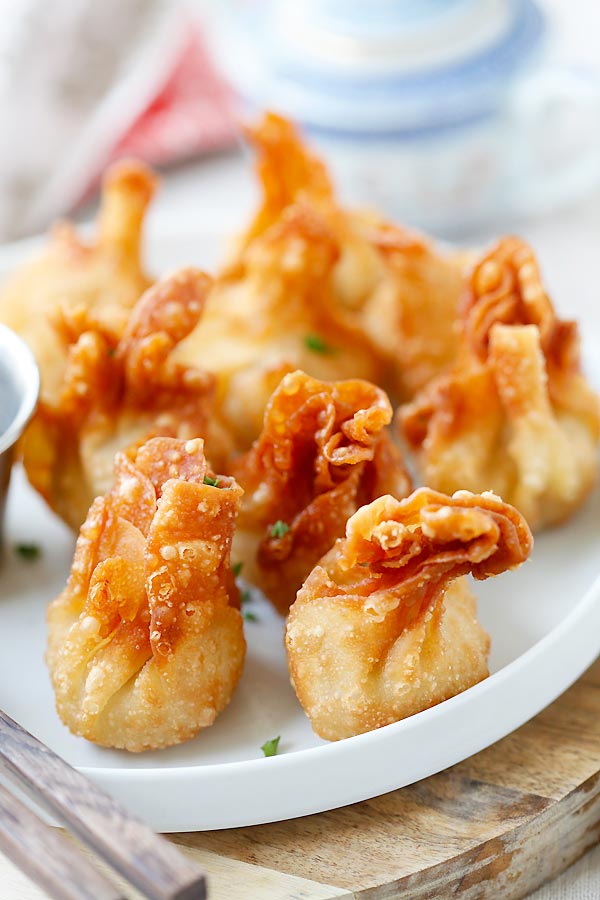 Onion Scallion Beef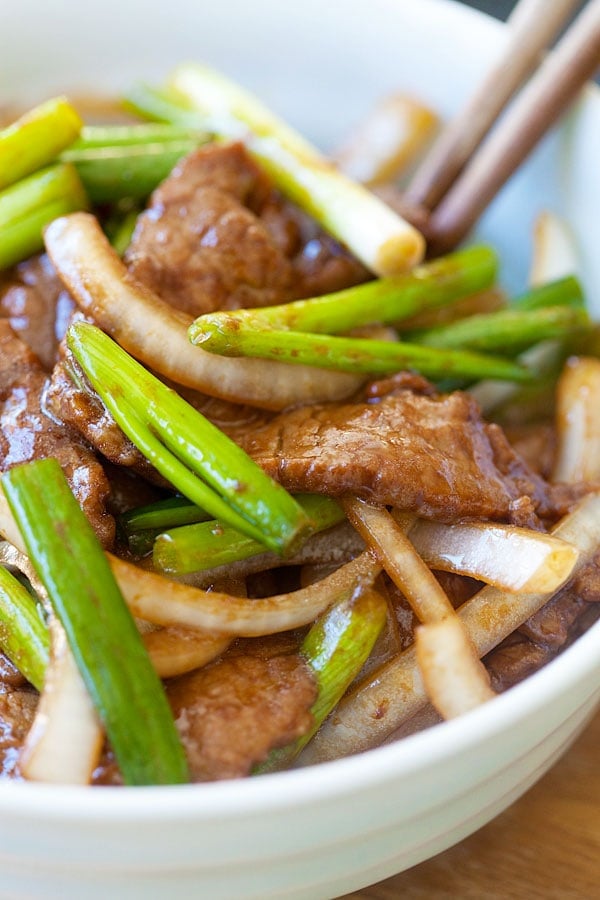 Thai Chicken Sate with Peanut Sauce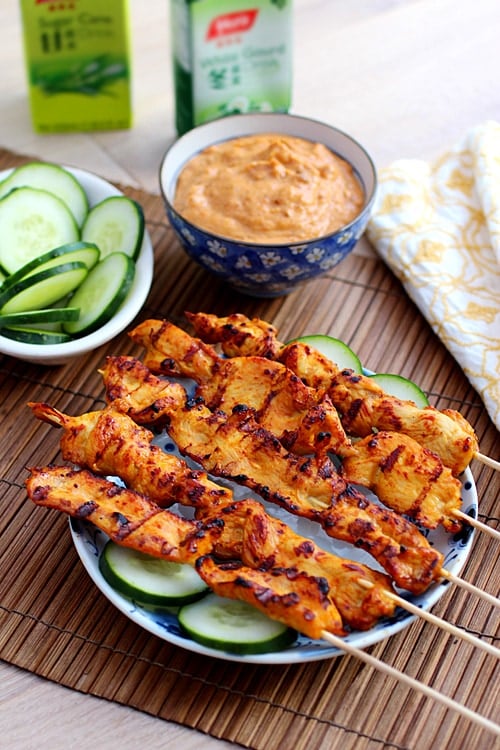 Thai Peanut Sauce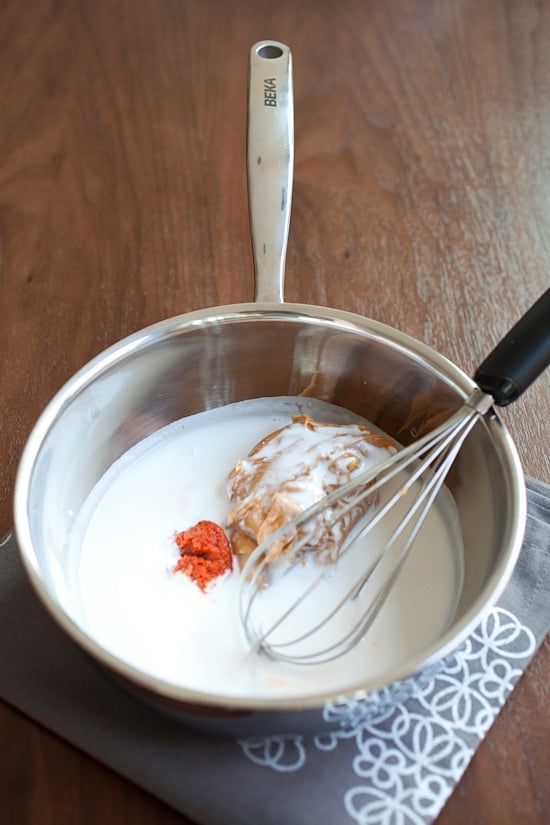 Limited Time Offer: $5.99 only. Available for download WORLDWIDE!
**Use it on Your Tablet, Mobile Phone, Desktop or Laptop**
Copyright © 2016 Rasa Malaysia. All rights reserved.