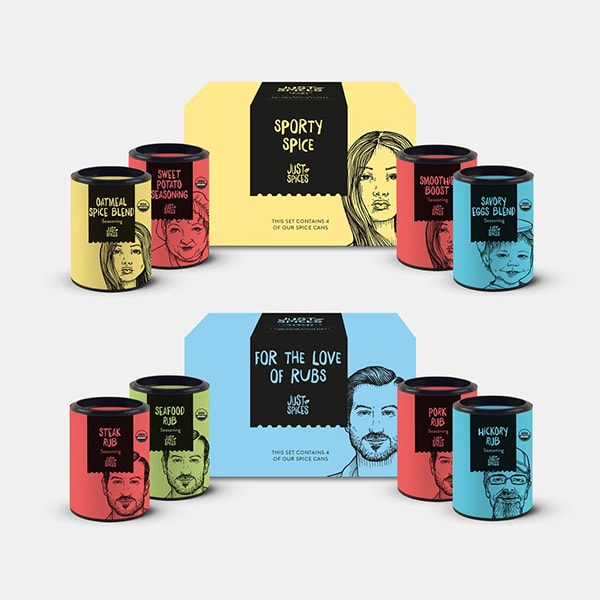 UPDATE: The winner is Karen Mikusak.
I am partnering with my friends at Just Spices® to giveaway Sporty Spice Kit and For the Love of Rubs, Total MSRP: $51.98, US only.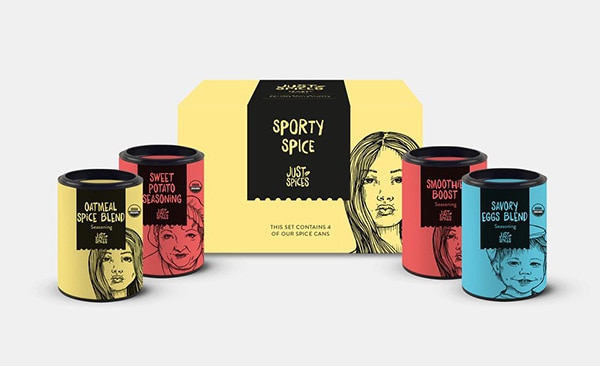 Sporty Spice Kit
EATING HEALTHY JUST BECAME QUITE SIMPLE!
Contains: Oatmeal Spice Blend, Savory Eggs Blend, Sweet Potato Seasoning, Smoothie Boost
Eating clean is a priority to you. Your diet is pure, healthy, and natural, and we get that. Luckily enough, this spice bundle features four different blends that you might just love; we can already feel your excitement! Our first mix is Oatmeal Spice – ever heard that before? We're guessing you haven't, since it's our very own unique blend of ground almonds, fresh coconut flakes, rich cocoa, aromatic vanilla bean, warm cinnamon, and strong ginger. Try it once and you'll never look back. A must for every fitness freak: the Savory Eggs Seasoning. Enjoy the essential amino acids and high protein from eggs with our rich blend of crushed sea salt, lemony tellicherry pepper, tangy paprika, herby parsley, and chopped chives. And don't forget your healthy carbs! Our Sweet Potato Seasoning turns the world's healthiest potato into your favorite meal with intense ginger, bold yellow mustard seeds, fresh garlic, warm nutmeg, and spicy chili pepper. And finally, our Smoothie Boost! Jam-packed with vitamins and effortless to make, we couldn't help but add our own spiced touch on this blended fruit drink. No more excuses – we make your healthy diet simply delicious.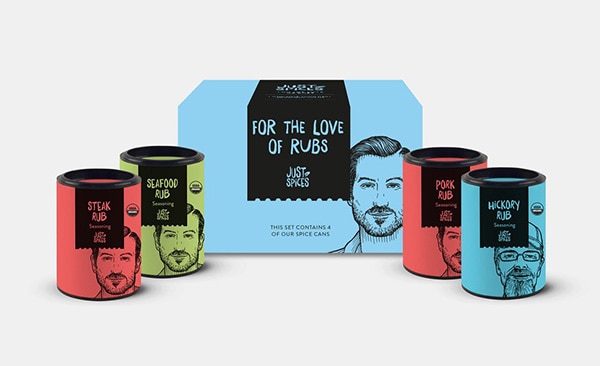 For the Love of Rubs
I WILL SAVE YOUR NEXT BARBEQUE EVENT!
Contains: Steak Rub, Pork Rub, Seafood Rub, Hickory Rub
The perfect candidate for this spice bundle is an avid meat connoisseur, and the mere fact that you've got your eyes on this bundle means that could be you! This pack includes four of the best quality rubs you could ask for. Our Steak Rub consists of tasty ingredients like crushed pink pepper, herby oregano, earthy cumin, bold mustard, and some smoked salt that will make your meat smell irresistible once it's sizzling on the grill. Our Seafood Rub tastes amazing on fish, shrimp, and sea creatures alike with intense citrus flavors crushed chili pepper and fennel seeds for the fragrance! Of course, we included our good ol' Pork Rub. Try it out on babyback ribs or pulled pork and you'll taste the harmonious balance between sweet- and sharpness. And lastly we have a true classic, our Hickory Rub, which is responsible for creating the perfect smoky flavor. Smoked salt and sharp black tellicherry pepper make it really savory, so we countered it with zesty orange peel, exotic cardamom, and warm brown sugar. The Hickory Rub will be your go-to spice when making smoked salmon or turkey, and anything else you're inspired to smoke! Our spices will get you thinking creatively for your next barbecue session.
GIVE US SOME LOVE!
Like Rasa Malaysia on Facebook. (Click on the Like button below.)