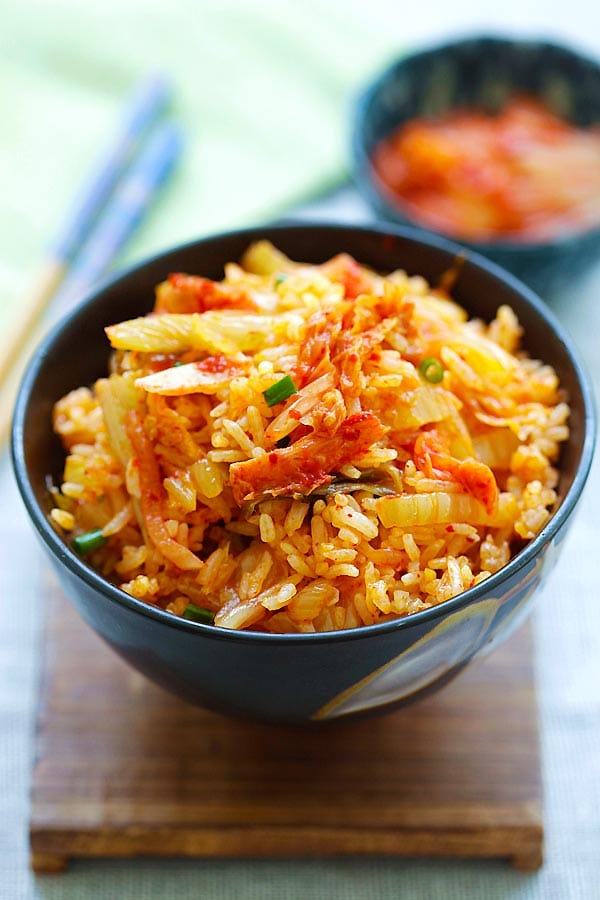 Kimchi Fried Rice
Kimchi Fried Rice – the easiest and best fried rice made with Korean kimchi. Spicy, flavorful and absolutely delicious. Dinner takes 15 mins.
Originally published in June 2011, updated with new photos.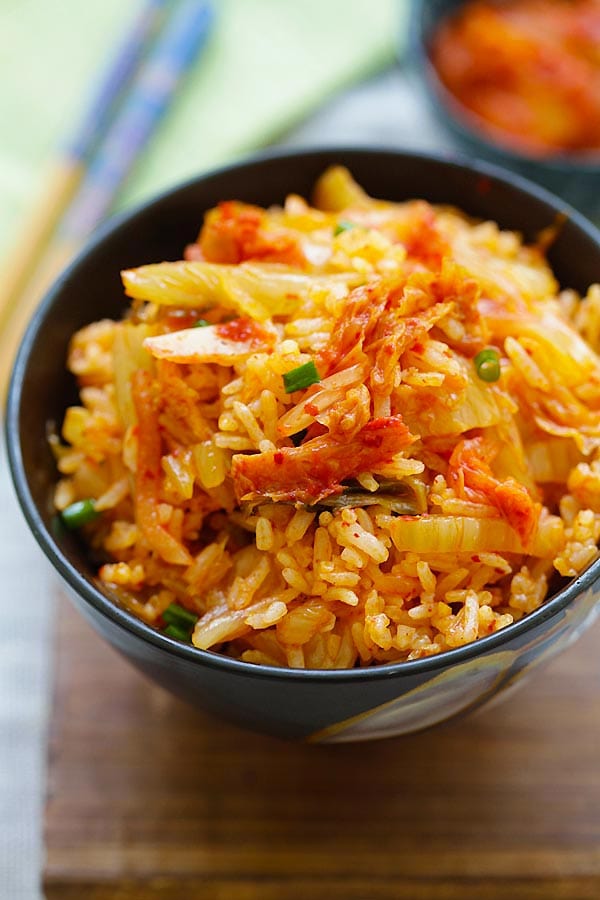 My good friend J is a half Korean and she always makes homemade kimchi. Mr. Rasa Malaysia and I love kimchi and whenever J brings over her kimchi, I always make kimchi fried rice, which is easily one of the most delicious fried rice recipes ever!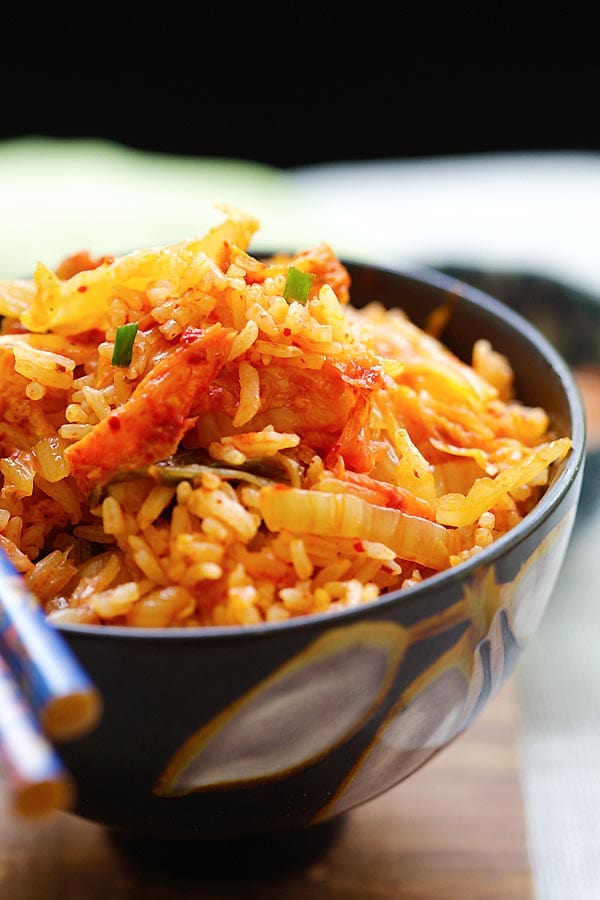 Kimchi fried rice is a popular Korean recipe and it takes practically 15 minutes to make. It calls for a few basic ingredients: kimchi, overnight steamed rice, and egg. The egg is always fried separately and served on top of the kimchi fried rice but most of the time, I just love it plain with just kimchi and rice. It's delicious as is, mouthwatering and appetizing.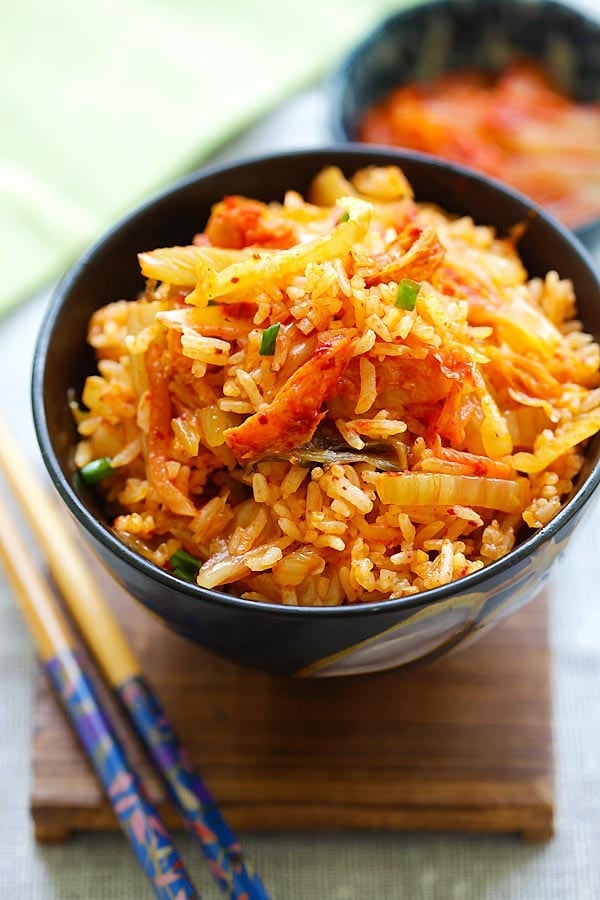 As kimchi is somewhat wet, remember to squeeze the juice out of the kimchi before you make the fried rice. I like my fried rice toasty and somewhat dry, not wet. The reddish color and the pungent kimchi aromas beckon whenever I cook the dish. Dinner will always be good when I have a serving of kimchi fried rice. Serve it with spicy Korean chicken and you have a complete meal.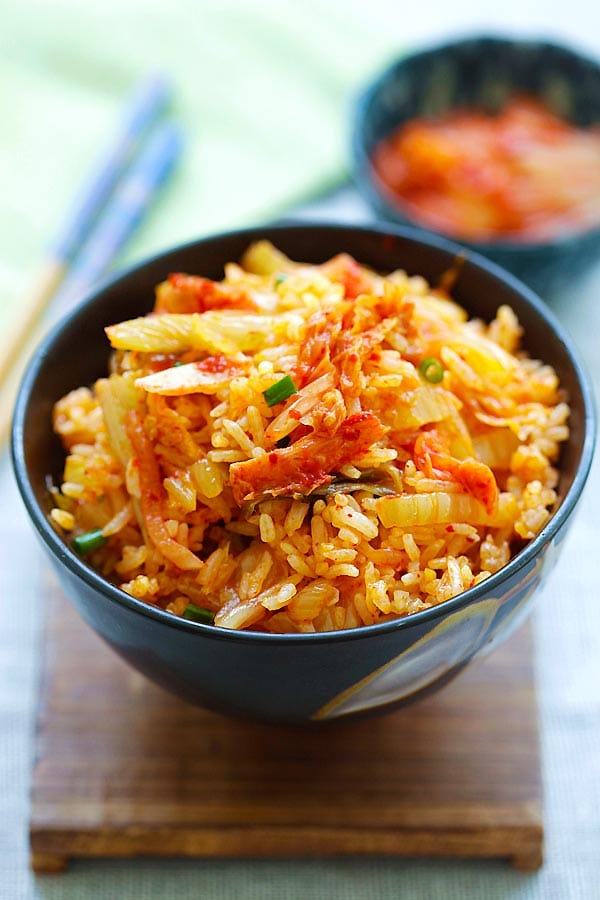 Kimchi Fried Rice Recipe
Serves 1 | Prep Time: 5 Mins | Cook Time: 10 Mins
Ingredients:
2 tablespoons oil
1 large egg
1 clove garlic, finely minced
1/4 small onion, finely diced
1/2 cup kimchi, cut into small pieces + 1 tablespoon kimchi juice
2 cups overnight steamed white rice
1 tablespoon soy sauce or to taste
1/4 teaspoon sesame oil
3 dashes black pepper
1 stalk scallion, cut into small rounds
Method:
Heat up a wok with 1/4 tablespoon oil and cook the egg sunny side up. Dish out and set aside.
Add the remaining oil into the wok. Sauté the garlic and onion until aromatic. Add the kimchi and do a few quick stirs before adding the rice. Stir to combine well. Add the soy sauce, sesame oil, black pepper, and scallion. Stir a few times to blend with the rice. Dish out and serve immediately with the egg on top of the rice.
Cook's Note:
I like my Kimchi Fried Rice spicy with lots of kimchi. Cut down on the kimchi if you like a milder taste. You can fry an egg, sunny side up and serve on top of the Kimchi Fried Rice.
Most-Pinned Recipes
Ginger Garlic Baked Chicken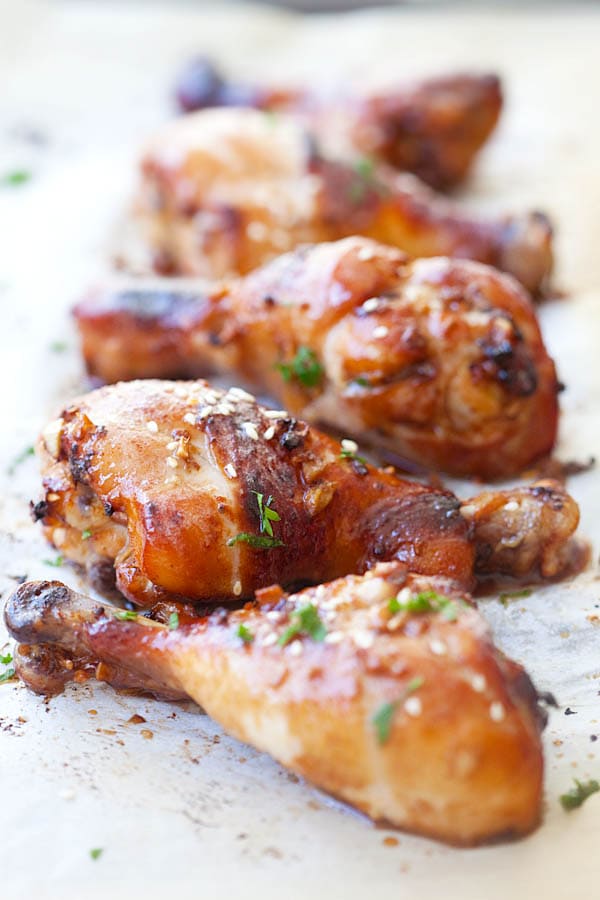 Crab Rangoon (Cream Cheese Wontons)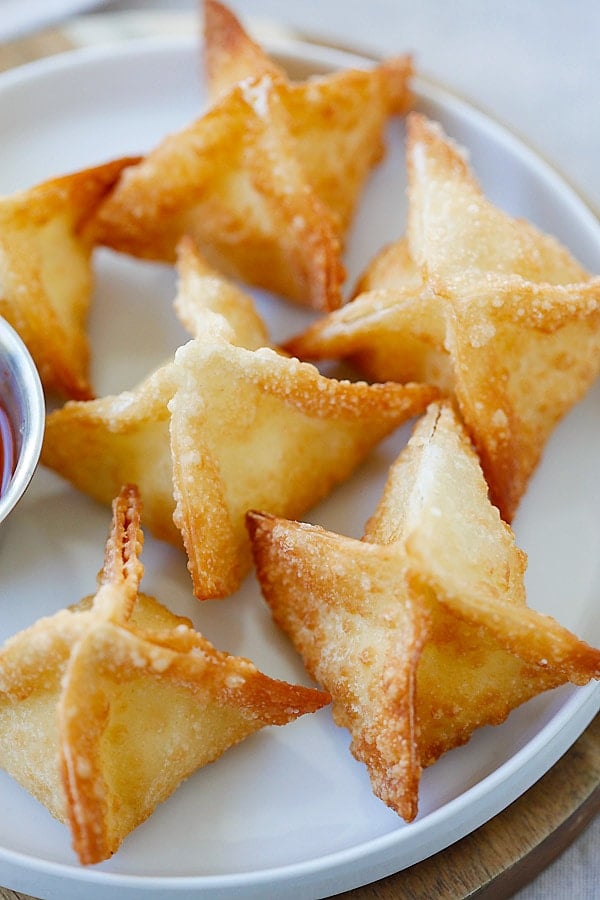 Chicken Wontons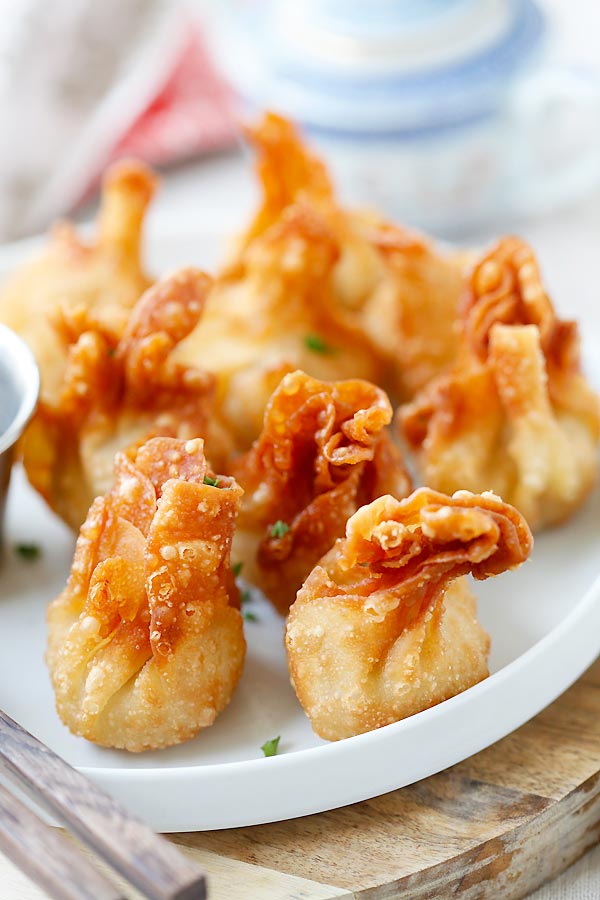 Onion Scallion Beef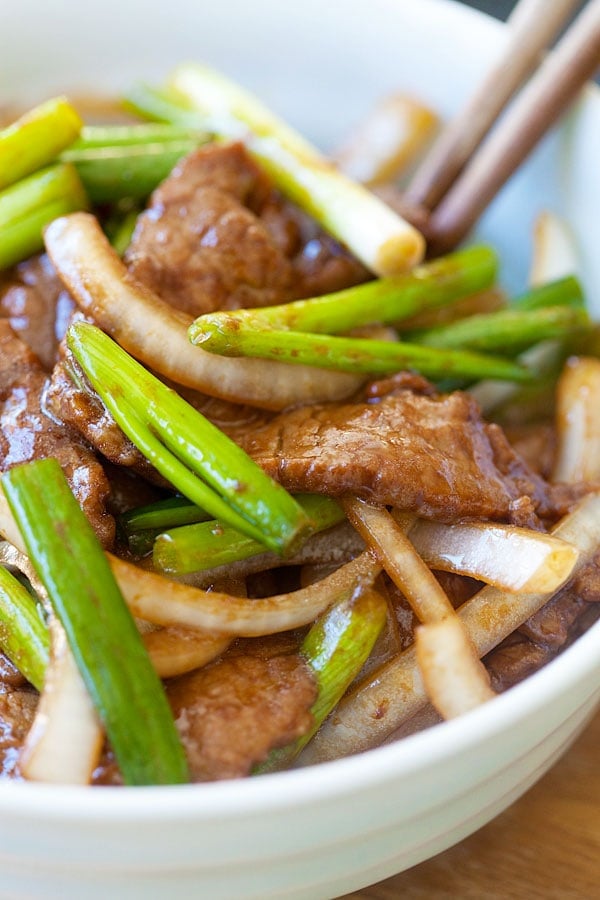 Thai Chicken Sate with Peanut Sauce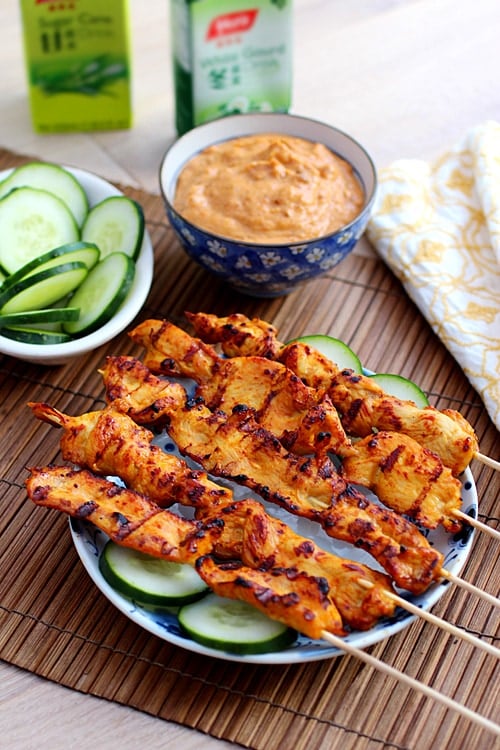 Thai Peanut Sauce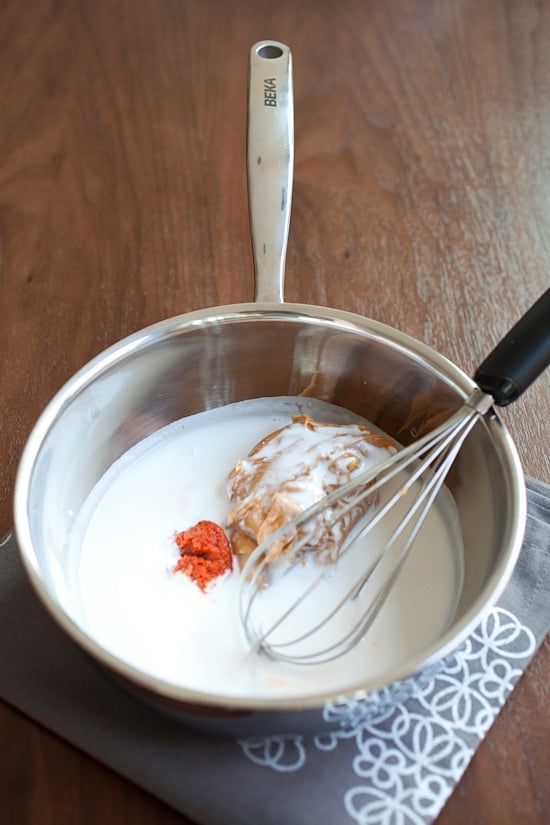 Limited Time Offer: $5.99 only. Available for download WORLDWIDE!
**Use it on Your Tablet, Mobile Phone, Desktop or Laptop**
Copyright © 2016 Rasa Malaysia. All rights reserved.