Kung Pao Shrimp (Kung Pao Prawn/宫保虾) Recipe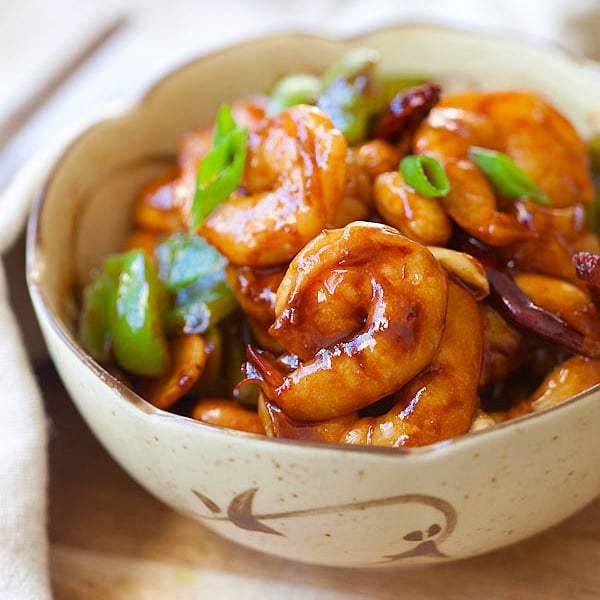 http://rasamalaysia.com/kung-pao-shrimp-kung-pao-prawn-recipe/
Kung Pao Shrimp (Kung Pao Prawn/宫保虾) Recipe
I am back after spending 3 weeks in Asia, including a few busy days in Penang which I wished I had stayed longer. Though it was a very short trip, I am very glad that a couple Rasa Malaysia readers and a good friend came to visit. It was great to be a culinary guide taking them to sample all the best street food (hawker food) in Penang.
This Kung Pao Shrimp (Kung Pao Prawn) post has been sitting in my "Draft" folder for a while. I made this before I left.
If you remember, I made Kung Pao Chicken a while back, and have always thought shrimp/prawn makes a great substitute for chicken. In fact, Kung Pao shrimp is very popular in Chinese restaurants in the US.
If you love Kung Pao as much as I do, you can pretty much Kung Pao anything you wish, for example: cuttlefish, squid, and my personal favorite, bull frogs! Yes, I know it sounds absolutely disgusting, but it's undeniably delicious, and yes, they taste just like chicken, but a lot more tender.
Anyway, back to Kung Pao Shrimp or Kung Pao Prawn. I didn't see this dish while in Sichuan but I did try an authentic Sichuan Kung Pao Chicken, which was spicy, numbing, and extremely flavorful. I will have to redo my Kung Pao recipe after tasting the real deal.
Anyway, this Kung Pao Shrimp recipe is still good and best suited for most people. Enjoy!
Click Images Below for Similar Recipes:
LOVE THE RECIPE & PHOTOS? PLEASE SHARE:
Sign Up for Email Updates
Enter your email for new updates: recipes, giveaways, and more!