Kung Pao Shrimp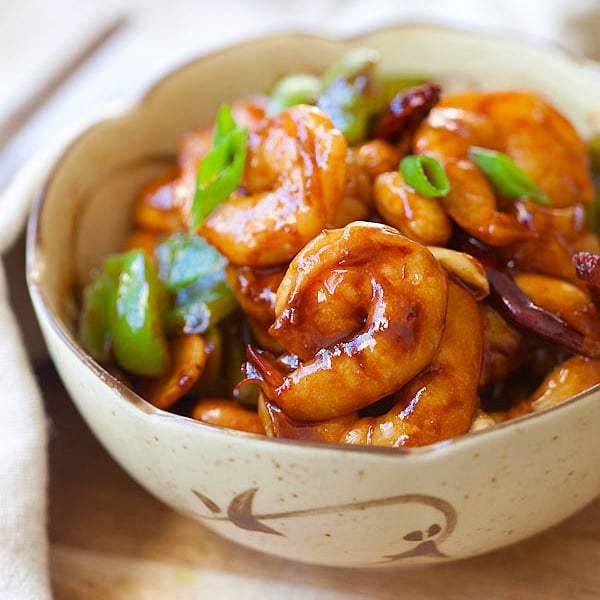 http://rasamalaysia.com/kung-pao-shrimp-kung-pao-prawn-recipe/
Kung Pao Shrimp
Kung Pao Shrimp recipe that is super easy to make at home, less than 30 minutes but much better and healthier than Kung Pao Shrimp takeout from restaurants.
Originally published in May 18, 2009. Updated with new photos.
Whenever I am lazy to cook lunch and decide to order a Chinese takeout or to go, I always get Kung Pao Shrimp. Kung Pao Shrimp is my favorite lunch special item on Chinese restaurant menu, I just love the wonderful taste of the dish and the fresh, bouncy, and succulent shrimp, which goes so well with steamed rice.
While I love Kung Pao Chicken, I prefer Kung Pao Shrimp because I love shrimp, and I think the flavor combination of kung pao sauce and shrimp work like a magic. It is no doubt that Kung Pao shrimp is a very popular shrimp entree in Chinese restaurants here in the US.
If you love Kung Pao as much as I do, you can pretty muchc Kung Pao anything you wish, at home. Some common options are: squid, scallop, or cuttlefish. Regardless of what you choose as your protein of choice, Chinese Kung Pao stir-fry is undeniably delicious and mouthwatering.
Shrimp is America's favorite seafood item, so the next time you have some shrimp in your freezer, just try this absolutely delightful Kung Pao Shrimp recipe, which takes less than 30 minutes to make. Enjoy!
Sign Up for Email Updates
Enter your email for new updates: recipes, giveaways, and more!