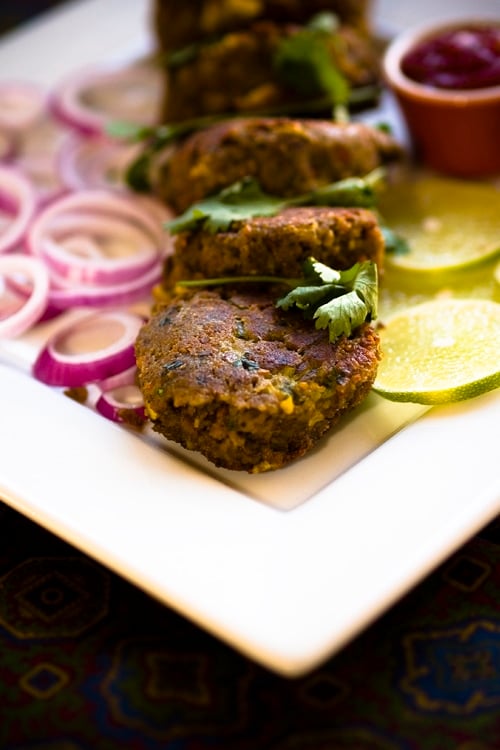 Lamb Shammi Kababs Recipe
Yields 8 to 9 kababs
Ingredients for kababs:
Lamb (ground/minced) – 1 pound
Bengal gram (chana dal) – 1/4 cup
Red Onion – half a medium sized one, diced small
Ginger – 1 inch piece, chopped fine
Garlic – 9 to 10 cloves, chopped fine
Fresh mint leaves – a scant handful of leaves, chopped fine
Fresh coriander leaves – a scant handful torn from a bunch, chopped fine
Lemon juice – of 1/2 a lemon
Egg, beaten – 1
Ghee (clarified butter) to shallow fry
Canola oil – 1 tbsp
Salt to taste
Spices for kababs:
Green cardamoms – 2, little black seeds shelled from their outer green pods
Cinnamon – 1 stick
Cloves – 3
Red chilli powder – 1 teaspoon (this is pure chilli powder made from grinding dry chillies)
Garam masala – 1 teaspoon
Black peppercorns – 5-6
Coriander powder – 1/2 teaspoon
Cumin powder – 1/2 teaspoon
To serve alongside:
Some slivered red onion, diced cucumber, discs of tomato and wedges or discs of lemon or lime.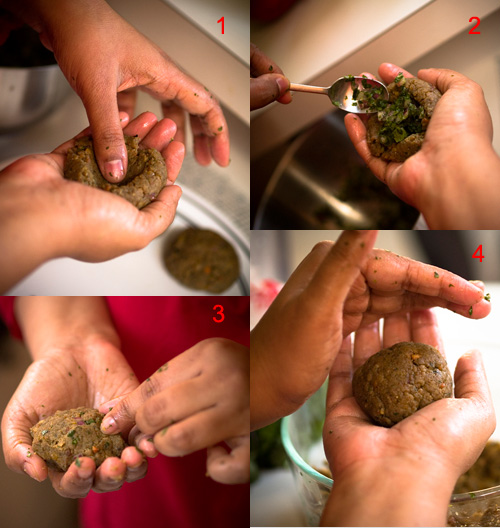 Method:
– Wash the chana dal and soak it for half an hour.
– In a skillet, heat 1 tbsp of canola oil and add the soaked chana dal to the minced/ground meat, along with the cardamoms, cinnamon, cloves. Add about a cup of warm water, season with salt. Cook on medium heat till all the water evaporates.
– Take the pan off the heat, then add the ginger, garlic, red chilli powder, garam masala, peppercorns and coriander and cumin powder.
– Put the mixture into a food processor and grind it to a fine paste to incorporate the additions through.
– Prepare the stuffing by mixing together the onion, mint and coriander leaves and lemon juice. Season with salt.
– In a bowl, beat the egg with a pinch of salt.
– To make the kababs, take a palm-sized portion of ground meat in your hand. Roll into a ball then slightly flatten it. Press slightly down in the center to create a small depression. Fill with about a teaspoon of onion mixture and smooth the ground meat over to cover the stuffed mixture. Repeat the procedure to make the other kababs until all of the meat is used up.
– Heat the ghee in a pan. Pat to flatten the top of the kababs, then dip each into the beaten egg and place into the ghee to shallow fry. Fry till golden then turn over to do the same to the other side. Remove and place on paper towels to drain.
Squeeze some lemon over the kababs and serve along with the green chutney and slivered onions/cucumbers/tomatoes.
Green Chutney Recipe
Makes about 2 cups
Ingredients:
Mint – leaves of 1 bunch
Cilantro/coriander – 1 bunch
Red onion – 1,medium sized, quartered
Lime – 1, juiced
Serrano or Thai chillies – 2
Butter – 1 tbsp
Honey – 1/2 tsp
Water to attain a thickish sauce like consistency
Salt to taste
Method:
To make the green chutney:
Grind all ingredients together in the food processor, adding just enough water to make a pesto-like sauce.
Cook's Notes:
The kababs look quite similar to large meatballs (which they sort of are) but they have a very different bite to them. The procedure of forming the kababs can be seen in the photographs. The onion mixture melds into the kabab to impart its flavours to the whole. You can cover the pan with the meat mixture for five minutes before you uncover it to allow the liquids to evaporate. The whole spices get ground in together with the meat to integrally spice it through.
You can use canola oil or unsalted butter to fry the kababs if you don't have clarified butter. The ghee will, however, add to the singular flavour of this kabab. You can find ghee, Bengal gram and garam masala at your local Indian store. Adding some butter to the chutney gives it a smoothness and also helps preserve it. It will stay a good week in your refrigerator and can be used to accompany a whole host of things. Some may also like ketchup alongside the kababs. Non-traditional, but works quite well.
You may end up with slightly more of the onion mixture with these quantities depending on the size of your kababs. We took thick sourdough slices, applied a dollop of chutney to one slice, mayo to the other, placed a kabab in between with some of the leftover onion stuffing on top and made awesome sandwiches out of the leftover kababs the next day.
Most-Pinned Recipes
Ginger Garlic Baked Chicken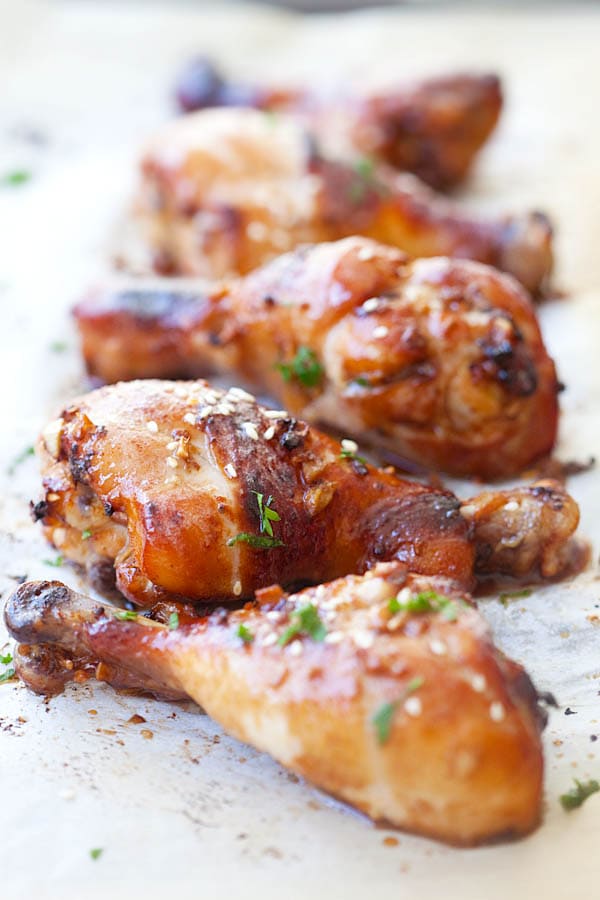 Crab Rangoon (Cream Cheese Wontons)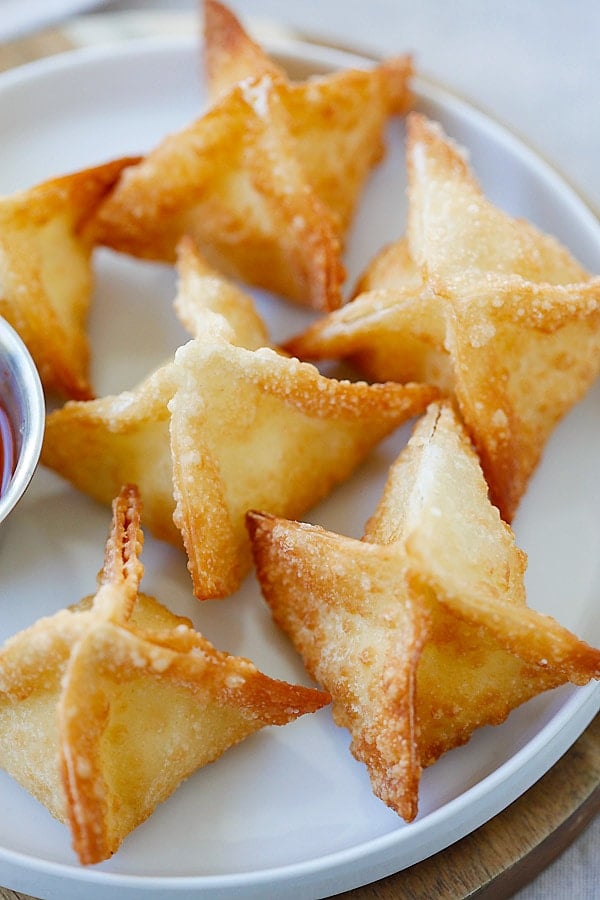 Chicken Wontons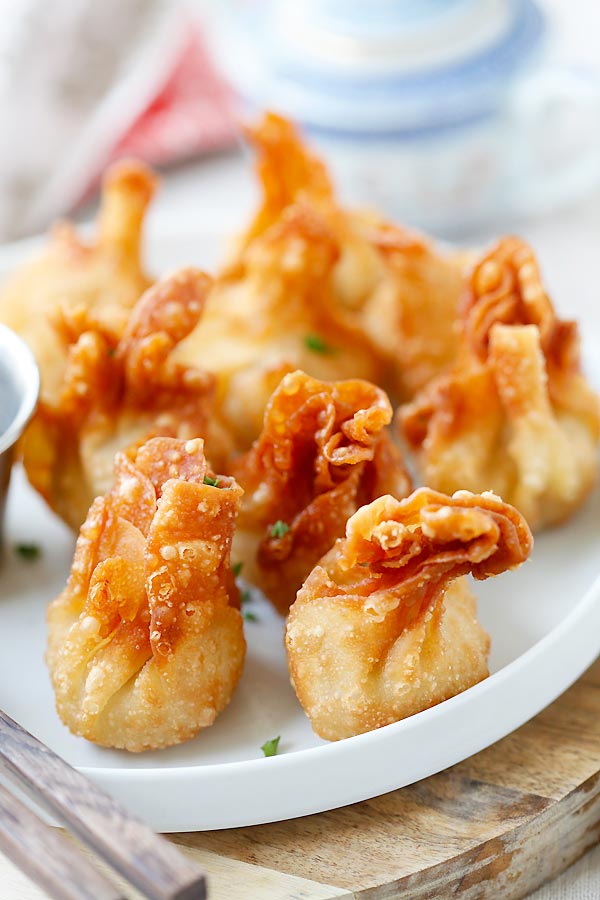 Onion Scallion Beef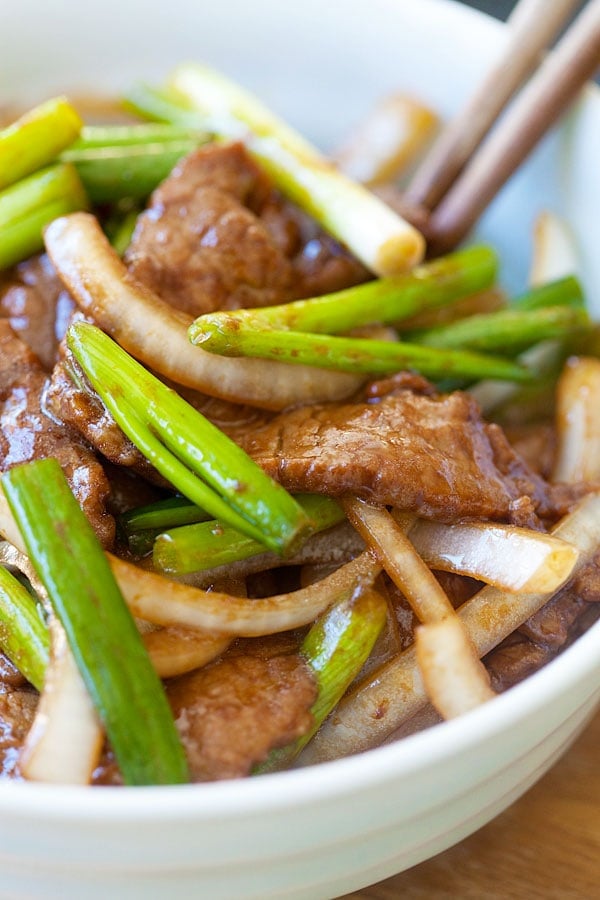 Thai Chicken Sate with Peanut Sauce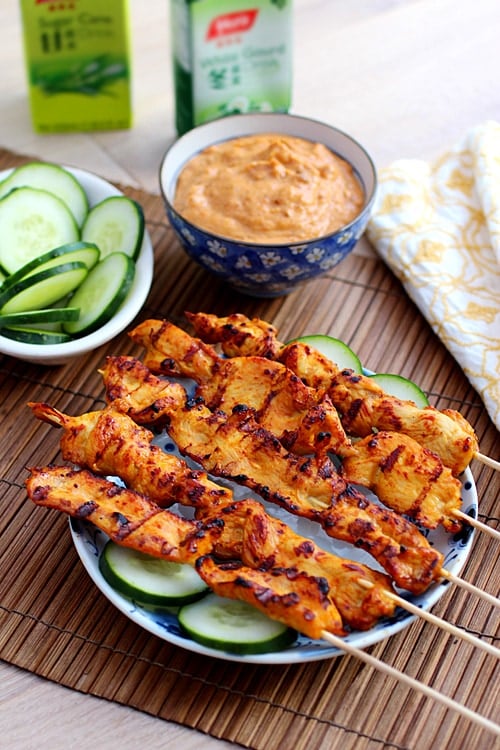 Thai Peanut Sauce