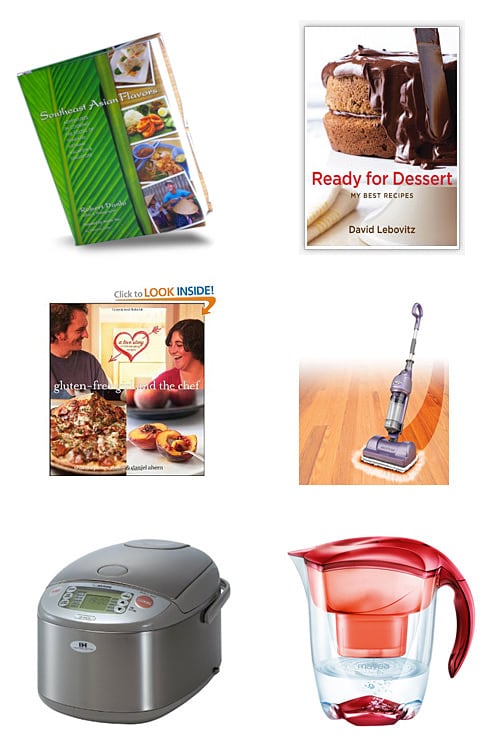 Are you done shopping? Some readers requested some last minute shopping ideas and here is my simple holiday gift guide.
Cookbooks are always a great gift. I personally love to receive a gift of cookbook, and here are my recommendations:
Southeast Asian Flavors
Robert Danhi
Coming from Malaysia, I am a HUGE fan of Southeast Asian food. Southeast Asian Flavors by Robert Danhi is my go-to cookbook when it comes to preparing authentic and delicious Southeast Asian dishes, especially Thai and Vietnamese. I have personally tried a few recipes from Southeast Asian Flavors and the recipes are spot-on and totally scrumptious: chicken satay, banh xeo, and roti canai/paratha. As a Rasa Malaysia reader, you can get the cookbook at 50% off, or two for the price of one, expiring Jan 7 2011. Buy now!
Ready for Desserts
David Lebovitz

I am a hopeless case when it comes to baking and desserts, that's why I picked up a copy of Ready for Dessert: My Best Recipes by author and food blogger extraordinaire David Lebovitz. It has plenty of recipes for novices and other more ambitious recipes. All in all, this is a fantastic cookbook to give to baking beginners or enthusiasts.
Gluten Free Girl and the Chef
Shauna James Ahern & Daniel Ahern
I often receive emails from readers asking me how to make my recipes gluten-free, which I am completely clueless about. Gluten Free Girl and the Chef is a must-have for those who need to eat gluten-free; it offers irresistible stories and 100 mouth-watering recipes. From the authors of the much-loved food blog, Gluten-Free Girl.
This year, I got myself a few kitchen and household items that are absolutely efficient. I love them and they have really simplified my life. Here they are:
Shark Vac-Then-Steam
I am a clean freak and used to vacuum and then mop my house, but it all changed when I got myself a Shark Vac-Then-Steam, a complete hard floor cleaning system that includes vacuum and steamer in one. It's so efficient and I practically cut my cleaning time in half. Love it!
Zojirushi Rice Cooker
I had a few rice cookers (unsatisfactory ones) before I got myself a Zojirushi, which is the BEST rice cooker ever that makes the fluffiest, moist, and softest steamed rice ever. If you visit this website, it's likely that you love Asian food. Trust me, invest in a good rice cooker and everything you make will taste so much better with a great bowl of rice.
Mavea Elemaris XL Water Filtration Pitcher
The quality of water we consume is very important. I got a Elemaris pitcher that removes chlorine and bacterial contaminants. It also softens the tap water without adding any sodium. I cook all my dishes with the filtered water now, and I believe it imparts a better and more "organic" flavor to my cooking.
Happy holidays!