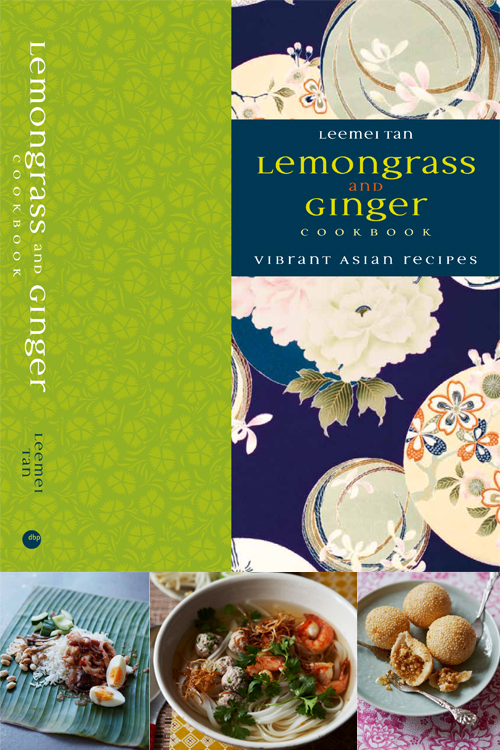 Update: The winner is Traci M.
Leemei Tan got in touch with me and wanted to giveaway her cookbook Lemongrass & Ginger Cookbook: Vibrant Asian Recipes. There will be one (1) winner whom will receive one (1) copy of Lemongrass & Ginger Cookbook: Vibrant Asian Recipes by Leemei Tan. The retail value of Lemongrass & Ginger Cookbook: Vibrant Asian Recipes by Leemei Tan is US$24.95.
About Lemongrass & Ginger Cookbook: Vibrant Asian Recipes
Asian cooking is one of the fastest-growing cookery trends in the world – and from Chinese to Thai, Indian to Malaysian, the diverse tastes, textures and aromas of Asia can be sampled in this beautiful new cookbook.
Rich in aromatic spices, herbs, and flavorings, Asian food explodes deliciously in your mouth. Now, thanks to Leemei Tan, home cooks can easily master the art of preparing this delectable cuisine. She explains how to make perfect sushi, creamy curries, spicy stir-fries, and crisp tempura, and work with noodles, kaffir lime leaves, or wasabi.
From Korean Spicy Seafood Noodle Soup and Japanese Pork Dumplings to Thai Green Papaya Salad and Indian Aubergine Curry, these imaginative recipes will inspire and delight, whether you have in mind a quick weekday meal or a feast for friends and family.
There are 7 chapters in the book that cover more than 100 recipes from all over Asia – Japan & Korea, China, Philippines & Indonesia, Malaysia & Singapore, Thailand, Cambodia & Vietnam and India & Sri Lanka.
There are 3 sections in the book that will come in handy. They are 'Basic Recipes', 'Basic Techniques' and 'Glossary'.
'Basic Recipes' section tells you how to make stock, how to make perfect steamed rice, making spice pastes, and etc that are used in the recipes. 'Basic Techniques' section will guide you how to debone chicken, prepare fresh coconut, prawns and etc.'Glossary' section contains a list of ingredients with explanations that you may not be familiar with.
Lemongrass & Ginger can now be purchased at all major bookstores and online stores such as Amazon.com, Barnes & Noble, Book Depository, etc. Take a sneak preview of the book here: http://www.mycookinghut.com/mycookbook/
About the Author
Leemei Tan is a freelance recipe writer, food stylist and photographer. Born in Malaysia, she is now based in London and travels extensively.
She has been authoring the ever popular and well-known food blog My Cooking Hut http://mycookinghut.com since 2007, with the aim of sharing recipes of her childhood and dishes that have inspired her throughout her years of travelling. Her blog has won her an award as one of the best female bloggers around the world.
Leemei started her years in the kitchen at a very tender age, learning all the important ingredients and different techniques in the kitchen. Food for her is important and part of her upbringing.
To enter to win, just enter your name and email address using the entry form below. Please don't forget to click on the "Submit" button.
Eligibility
Worldwide
Closing Date
May 20, 2012, 11:59 pm PST. Winner will be randomly selected and contacted via email on May 21, 2012.
Number of Entries
You can enter every day using the entry form. One entry per day strictly enforced; comments left on Facebook do not count as entry to this giveaway.
Bonus Entries
.
The New Entry Form
If you're a regular on Rasa Malaysia, I'm sure you noticed that my comment system was down when the KitchenAid giveaway reached over 5,000 entries and you couldn't enter a comment to win.
This new entry form will be able to handle many entries without breaking my site. All entries will be stored in my website database and you will have a fair chance of winning.
Other Amazing Prizes & Giveaways: