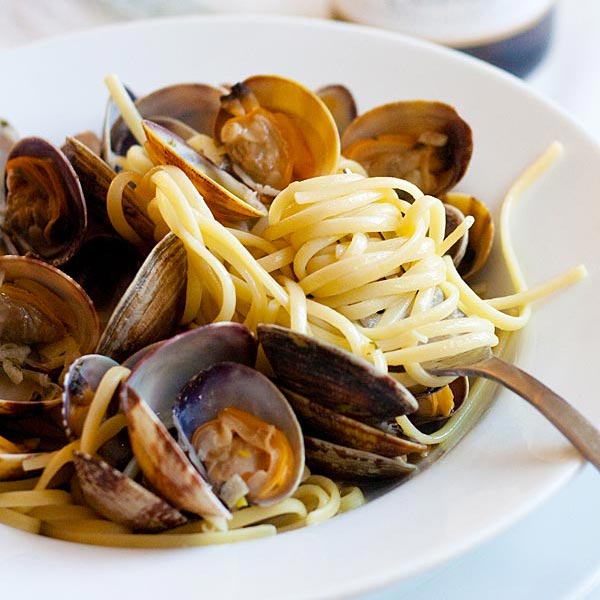 Linguine alle Vongole (Clams Linguine)
Linguine alle Vongole – best and easiest homemade pasta with clams in garlic butter sauce. Much better and cheaper than Italian restaurants
Prep time:
Cook time:
Total Time:
Makes2
Ingredients:
6 oz linguine
2 tablespoons extra-virgin olive oil
2 tablespoons unsalted butter
2 cloves garlic, minced
1 1/2 lbs Manila clams, scrubbed, cleaned, and rinsed
1/4 cup pasta water
1/2 cup white wine
1 tablespoon finely chopped Italian parsley leaves
Salt to taste
Method:
Heat up a pot of water and cook the linguine per the packaging instructions. Drained and set aside. Save 1/4 cup of the pasta water.
Heat up a deep skillet, add olive oil and butter. Lightly saute the garlic and add the clams, pasta water and white wine. Lightly stir the clams and cover the skillet with its lid until the clams open up. Remove the lid and add the linguine into the skillet and add salt to taste. Add the parsley, stir to combine well. Dish out and serve immediately.
Linguine alle Vongole (Clams Linguine)
Linguine alle Vongole – the best and easiest homemade pasta with clams in garlic butter sauce. Much better and cheaper than Italian restaurants.
Originally published in April 2009. Updated with new recipe.
I love clams and I love pasta, so there is no surprise that I love this classic Italian dish Linguine alle Vongole, which means linguine with clams. This is definitely one of my favorite Italian recipes; it's absolutely delicious, bursting with the natural briny sweetness of the clams, with the garlic butter and herb sauce.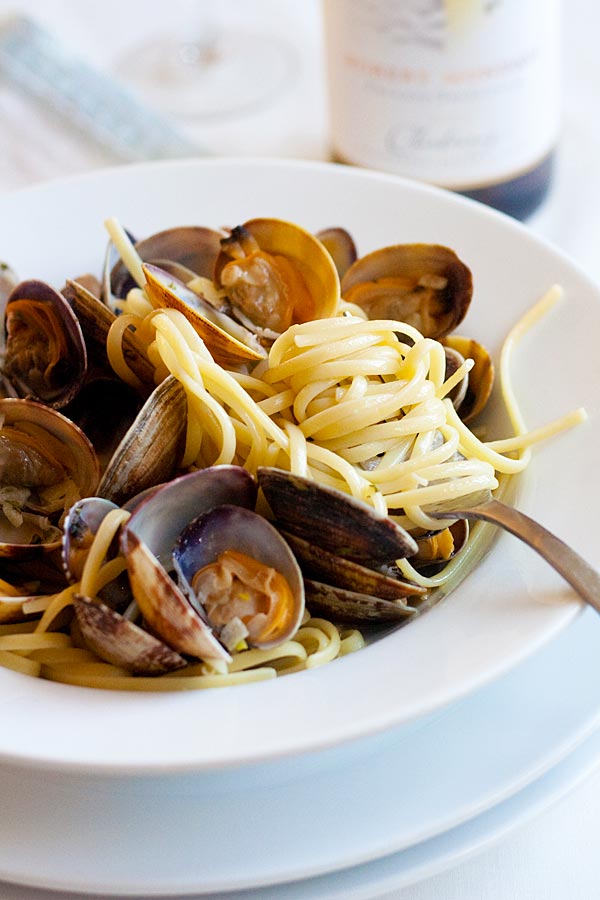 Eating out at any Italian restaurants, this dish can easily cost you $20 or more. While I don't mind splurging on a wonderful serving of linguine alle vongole once in a while, I wanted to have it as often as possible at home. I take matters in my own hands and make the clams linguine pasta at home. As you can see, my linguine alle vongole recipe is loaded with lots of clams. The sauce is utterly scrumptious with the perfect balance of flavors. Serve it with a glass of your favorite wine and you will have wonderful restaurant flavors at home!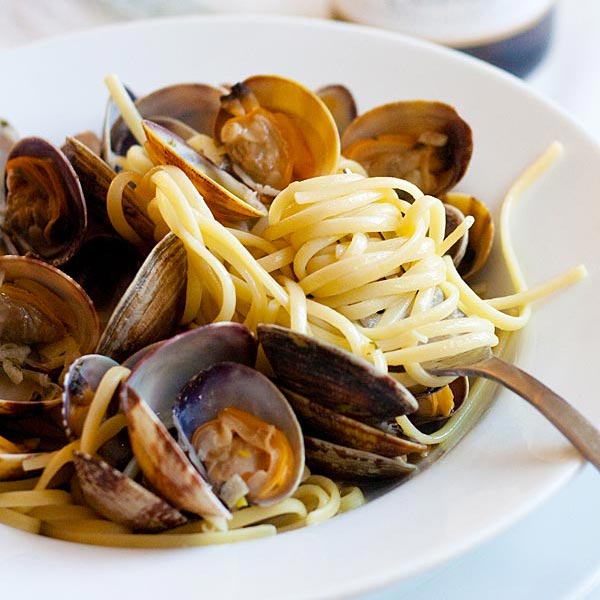 Rate This
Recipe Name
Linguine alle Vongole (Clams Linguine)
Preparation Time
Cook Time
Total Time
Average Rating

Based on 3 Review(s)