Lobster Recipe: Mango and Lobster Salad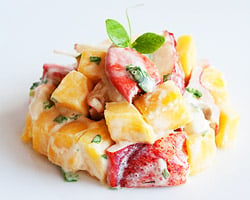 http://rasamalaysia.com/lobster-recipe-mango-and-lobster-salad/
Lobster Recipe: Mango and Lobster Salad
As Cynthia of Tastes Like Home puts it: "Separately (mango & lobster), they are heavenly. Combined? They are sinfully good."
She was spot on.
This mango and lobster salad was refreshing, light, and mangolicious. For me, the ideal ratio is approximately 1.5 mango: 1 lobster to get that perfect and harmony balance. Plus, mangoes are just too good, so the more the merrier…
Click the image above to see my mango and lobster salad gallery and here for my baked lobster with cheese.
This is a seriously good recipe and I hope you'll get to try out my mango and lobster salad recipe soon. Bon Appetit!
Click Images Below for Similar Recipes:
LOVE THE RECIPE & PHOTOS? PLEASE SHARE:
Sign Up for Email Updates
Enter your email for new updates: recipes, giveaways, and more!