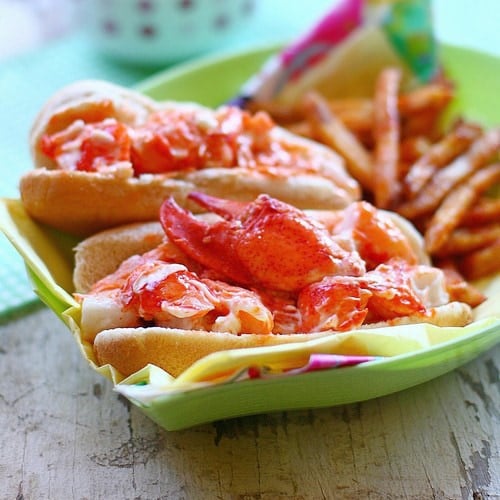 Lobster Roll
Lobster Rolls – Homemade lobster rolls that is super easy, MUCH CHEAPER & a zillion times better than restaurants!!!
Prep time:
Cook time:
Total Time:
Ingredients:
3 3/4 cups water and some salt for boiling lobster(Use 1.5 cups of water per 1 lb of lobster)
2 tablespoons butter
1 tablespoon Old Bay Seasoning (optional)
2 1-1/2 lb live lobsters or 1/2 lb cooked lobster meat
2-3 hot dog buns, split and lightly toasted
1/4 cup Mayonnaise
Sea salt and ground black pepper to taste, for the lobster salad
Method:
Bring salted water, butter and Old Bay seasoning to a full boil. Plunge lobster head into the pot first and allow the pot to return to a slow rolling, but not quite boiling by turning it down to stop the boiling process. Keep pot uncovered during the poaching process to prevent fat in lobster from melting, keeping it tasty and tender. Boil for about 20 minutes, or until the shell turns bright red. (8 minutes per 1 1/4 lbs of lobster.)
When the lobster is cooked, remove from the pot and rinse the lobsters in cold running water. Proceed to remove the cartilage from the claws and the intestines from the tails. Cut and dice lobster meat into 1/2-inch thick to 3/4-inch pieces.
In a bowl, mix the mayonnaise, lobster meat, salt and pepper to taste. Refrigerate the lobster salad for at least 30 minutes before serving.
Make the lobster roll by assembling the buns. Open the buns and place it on a serving plate. You may toast the buns with some melted butter on a skillet over medium heat, buttered or leave it as is. Spoon the chilled lobster salad evenly on the bun. The lobster roll is now ready to be served with your choice of sides, for examples: pickles, fresh lettuce and fries/chips.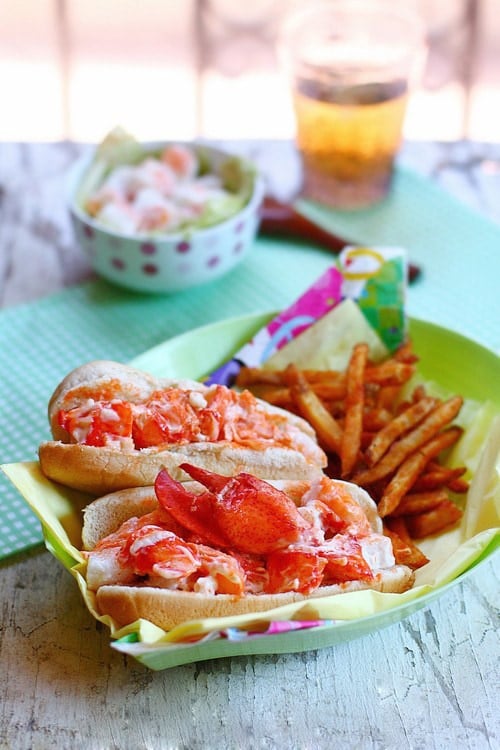 Let's talk about your favorite summer seafood meals.
For me, it's simple peel and eat shrimp, lemongrass and Sriracha grilled shrimp or beer-steamed mussels and of course a cool starter like lobster and mango salad. What about all those extra hot dog buns left over from 4th of July? I'm thinking lobster salad again. Nothing fancy, just delicious chunks of chilled poached lobster meat stuffed in a bun with mayo and a little light seasoning. How about Rasa Malaysia's version of the famous Classic New England Lobster Roll? I may not have the special buns for this classic, but with fresh live lobsters and cooking it right, you'll definitely get a perfect lobster roll for sure.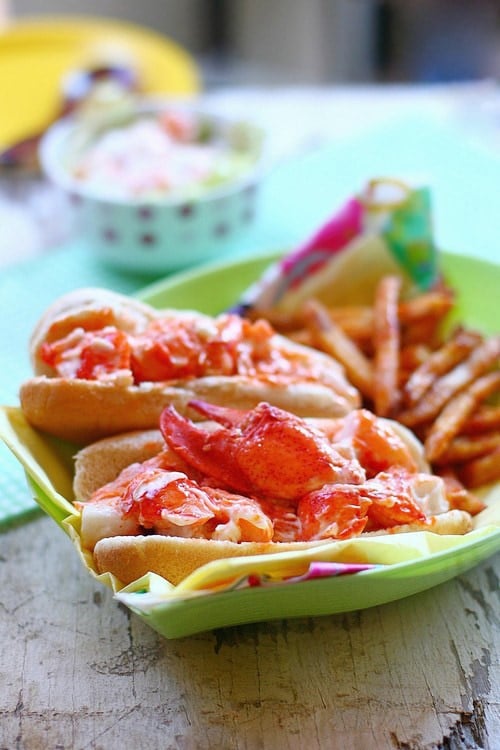 I made a slight twist using Old Bay Seasoning and a tad butter to poach the lobster as opposed to simple poaching/boiling with only salt water like what it's usually done for the famous New England Classic Lobster Roll. That, plus I don't have those special buns for it and don't know where to get it. All and all, the end result is still worth every penny, I'm happy and I can assure you when lobster's on sale again, I'll definitely make more of these delicious lobster roll!
REMEMBER TO SUBSCRIBE TO RASA MALAYSIA NEWSLETTER AND GET EASY AND DELICIOUS RECIPES DELIVERED TO YOUR INBOX. If you try my recipe, please use hashtag #rasamalaysia on social media so I can see your creations! Follow me on Facebook | Instagram | Pinterest | Twitter for new recipes, giveaways and more.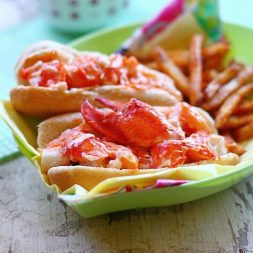 Rate This
Recipe Name
Preparation Time
Cook Time
Total Time
Average Rating

Based on 1 Review(s)