Magimix 16-Cup Food Processor Giveaway (CLOSED)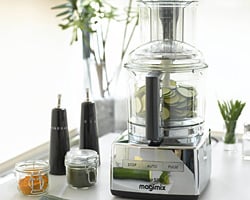 http://rasamalaysia.com/magimix-5200xl-16-cup-food-processor-giveaway-2/
Magimix 16-Cup Food Processor Giveaway (CLOSED)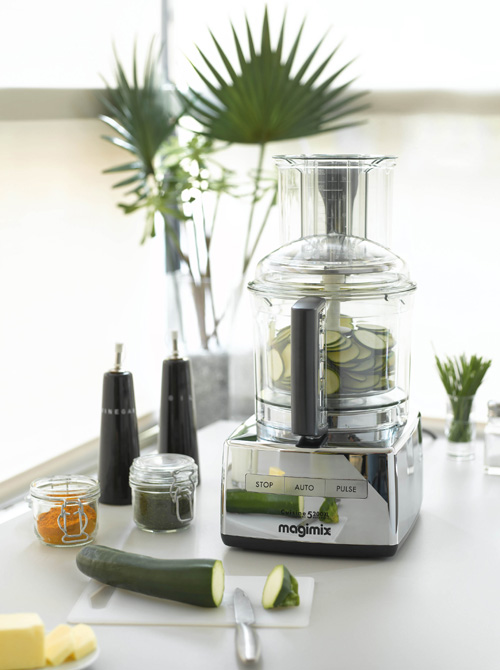 Update: The winner is Dean A.
I am partnering with my friends at Magimix to give away a Magimix 5200XL 16-Cup Food Processor. There will be one (1) winner whom will receive one (1) polished chrome colored Magimix 5200XL 16-Cup Food Processor. This premium package comes with a Juice Extractor/SmoothieMix attachment and Creative Slicing Discs kit! The suggested retail price of the Magimix 5200XL 16-Cup Food Processor is $599.95.
Versatile for volumes of chopping, slicing, grating, blending, mixing, whisking or kneading, the Magimix 16-cup Food Processor is produced by the French company who developed the world's first food processor and the use of multiple bowls. The Magimix food processor offers a trio of work bowls so you don't need to stop to wash a bowl while preparing foods. The 6-cup mini bowl is ideal for blending baby food and sauces or mincing herbs. The 12-cup midi bowl is designed for slicing and grating of vegetables, fruit and cheese and the 16-cup main bowl is generously sized for kneading dough, mixing batters, whisking egg whites, making citrus juices, and extracting juice from hard and soft fruits. The only company around the world to manufacture its own motor, Magimix powers the 16-cup food processor with the "smart motor", a commercial-grade induction motor, backed by a 30-year warranty.
The Magimix food processor features razor-sharp serrated Sabatier stainless-steel blades and stainless-steel discs. Forged for incredible strength, the serrated blades easily perform heavy-duty tasks such as crushing ice or chopping hard nuts. Optimizing the appliance's vortex, the BlenderMix accessory improves the blender function and provides water tightness when processing soups, consommes and liquids. The 16-cup food processor also includes a creative 3-disc kit, a Juice Extractor/SmoothieMix attachment, 4 slicing and shredding discs, citrus press, dough blade, egg whisk, spatula and 2 accessory storage boxes.
Robot-Coupe was founded in the early 1960s in Burgundy, France, famous for fine cooking and creating kitchen essentials for gourmet cooks. Producing appliances for leading restaurants and hotels, Robot-Coupe created the world's first commercial food processor and founded Magimix in 1971 to introduce the large food processor to home chefs around the world. The undisputed world leader in commercial food processors for more than 40 years, Robot-Coupe continuously develops and refines its processors in both function and size. In 1988, Magimix created the mini bowl and in 1998 introduced the midi bowl processing bowl. Today Magimix by Robot-Coupe produces innovative kitchen products with longevity and energy efficiency for home chefs.
Product Features
Produced in France by the company who developed the world's first food processor
Ultra quiet 1,100-watt commercial-grade induction motor automatically adjusts the power for the task needed
The "smart motor" is a commercial-grade induction motor backed by a 30-year warranty
The 16-cup is ideal for serious cooks, people who regularly entertain, and large families
Simple three button operation: Stop, Auto, Pulse
Three dishwasher-safe and shatter-proof Lexan bowls — 6-cup, 12-cup and 16-cup
2 stainless-steel Sabatier blades, one for small bowl, and one for main bowl
Creative 3-disc kit includes: small and large julienne discs, fluted disc and dedicated storage box
Juice Extractor/SmoothieMix attachment easily makes all-natural smoothies, juices, extracts and berry purees. Works with soft fruits such as bananas and pineapples or vegetables such as carrots or cucumbers. Attachment includes a special funnel for berries and processes juice for jams, jellies, sorbets and ice cream
4 slicing and shredding discs to use with the midi bowl or main bowls
Extra-large feed tube eliminates need to precut most ingredients
Small pusher with measurement marks up to 10 oz.
BlenderMix accessory attachment improves the blender function
Includes versatile slicing/grating, julienne and fluted discs, dough blade, citrus press, whisk and flexible spatula
All accessories are top-rack dishwasher-safe; hand washing is recommended
30-year warranty on motor, 3 years on parts
Includes
English/French spiral-bound instruction manual with DVD recipes
Three bowls — 6-cup, 12-cup and 16-cup
Creative 3-disc kit in dedicated storage box: fine and extra-wide julienne discs and fluted disc
Juice Extractor/SmoothieMix attachment
New BlenderMix attachment
Sabatier stainless-steel mini and main blades
2 mm and 4 mm shedding disc
2 mm and 4 mm slicing discs
citrus press
dough blade
egg whisk
flexible spatula
accessory storage box
Eligibility: United States and Canada only. No purchase necessary and subject to this official giveaway rules. Closing Date: December 29, 2013, 11:59 pm PST. Winner will be randomly selected and contacted via email on December 30, 2013. The prize is proudly sponsored by Magimix.
Other Amazing Prizes & Giveaways:
Click Images Below for Similar Recipes:
LOVE THE RECIPE & PHOTOS? PLEASE SHARE:
Sign Up for Email Updates
Enter your email for new updates: recipes, giveaways, and more!