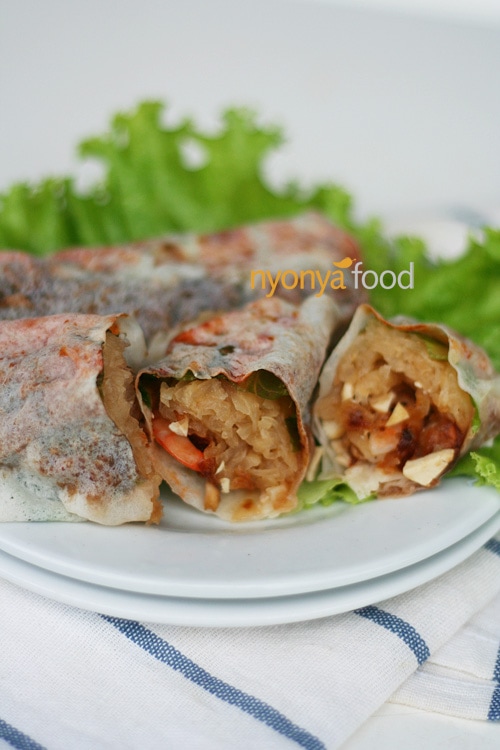 Popiah Recipe
Ingredients:
20 fresh popiah wrappers
Fillings:
80g fresh lettuce leaves (wash and drained dry)
1kg yambean (grated)
70g french beans (sliced)
4 bean curd (diced into small pieces)
100g prawn (shelled, deveined and cut into small pieces)
3 cloves garlic
Some store-bought fried shallot crisps, optional
Seasonings:
1 tsp salt or to taste
1/2 tsp white pepper powder
1/2 tsp sugar or to taste
1 cup water
3/4 cup cooking oil
Sauces:
1/2 cup sweet sauce (tee cheo) or Hoisin sauce
1/4 cup chilli sauce
Method
Heat up your wok with some oil, deep-fry the bean curd until lightly browned. Dish out and drain on paper tower.
In a deep pot, add in the oil until heated. Transfer the garlic into the deep pot and stir fry until aromatic, add in the prawn and stir fry until slightly cooked.
Add in the yambean, french beans, salt, pepper, sugar and water, stir well. Reduce heat and simmer until the yambean turns soft, for about 30 minutes. Taste the filling, add more salt and sugar to taste. Dish out the filling and keep aside to cool. The filling might be slightly watery.
Lay a piece of the Popiah wrapper on a flat board. Spread one teaspoon sweet sauce and 1/2 teaspoon chilli sauce on it. Place a lettuce leaf over the sauces. Spoon 3 tablespoons of filling onto the leaf. Top with the fried bean curd and fried shallot crisps. Fold up the two sides of the wrapper and roll up. If you wish, you can scoop a tablespoon of the filling juice on top of the Popiah. Serve immediately.
Most-Pinned Recipes
Ginger Garlic Baked Chicken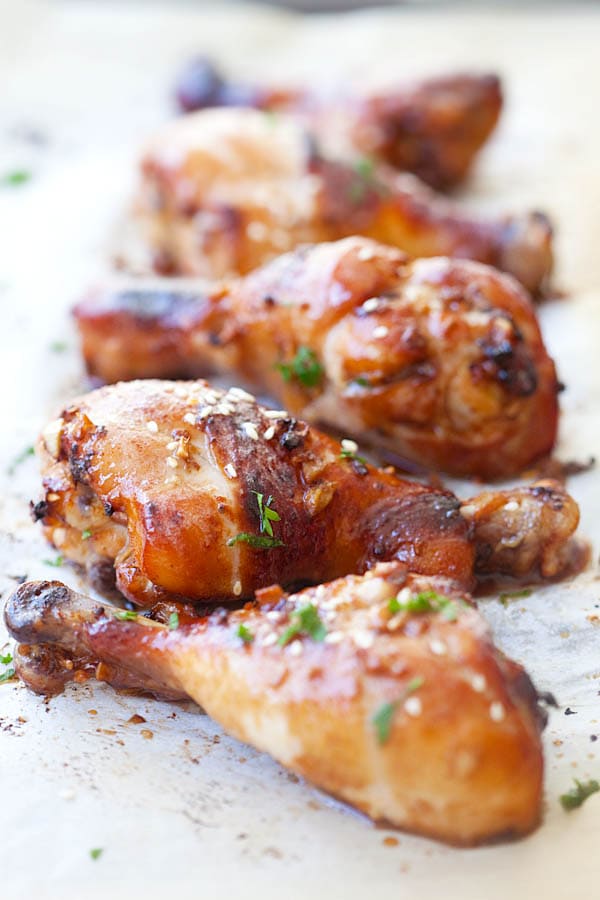 Crab Rangoon (Cream Cheese Wontons)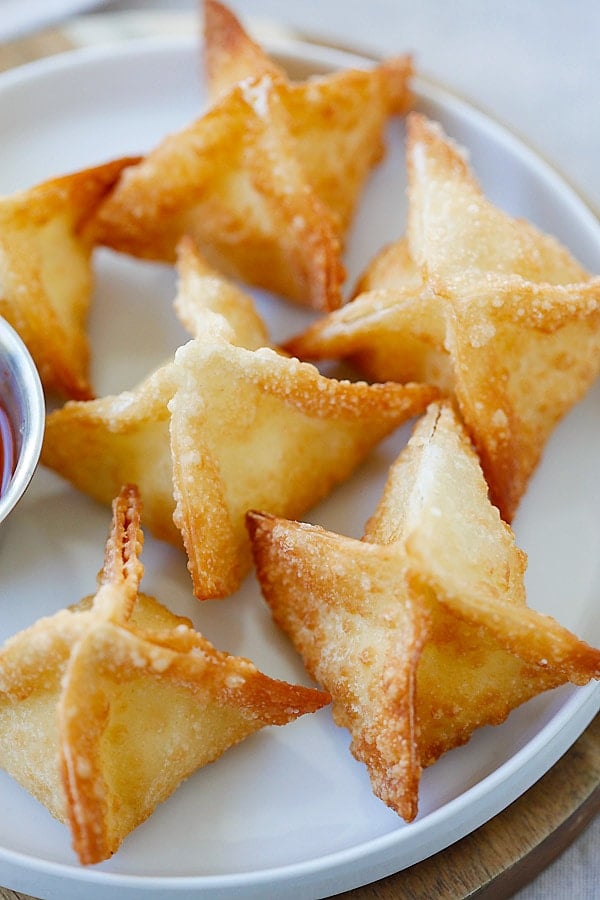 Chicken Wontons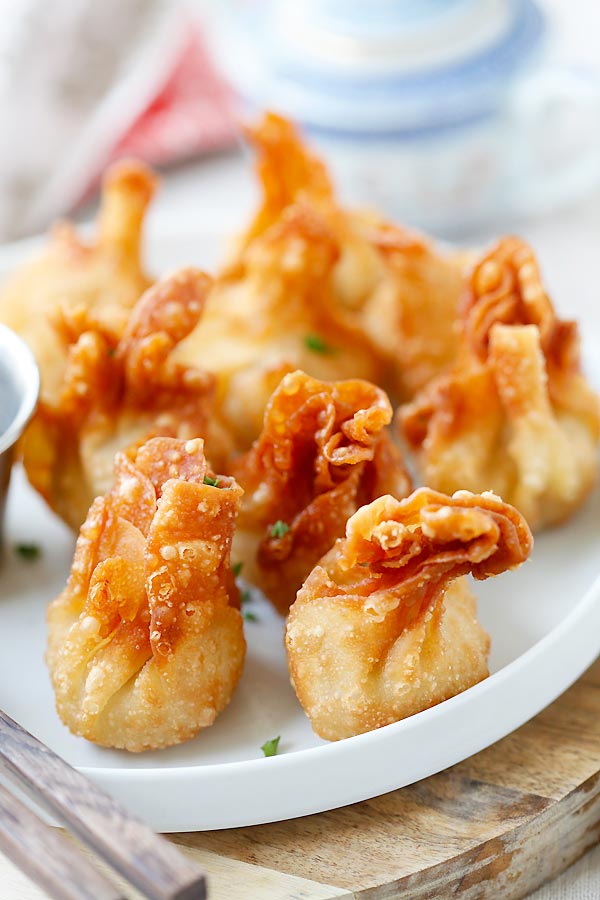 Onion Scallion Beef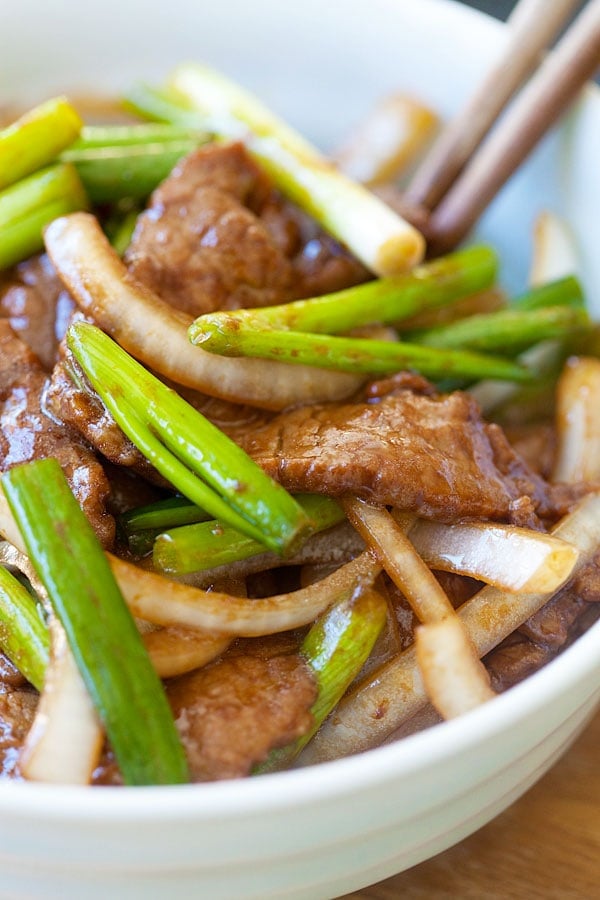 Thai Chicken Sate with Peanut Sauce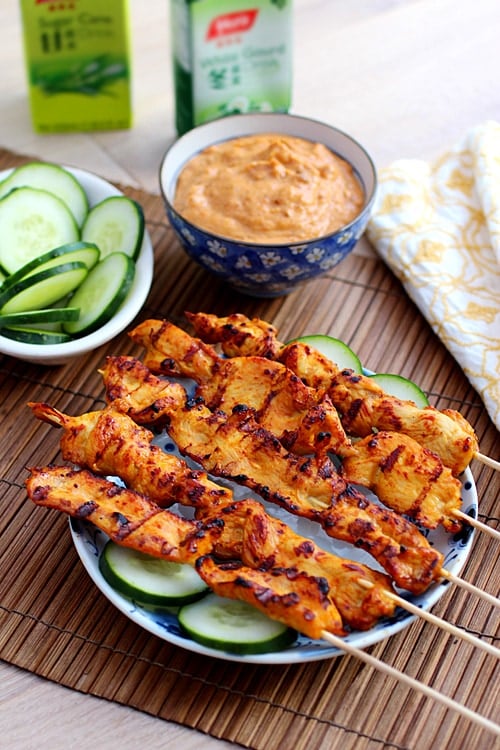 Thai Peanut Sauce