Malaysian Guava – Guava Bidor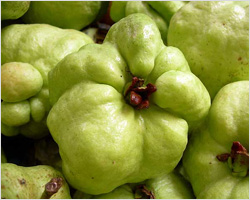 http://rasamalaysia.com/malaysian-guava-guava-bidor/
Malaysian Guava – Guava Bidor
I like a person who can keep his promise, especially one about food.
Toni Xe of Backstreet Glutton promised me that he would shoot a picture of Guava Bidor for me when I posted "Guess What?"; this morning I woke up and found this picture in my inbox.
Aptly named Backstreet Glutton, Toni drives around the peninsula of Malaysia in search of great eats and he stumbled upon these horrendous looking guavas just outside of Pun Chun Restaurant (品珍), the famed duck soup restaurant of Bidor. (Coincidentally, Eating Asia has just written about Pun Chun's Duck Noodles Soup recently.)
Compared to my mini Californian guavas, these are huge and shall I say, look grotesque. I think they should be the new pumpkins come next Halloween!
Related Post: Guess What?
You Might Also Like These Recipes Below:
No similar posts.
LOVE THE RECIPE & PHOTOS? PLEASE SHARE:
Sign Up for Email Updates
Enter your email for new updates: recipes, giveaways, and more!