Seafood Curry Recipe (Malaysian Indian-Style)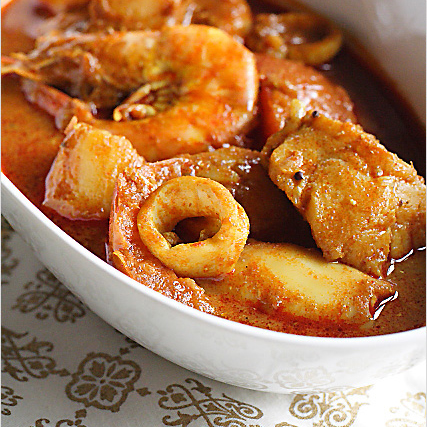 http://rasamalaysia.com/malaysian-indian-style-seafood-curry/
Seafood Curry Recipe (Malaysian Indian-Style)
Malaysian Indian-Style Seafood Curry
Ingredients:
1 pack seafood curry paste
6 large prawns
6 squids
6 scallops
1/2 lb. seabass fillet (cut into small cubes/pieces)
1 tomato (cut into wedges)
2 tablespoons coconut milk
1 tablespoon tamarind pulp (soaked in 4 tablespoons water and extract the juice)
2 shallots (peeled and sliced)
1 1/2 cups water
1 tablespoon oil
Salt to taste
1 sprig curry leaves (optional)
LOVE THE RECIPE & PHOTOS? PLEASE SHARE:
Sign Up for Email Updates
Enter your email for new updates: recipes, giveaways, and more!