Malaysian/Singaporean Food Bundles Giveaway (CLOSED)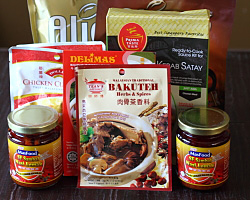 http://rasamalaysia.com/malaysian-singaporean-food-bundles-giveaway/
Malaysian/Singaporean Food Bundles Giveaway (CLOSED)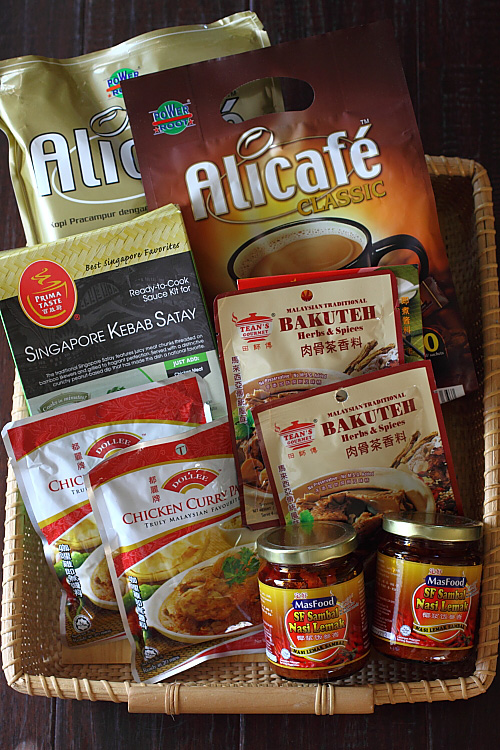 Update: The winners are Keith T, Azni I, Aileen S, Terri P. Waiting for winner #5 to respond.
My high school friend who runs AsianSupermarket365—an online Asian and Chinese grocery store—is giving away five (5) bundles of Malaysian/Singapore food products to Rasa Malaysia readers. Each bundle consists of the following…
Two packets Malaysian traditional Bak Kut Teh by Tean's Gourmet
Two packets Dollee Chicken Curry Paste
One packet Alicafe Classic 3-in-1 Premixed Coffee
One packet Alicafe 5-in-1 Premixed Coffee (with Tongkat Ali and Ginseng)
Two packets Masfood Sambal Nasi Lemak
Two packets Delimas Malaysian Curry Laksa Paste
Two packets Prima Taste Singapore Kebab Satay
The total value of each bundle is $80. With the spice paste and premix packets, you can whip up Malaysian Bak Kut Teh, chicken curry, nasi lemak, curry laksa, satay, with a cup of Malaysian coffee!
To enter to win, just leave a comment below. To maximize your odds of winning, you can leave a comment every day (one comment per day strictly enforced), plus the bonus entry below:
Two Bonus Entries:
Like Rasa Malaysia on Facebook. Leave 1 bonus comment for this.
Like AsianSupermarket365 on Facebook. Leave 1 bonus comment for this.
This giveaway opens to US residents only and closes on August 14, 11:59 pm PST. Winners will be randomly selected and announced on August 15, 2011. Good luck!
Sign Up for Email Updates
Enter your email for new updates: recipes, giveaways, and more!