Menu For Hope 4: West Coast Raffle Results Announced!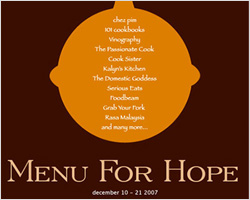 http://rasamalaysia.com/menu-for-hope-4-west-coast-raffle/
Menu For Hope 4: West Coast Raffle Results Announced!
Here is the list all of you have been waiting for: Menu For Hope 4 West Coast Raffle Winners. Thanks again for your kind participation and congratulations to all the winners!
If you are a winner, please arrange for the prize fulfillment by contacting the blog hosting your prize either via email or leave a comment on their blog. You can do so by clicking on the prize code.
UW01 – Complete Digital Photography by Ben Long from Jugabandi Blog
Susan Tenney
UW02 – Modern Indian Cooking by Hari Nayak and Vikas Khanna AUTOGRAPHED from Jugabandi Blog
Rachael W Sirianni
UW03 – Your choice of three cookbooks from Ten Speed Press, from the Bunrab
Susan Tenney
UW04 – Boccalone Boar Sacchetto of artisan salumi from the Bunrab
Alexis s Morris
UW05 – Mediterranean Cooking in Alaska AUTOGRAPHED from Tastes Like Home
Maria L Schellpfeffer
UW06 – Best of the Ferry Building" Gift Basket from Married…with Dinner
Lauren K Kawakami
UW07 – Drink of the Week Cocktail Notecards from Married…with Dinner
Lara N Ferroni
UW08 – Custom Mixology Service from Married…with Dinner
Jane Tunks
UW09 – A Deluxe Boxed Assortment of chocolates from Charles Chocolates of Emeryville, California from Dessert First
Jessica Su
UW10 – Dinner for 2 with wine pairing and a private tour of Manresa biodynamic garden with the chef, David Kinch from Chez Pim
Leanne Abe
UW11 – Lunch with Harold McGee, from Chez Pim
Remy C Goldberg
UW12 – A full set of chemical powder and whatnots – from meat glue to gellan gum and everything in between for the avant-garde cooks from Le Sanctuaire, via Chez Pim
Paul Kim
UW15 – Three-day conference pass for Blogher's 2008 Summer conference in San Francisco, courtesy of Blogher, from Kalyn's Kitchen
Shuna Lydon
UW16 – Seattle Chef Tom Douglas' Seattle Kitchen, Tom's Big Dinners, I Love Crab Cakes AUTOGRAPHED, from Wild Yeast
Derek Slager
UW17 – Contigo Conmigo: 4-course dinner for 8 at Contigo chef Brett Emerson's house in San Francisco during the winter/spring from In Praise of Sardines, with wine pairings by Alder of Vinography and desserts by Shuna of Eggbeater
Mary E Carsten
UW18 – Bento lunch starter kit and tour of San Francisco's Japantown from Lunch in a Box
Mrs Nicole A Hodges
UW19 – Dinner for two at Camaje restaurant in New York City from Fresh Approach Cooking
Ms Susan Tenney
UW20 – An Upside Down Tomato Garden, courtesy of Hammacher Schlemmer from Fresh Approach Cooking
Ms Anna Kong
UW21 – Gift basket of Gifts for Foodies from Fresh Approach Cooking
Mrs Sharon E Rapone
UW22 – Create your own Gelato Dream Flavor from Gelateria Naia
Miss Merriam Haffar
UW23 – 2006 Westrey Wine Company "Willamette Valley" Pinot Noir and the 2005 Crowley Wines "Entre Nous" Pinot Noir, courtesy of Wine Guy World
Mrs Maria L Schellpfeffer
UW24 – Heirloom Tomato Cookbook (plus a selection of 10 varieties of heirloom tomato seeds from my library of more 200 varieties!) from House of Annie
Ms Elke Sisco
UW25 – Theo Chocolate Extravaganza! from Cook & Eat
Jeffrey Stai
UW26 – $100 Gift Certificate to Chuao Chocolatier from Candy Blog
Melissa Wong
UW27 – Apple iPhone 8GB (US shipment only) from Sunday Nite Dinner
Debra Braun
UW28 – Rancho Gordo's special Menu for Hope Sampler from Rancho Gordo
Jessica Su
UW29 – A special cookie recipe from KitchenMage
Carolyn W. Comiskey
UW30 – Cozy Comforts, cookbooks, drinks, and chocolates to warm you on cold days from Cooking with Amy
Lauren E Plouffe
UW31 – Napa Style salt box with five salts from Rainy days and Sundays
Sarah L Hartman
UW32 – Very special package of English Afternoon Tea from June Taylor and Sam Breach at Becks and Posh
Christine M Burridge
UW33 – I Wanna Be a Food Writer prize package from Blog Appetit
Barbara Haimes
UW34 – A Hand Selected assortment of Fra' Mani Salumi, hosted by Potential Gold, expertly chosen by Curemaster and Chef Paul Bertolli from Potential Gold
Paul H Ting
UW35 – Coffee, Cake, and Mug Gift Set from Cucina Nicolina
Rebecca Kim
UW36 – 100 gift voucher to spend at The Fatted Calf's new Napa store from Becks and Posh
Sybil Evans
UW37 – Chris Cosentino (of The Next Iron Chef and Incanto) will take you to lunch on delectable bits at his favorite secret offal restaurant in San Francisco, plus a Lips and Assholes t-shirt from Offal Good
Caroline A Wang
UW39 – An autographed copy of Gluten-Free Girl, as well as a big care package of homemade, gluten-free baked goods from Shauna and the chef at Guten-Free Girl
Sarah Bradshaw
UW41 – A full year's subscription to Gastronomica, can be shipped anywhere in the world.
Pat Kimball
You Might Also Like These Recipes Below:
LOVE THE RECIPE & PHOTOS? PLEASE SHARE:
Sign Up for Email Updates
Enter your email for new updates: recipes, giveaways, and more!