Menu For Hope III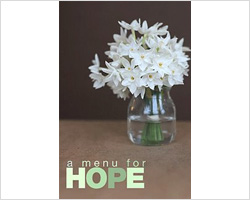 http://rasamalaysia.com/menu-for-hope-iii/
Menu For Hope III kicked off a few days ago (December 11, 2006) in the food blogoshere. Organized by celebrity food blogger Chez Pim, this event is all about giving and sharing. The premise is really simple; food bloggers participate by giving away cool prizes, and readers donate money for a chance (or chances) to win them. The monies collected will then be donated to the UN World Food Programme which provides hunger relief for needy people worldwide.
As Rasa Malaysia has a good heart, I am participating in this very event and am contributing in a small way. I am giving away one (1) cookbook about the food of my hometown. Aptly named "Famous Street Food of Penang: A Guide & Cook Book," this book chronicles the daily lives of some of the best hawkers in Penang, their foods, and their secret recipes. The book is great for food lovers as well as for travelers who are interested to learn more about Malaysian food, especially Penang hawker food. The prize code for this book is UW47.
Now, I have a very exciting news to share (drum roll, please!). I emailed James Oseland, the editor-in-chief of Saveur and he is sponsoring Rasa Malaysia two (2) signed copies of "Cradle of Flavor: Home Cooking from the Spice Islands of Indonesia, Malaysia, and Singapore." Oseland's anecdotes, stories, and recipes are vivid illustrations of the cuisines of Malaysia, Singapore, and Indonesia–a must-have for foodies and cooks alike. To learn more about James, his book, and his work, head over to his website now. To bid for the books, please use code UW45 and code UW46. (Thank you James, I truly appreciate your sponsorship and support.)
To win the prizes above, go to the donation page immediately. For every US$10 you contribute, you get yourself a raffle ticket and a chance to win. The more money you donate, the higher your probability of winning your dream prize (think dinner for two at The Peninsula Hotel in Hong Kong, a six-hour food tour in exotic Bangkok, or the prizes above!). So, act now and donate.
There is really no better way of celebrating this holiday season by giving to those in need. I hope you find giving a rewarding experience as much as I do. Thank you.
Important note:
"Famous Street Food of Penang: A Guide & Cook Book" is only available in Malaysia. The book will be shipped to the winner in early March 2007 (when I come back from Malaysia).
If you have any questions, please don't hesitate to email me.
You Might Also Like These Recipes Below:
No similar posts.
LOVE THE RECIPE & PHOTOS? PLEASE SHARE:
Sign Up for Email Updates
Enter your email for new updates: recipes, giveaways, and more!