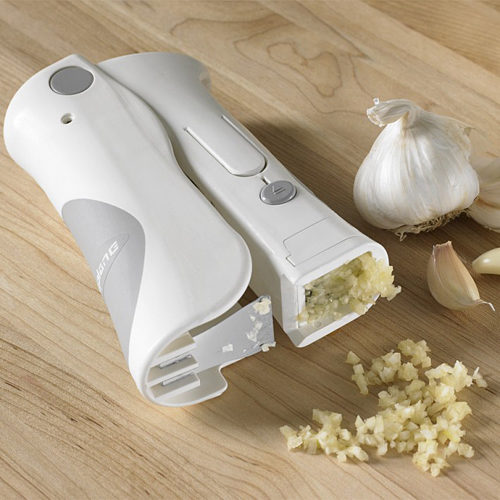 Update: The winner is Traci M.
I am partnering with my friends at Microplane to giveaway a Microplane Garlic Mincer. There will be three (3) winners whom will each receive one (1) Microplane Garlic Mincer. The suggested retail value of the Microplane Garlic Mincer is US$24.95.
Microplane's Garlic Mincer transforms cloves of peeled garlic into tiny, uniform cubes that retain all their natural oils – key to optimum flavor! It features a top-loading design that feeds peeled cloves through a super-sharp grid for fast and effortless mincing with a squeeze of the handle. Dishwasher safe. Patent pending.
Product Details
Mince up to three peeled cloves of garlic at a time (depending on clove size).
Ergonomically designed to fit comfortably in your hand.
Tool Dimensions: L 6.3in x W 4.3in x D 1.5in.
Materials: Blades made of etched surgical grade stainless steel. Plastic body.
Weight: 14 oz.
Blades made in USA. Assembled in Mexico.
Currently exclusive to Williams-Sonoma.
Eligibility: United States and Canada only. Closing Date: June 17, 2012, 11:59 pm PST. The three winners will be randomly selected and contacted via email on June 18, 2012. The prize is proudly sponsored by Microplane.