Mini Shitake Mushroom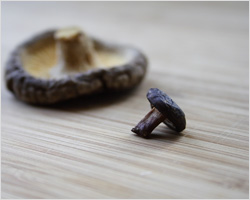 http://rasamalaysia.com/mini-shitake-mushroom/
I am fond of mini-me foods and have previously blogged about them here and here, so you can imagine how overjoyed I was when I spotted this teeny, itty-bitty, baby dried shitake mushroom in the container that I keep all my dried shitake mushrooms.
The actual size of this mini shitake mushroom is a small fraction of the normal ones; it's too cute and such an eye-candy.
On a totally unrelated note, I have been very busy with work lately and hardly have time to post or respond to your comments timely. Sincere apologies to my loyal readers.
Now, on to something very exciting: I finally met my idol Chubby Hubby and his lovely and gracious wife S this afternoon. We had a good lunch and shared great conversations. I will blog about it soon. I have some new pictures to share (shot with my new Canon 50 mm lens), too. Please stay tuned.
LOVE THE RECIPE & PHOTOS? PLEASE SHARE:
Sign Up for Email Updates
Enter your email for new updates: recipes, giveaways, and more!