Mizkan Gift Bundle and $200 Giveaway (Closed)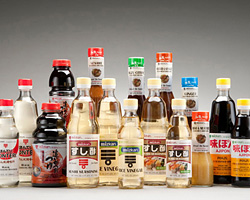 http://rasamalaysia.com/mizkan-giveaway/
Mizkan Gift Bundle and $200 Giveaway (Closed)
Update:
The winner is Mimi Eng from Olympia, Washington. Congratulations!
December is a month of giving, and I am thrilled to announce the Mizkan "Bringing Flavor to Life" Giveaway where one lucky Rasa Malaysia reader will win a Mizkan gift bundle plus an Amazon gift card for $200!
As you know, I am currently working with Mizkan and have featured a couple of recipes using the fabulous Mizkan Japanese condiments such as Mizkan AJIPON® Ponzu Citrus Seasoned Soy Sauce, Mizkan HONTERI® Mirin Seasoning, Mizkan (Bonito Flavored) Soup Base. You can check out my Salmon Teriyaki and Japanese Beef Rolls recipes and learn how to incorporate Mizkan products into your everyday cooking for delicious and authentic Japanese meals at home.
The Mizkan "Bringing Flavor to Life" giveaway runs from Dec 1 – Dec 7 and opens to US residents only. A lucky winner will win a Mizkan gift bundle that includes many Mizkan Japanese condiments and products plus a $200 Amazon.com shopping spree! The winner will be randomly selected by me and notified via email.
To enter into the Mizkan "Bringing Flavor to Life" giveaway, please leave a comment and tell us what you think of Mizkan products. Remember to leave a valid email address.
Good luck and stay tuned for my upcoming recipes on sushi rice and hand roll.

Sign Up for Email Updates
Enter your email for new updates: recipes, giveaways, and more!