MOLECULE-R Cuisine Kit Giveaway (CLOSED)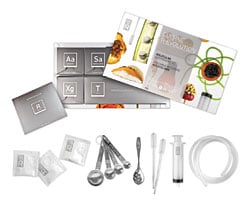 http://rasamalaysia.com/molecule-r-cuisine-r-evolution-kit-giveaway/
MOLECULE-R Cuisine Kit Giveaway (CLOSED)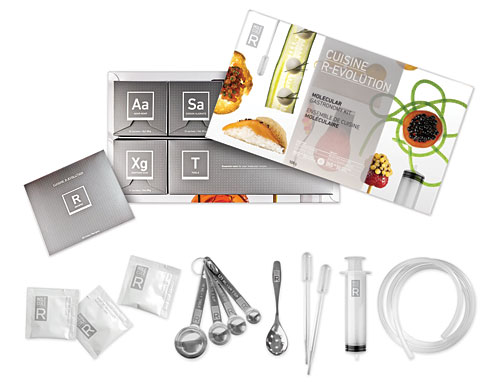 Update: The winner is ANDREW P.
I am partnering with my friends at MOLECULE-R to give away a Cuisine R-EVOLUTION kit. There will be one (1) winner whom will receive one (1) Cuisine R-EVOLUTION kit. The value of the Cuisine R-EVOLUTION kit is $58.95.
At least once, while growing up you heard the proverbial – don't play with your food. MOLECULE-R is breaking the rules and allowing you to experiment with food in the comfort of your own home. With MOLECULE-R's Cuisine, Cocktail, and Siphon R-EVOLUTION kits, any dish or cocktail can be deconstructed into a 5 star restaurant recipe with these all-encompassing D-I-Y kits.
Each R-EVOLUTION kit contains pre-measured sachets of natural food additives, the essential molecular gastronomy tools, and a DVD with step-by-step recipes. Experimenting with the most popular molecular gastronomy techniques (gelification, spherification, and emulsification) foodies are now able to take cooking to the next level allowing them to create unexpected concoctions such as a layered martini, adding a touch of airy lime foam to your tequila shot, or on the culinary side, creating an arugula spaghetti or balsamic vinaigrette beads that burst in the mouth!
Bring your culinary creativity to the next level and impress your guests with spectacular dishes such as mint caviar beads that burst in the mouth, chocolate spaghetti, lemon foam or tzatziki spheres!
This "do it yourself" molecular gastronomy kit includes all you need to experiment at home with the molecular techniques seen on Top Chef and in high-end restaurants, but without the celebrity chef price tag!
This all-encompassing kit includes five pre-measured food additives, five specialised molecular tools as well as a 50-recipe DVD that makes molecular gastronomy easy and accessible to all foodies.
Go on… play with your food!
Cuisine R-EVOLUTION Contents:
10 sachets of 5 additives:

Agar-agar (20g)
Sodium alginate (20g)
Calcium lactate (50g)
Soy lecithin (20g)
Xanthan gum (10g)

5 essential tools

1 Slotted spoon
1 Set of measuring spoons
1 Syringe 60ml
3 Silicone tubes
5 Pipettes

A DVD of 50 step-by-step recipes
Eligibility: United States and Canada only. Closing Date: July 14, 2013, 11:59 pm PST. Winner will be randomly selected and contacted via email on July 15, 2013. The prize is proudly sponsored by MOLECULE-R.
Sign Up for Email Updates
Enter your email for new updates: recipes, giveaways, and more!