MOLECULE-R Siphon Kit Giveaway (CLOSED)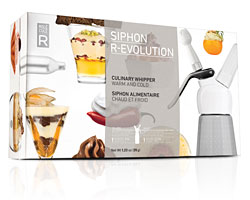 http://rasamalaysia.com/molecule-r-siphon-r-evolution-kit-giveaway/
MOLECULE-R Siphon Kit Giveaway (CLOSED)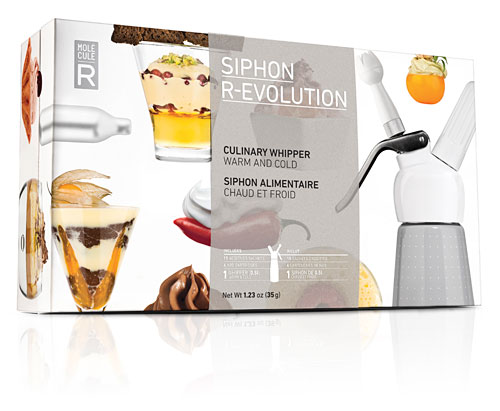 Update: The winner is Debra B.
I am partnering with my friends at MOLECULE-R to give away a Siphon R-EVOLUTION kit. There will be one (1) winner whom will receive one (1) Siphon R-EVOLUTION kit. The value of the Siphon R-EVOLUTION kit is $79.95.
At least once, while growing up you heard the proverbial – don't play with your food. MOLECULE-R is breaking the rules and allowing you to experiment with food in the comfort of your own home. With MOLECULE-R's Cuisine, Cocktail, and Siphon R-EVOLUTION kits, any dish or cocktail can be deconstructed into a 5 star restaurant recipe with these all-encompassing D-I-Y kits.
Each R-EVOLUTION kit contains pre-measured sachets of natural food additives, the essential molecular gastronomy tools, and a DVD with step-by-step recipes. Experimenting with the most popular molecular gastronomy techniques (gelification, spherification, and emulsification) foodies are now able to take cooking to the next level allowing them to create unexpected concoctions such as a layered martini, adding a touch of airy lime foam to your tequila shot, or on the culinary side, creating an arugula spaghetti or balsamic vinaigrette beads that burst in the mouth!
This "do-it-yourself" kit contains everything you need to enjoy the full creative potential of our culinary whipper.
It comes with a beautifully designed culinary whipper, a 10-recipe booklet, 6 gas cartridges and 3 food additives in pre-measured sachets that will help you boost your creativity!
XANTHAN GUM can be used to replicate the binding effect usully provided by the fat of whipping cream so that it is now possible to create an incredibly tasty low-fat whipped cream. Thanks to AGAR AGAR, you will also be able to serve warm mousses as appetizers or side dishes and our COLD SOLUBLE GELATIN will add an exquisite melt-in-the-mouth effect to your desserts!
Siphon R-EVOLUTION Contents:
5 sachets of 3 additives:

Cold soluble gelatin (20g)
Agar-agar (10g)
Xanthan gum (5g)

1 culinary whipper

Size: 0.5l
Withstands warm and cold temperatures

4 accessories

3 decorative nozzles
1 cleaning device

6 N2O gas cartridges
A 10-recipe booklet
Eligibility: United States and Canada only. Closing Date: June 30, 2013, 11:59 pm PST. Winner will be randomly selected and contacted via email on July 1, 2013. The prize is proudly sponsored by MOLECULE-R.
LOVE THE RECIPE & PHOTOS? PLEASE SHARE:
Sign Up for Email Updates
Enter your email for new updates: recipes, giveaways, and more!