Satay Jellyfish: My Favorite Childhood Junk Food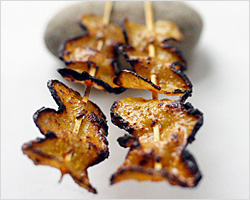 http://rasamalaysia.com/my-favorite-childhood-junk-food/
Satay Jellyfish: My Favorite Childhood Junk Food
Favorite childhood junk food = satay jellyfish.
Ingredients: jellyfish, salt, vegetable, oil, starch, chili.
Method of preparation: Eat them as is, or–most deliciously–lightly grill them over charcoal fire, or in the absence of it, over your gas stove…
Price = RM1.10 (equivalent to US$0.35) for 12 sticks.
Reminiscing the taste of my childhood = PRICELESS.
What is your favorite childhood JUNK food?
Note: To my Malaysian readers, I hope this post reminds you of your childhood, too. I am sure you have had this delicious junk food. ;)
Click Images Below for Similar Recipes:
LOVE THE RECIPE & PHOTOS? PLEASE SHARE:
Sign Up for Email Updates
Enter your email for new updates: recipes, giveaways, and more!