My New Gear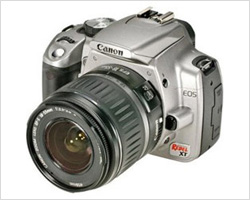 http://rasamalaysia.com/my-new-gear/
I have been missing in action for a few days, you wonder why? I got my new gear–the spanking new and sparkling silver Canon Digital Rebel XT (gasp!)–and have been busy playing with it.
I have always wanted a better camera since I started this blog so this new toy actually means a lot to me. Well, first of all, I resolve to learn more about digital photography so I can churn out more droolsome, scratch-and-eat-from-the-monitor-worthy food pictures. Other than that, this camera also marks my virgin exploration into the world of SLR (single-lens reflex).
So, what does it mean to you? Just think better photography here on Rasa Malaysia. Now, isn't that great or what?
Here are some of my sample shots. I am very excited of what lies ahead. Are you? ;)
You Might Also Like These Recipes Below:
LOVE THE RECIPE & PHOTOS? PLEASE SHARE:
Sign Up for Email Updates
Enter your email for new updates: recipes, giveaways, and more!