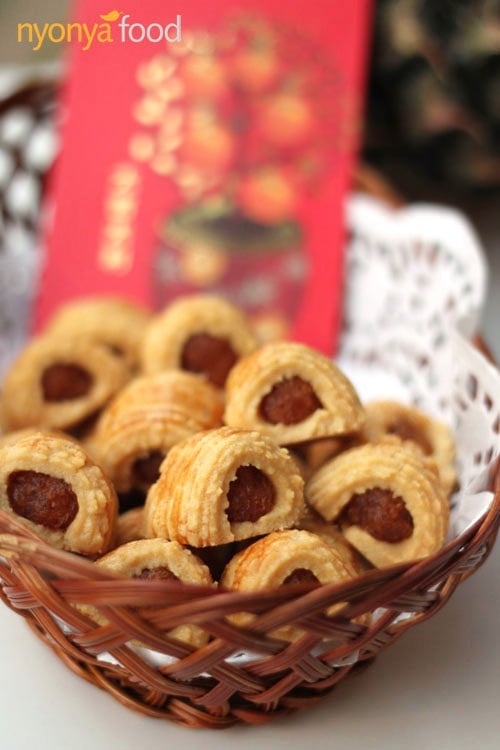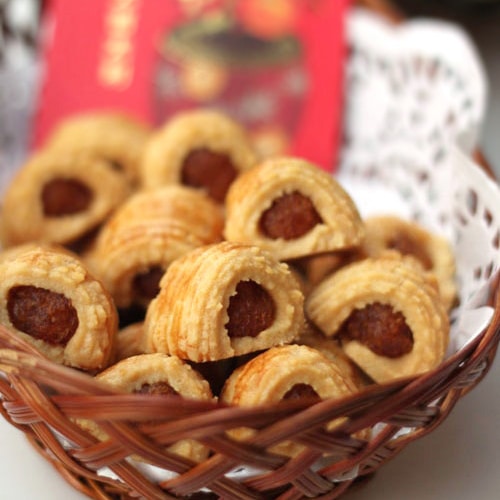 Nastar (Pineapple Rolls)
Nastar (Pineapple Rolls) for Raya
Ingredients:
Pineapple Filling:
4 large pineapples
300 g sugar
1 clove
1 inch cinnamon stick
1/2 star anise
250 g liquid glucose
2 Tbsp wheat flour or wheat starch (Tung Mein Fun)
Pastry:
500 g butter
140 g powdered sugar
4 egg yolks
650 g all purpose flour
1 Tbsp cornflour
2 tsp baking powder
1 tsp vanilla essence
Egg Brush:
1 egg yolk plus 1Tbsp water
Method:
Pineapple Filling:
1. Slice and grate pineapples till fine. You can use a food processor do grate it.
2. Strain the grated pineapple till dry.
3. Let it simmer in a wok toll the juice has dry up. Add sugar and, star anise, cinnamon stick and clove.
4. Stir till the pineapple has thickened and dry. Add maltose or liquid glucose.
5. Stir till the pineapple filling is thick, sticky and dry.
6. Add wheat flour. Continue to stir for about 10 minutes or until filling is dry.
7. Leave to cool and shape into small balls.
Pastry:
Preheat oven at 150° C.
Cream butter and sugar till white.
Add in egg yolks and beat at low speed for 1 minute.
Fold in flour gradually.
Insert pastry into cookie press and press into strip of about 3 inch each.
Put the rolled pineapple filling onto the pastry and roll it up.
Brush with egg brush.
Bake for 30 minutes or when tarts is light golden brown in color.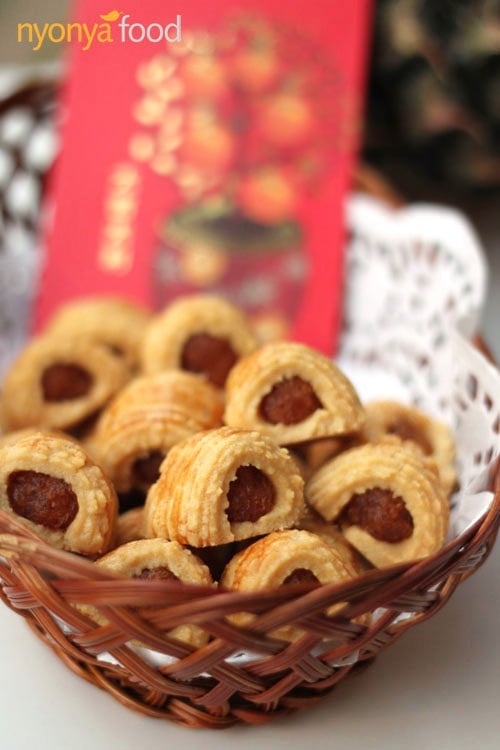 Chinese New Year is just around the corner. We will be sharing traditional kuih and cakes recipes with you. Here is one of the most popular Chinese New Year recipes: pineapple tarts or pineapple rolls, or known as nastar in Malay. Enjoy!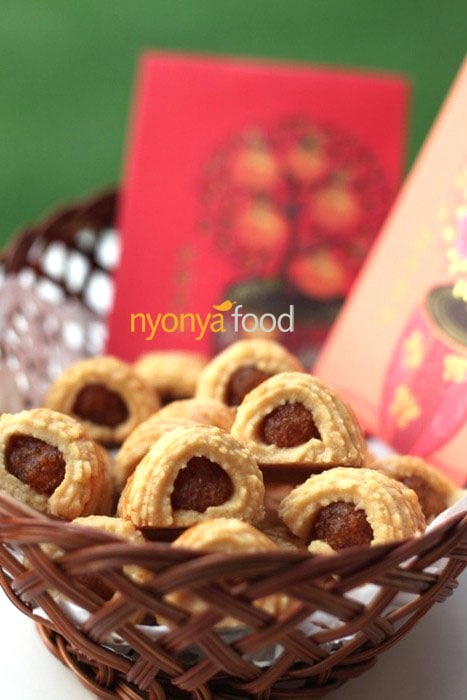 Contributor: Ho Siew Loon
It is another 3 weeks before we usher in the year of the Tiger. The best time about Chinese New Year is the preparation and I will always have a line up of cookies and cakes. One of our family's favorite and also my specialty is the hand-made Pineapple Tarts. Over the years, I have spent a lot of time and passion trying to make perfect this little jewel and today it has always been the most popular among my guests…(get pineapple tarts recipe after the jump)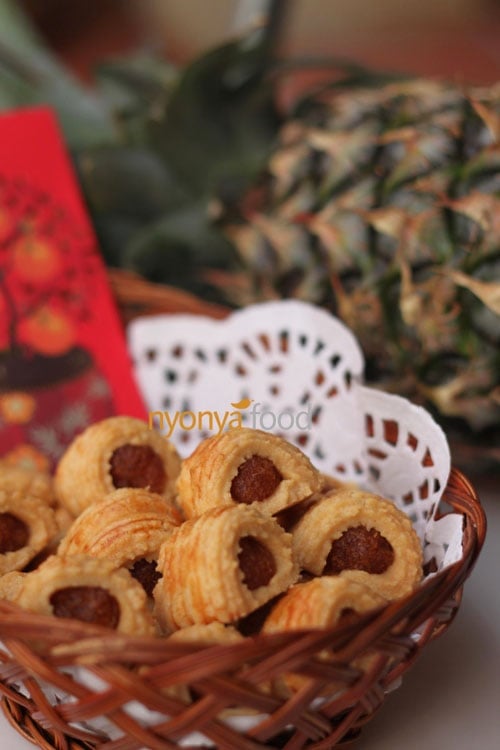 Pineapple Tarts is a mouth watering pastry wrapped in home cooked pineapple jam that would melt smoothly in your mouth. Today, it comes in different shapes and designs such as the open tarts which is popular in Malacca, the Pineapple Rolls (Nastar), pineapple shaped tarts and many others but all of it are as addictive.