Now for Something Scary…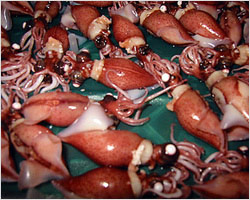 http://rasamalaysia.com/now-these-are-scary/
Taken at Tokyo's famed Tsukiji Fish Market where tuna auction is an enterprise as big as eBay, these purple creatures are squid found in the Japanese water. I am not sure about you, but they sure look a lot scarier than my grilled Enoki mushrooms (which unfortunately were mistaken for jellyfish and mini octopuses by a few readers.)
Do you know what they are called? Have you tasted them before? Are they delicious?
Drop me a comment!
LOVE THE RECIPE & PHOTOS? PLEASE SHARE:
Click Images Below for More Easy & Yummy Recipes:
Sign Up for Email Updates
Enter your email for new updates: recipes, giveaways, and more!